This post contains links that, if you click on them and make a purchase, will earn me money. As an Amazon Associate, I earn from qualifying purchases. . Regardless, I only recommend products or services that I believe will be good for my readers. Thanks for helping me continue to produce great content!
Wondering what to do with leftover turkey? Creamy Smoked Turkey and Wild Rice Soup is just the ticket. It will help you make good DELICIOUS use of that leftover turkey carcass!
Every Thanksgiving weekend, on the first or second day after Thanksgiving, my husband makes us one of my most favorite recipes of the year: Smoked Turkey & Wild Rice Soup. Truth to tell, a huge part of WHY I love it, is that HE makes it. By that time, I am SOOO burnt out on cooking, I'd really rather not do it again for at least a week.
But the other part of why I love this soup, is because it is so dang delicious!!!
Yes, that saintly man of mine takes on the job of cleaning off the turkey carcass himself, on the day after Thanksgiving, God bless him! It's one of the jobs I hate the most! He cuts the leftover meat up, dividing it into two zip locks: one for dark meat, and one for light, so that people can find what they want for sandwiches, easily, without fingering every piece of meat.
This Recipe Calls for Turkey Stock, and Homemade is Better!
He then uses the carcass in my recipe for Chicken Stock to make the delicious broth for the soup. He submerges the turkey carcass all the way in a big stock pot. If you don't have a stockpot that is tall enough for your turkey carcass, you can cut your carcass in half, and hopefully then you can submerge it in the deepest pot you have. The idea here is to simmer and simmer it, till the cows come home, or until all that liquid that you needed to cover the turkey carcass is reduced to where the stock is no longer watery, but rather makes a nice, flavorful stock. You can judge that by tasting it.
You will almost certainly make more turkey stock than you can use in this soup, which only calls for 2 qts. of stock. Freeze the rest, and use it, just as you would any delicious homemade chicken stock. My husband usually makes the stock on Friday, following Thanksgiving, and chills it overnight. That way we can skim any fat off the top, which rises to the top, before we use it in the soup, which he makes on Saturday. (You can make the soup the same day, though, if you'd like to.)
In this post, I'm going to tell you how to make this soup HIS way, which will be the MOST flavorful, rich tasting way. Aim for that. BUT…
YOU CAN STILL MAKE THIS SOUP IF YOU DON'T HAVE THE SAME EXACT INGREDIENTS!
I'm listing a few substitutions, that you can use, should you need them, due to lacking time, or an ingredient component that my recipe calls for. Our ingredient list is what it is due to the way we brine and grill/smoke our turkey.
Substitution #1 (if you lack homemade Smoked Turkey Broth):
You can still make this soup using store bought chicken stock. It may not be quite as over the top divine, but it will still be very good. For the recipe, you'll need 2 qts. of chicken stock.
My husband would tell you that the NEXT step, is to get your Mess In Place. That's what he calls his Mise En Place, and I have to say, he does a better job of his than I do of mine. He is, even, inspirational to me, when I get right down to it. See what I mean?
Once you get your carrots, onions, green onions, rosemary and black pepper all prepped, you begin sweating those ingredients in the pot. I always add the garlic in for the last minute of that sweating process, because garlic tends to burn quickly. And burnt garlic tastes bitter, which is no bueno.
Then you stir in the stock, and scrape up any bits that have begun to stick to the bottom of the pan. Then you add the smoked turkey, and the wild rice, and simmer it for about an hour and 15 minutes. Be sure that it's WILD RICE. Regular rice doesn't need to cook this long.
Substitution #2:
If your turkey isn't smoked, that's OK. Regular roasted turkey will work just fine.
BUT, if you HAVE Smoked Turkey:
This is also where (if you have it) you get to add your flavor bomb. If you've brined and smoked your turkey, AND (and here's the critical part) if you've saved your salty smoky turkey drippings, you've got liquid gold Flavor Town! If you've brined your turkey, you'll have drippings that are super salty left in the pan.
On Thanksgiving, I pour the drippings into a fat separator, and use them to make gravy. But it doesn't take much more than a tablespoon or two for the gravy. So, I save what's leftover in the fat separator for the soup. And again, it only takes a tablespoon full or two. But it adds smoky, salty flavor to your soup. So add a tablespoonful and stir. Taste it. If your broth can take another tablespoonful, then add some more. And remember, if the flavor seems too strongly salty, you'll be smoothing it out as you add in your milk/half & half, later.
Next comes the step where we make the Turkey & Wild Rice Soup Creamy. You mix the flour and the milk in a bowl with a whisk, and once it's smooth, you pour it into the pot, and simmer it over medium heat till it's thick: about 8 minutes.
We made ours a little richer by making it a mixture of milk and Half & Half. Maybe about a cup of Half & Half – replacing a cup of the milk. (But that's totally optional. You could, for example, use all cream if you really wanted to go over the top in richness. It's your choice how rich, or how low fat, you'd like to make this creamy soup.)
For a final note of flavor, add a couple of tablespoonfuls of bourbon (the way my husband makes it) or sherry (the way I make it). Taste it, and see if it needs further seasoning. Add salt to taste.
And now, for the *official* recipe:
The Recipe for Creamy Smoked Turkey & Wild Rice Soup
Yield: 8 servings
Creamy Smoked Turkey & Wild Rice Soup Recipe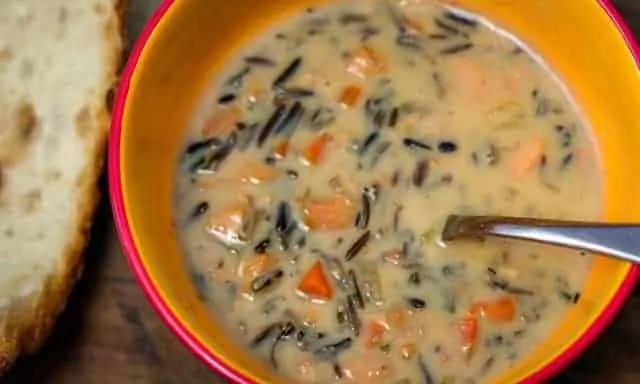 What to do with leftover turkey: Creamy Smoked Turkey and Wild Rice Soup is just the ticket. It will help you make good use of that leftover turkey carcass!
Cook Time
1 hour
30 minutes
Total Time
1 hour
50 minutes
Ingredients
2 T. butter
1 c. chopped carrot
1 c. chopped onion
1 c. chopped green onion
1 t. chopped fresh rosemary
1/2 t. freshly ground black pepper
3 cloves minced garlic
2 quarts turkey stock (or 2 qts. chicken stock)
1 or 2 T. brined smoked turkey drippings (if you don't have them, you might try a teaspoon of Better than Bouillon.)
1 1/2 c. chopped smoked turkey (dark or light: whatever color you prefer)
1 c. uncooked wild rice
1/3 c. flour
2 3/4 c. milk (we made about 1 c. of that milk Half & Half, because we like a richer soup)
2 T. bourbon (or sherry)
1/2 t. salt (or to taste)
Instructions
Melt the butter in a Dutch oven over medium-high heat. Add carrot and next 4 ingredients (carrot through black pepper. Add minced garlic for last minute). Sauté 8 minutes.
Stir in broth, scraping pan to loosen browned bits. Stir in turkey and rice, and turkey drippings, if you have any; bring to a boil.
Cover, reduce heat, and simmer 1 hour and 15 minutes or until rice is tender.
Lightly spoon flour into a dry measuring cup; level with a knife. Combine flour and milk (or milk and Half & Half mixture) in a small bowl, stirring with a whisk. Add to pan.
Cook over medium heat until thick (about 8 minutes), stirring frequently.
Stir in bourbon (or sherry). Taste for seasoning and salt, if needed.
Notes
The turkey drippings are from the pan that you put in the smoker, below the turkey you hopefully brined and smoked. But if you don't have them, this soup will still be good. Just less smoky and salty in flavor.

If you feel like the flavor of store bought broth needs any intensity, try a teaspoon or two of Better than Bouillon.
Recommended Products
As an Amazon Associate and member of other affiliate programs, I earn from qualifying purchases.
Nutrition Information:
Yield:
8
Serving Size:
1
Amount Per Serving:
Calories:

278
Total Fat:

9g
Saturated Fat:

4g
Trans Fat:

0g
Unsaturated Fat:

4g
Cholesterol:

47mg
Sodium:

1123mg
Carbohydrates:

30g
Fiber:

2g
Sugar:

8g
Protein:

17g
I would love it if you'd save this recipe on Pinterest, so that you can find it for the next time you smoke a turkey!
And in case you need some more Thanksgiving Recipes, I've got a few more that are 100% tried, true, and amazing!
Other Scrumptious Thanksgiving Dishes
These are the dishes I serve at my OWN Thanksgiving celebrations. Not a loser in sight! Each one is over the top fabulous!