This post contains links that, if you click on them and make a purchase, will earn me money. As an Amazon Associate, I earn from qualifying purchases. . Regardless, I only recommend products or services that I believe will be good for my readers. Thanks for helping me continue to produce great content!
When cold and flu season strikes, Flu-Fighter Soup, Chicken Soup with Greens and Garlic will help you become a Flu-Fighter, by boosting your immune system.
How Does Flu Fighter Soup Boost Your Immune System?
When Cold/Flu Season hits, you need to become a Flu-Fighter. You need a weapon that will boost your immune system. Flu-Fighter Soup: Chicken Soup with Greens and Garlic is that weapon!
When the Vicious Viruses of autumn and winter begin invading our schools and communities, we need all the help we can get to ward them off, and Flu-Fighter Soup is just the ticket! Plus, you get to use your slow cooker /crockpot!
But the very best part is, it's DELICIOUS!
You've heard it said that Chicken Soup is sometimes called Jewish Penicillin? Well, there's good reason for that. Science tells us that hot chicken soup can improve the way in which the tiny hairlike parts in the passages of your nose protect your body from bacteria and viruses. Let me just run through some of the nutritional benefits this soup contains. It has protein from the chicken, and proteins have nutrients that keep our bodies' immune systems working. The greens, like (spinach and kale), contain vitamins B6, B12, selenium, glutathione, and zinc: all immune system boosters. I put in plenty of garlic, and not just because I love it. Garlic contains arginine, oligosaccharides, flavonoids, and selenium, which are immune system booster superstars. And the lemon juice, added at the end, contains flavonoids and vitamin C. The slight bite of heat from the hot red chile pepper flakes can help ease congestion in the chest and in the head.
Homemade Chicken Stock is Better for Flu Fighter Soup
IF you can manage it, time-wise, homemade chicken stock is better. The chicken broth I used was mostly homemade, (except for one can of store bought broth) that I'd made earlier and kept stored in the freezer. But if you can't manage it, It's fine to use store bought chicken broth! Homemade chicken broth, however, is going to provide a much richer flavor to your soup, and is cheaper than buying store bought broth. If you're looking for a recipe for homemade chicken stock or homemade chicken broth, I've linked you up. The greens that I used were a pre-washed bagged mix of chard (my favorite!), kale and spinach, that I found at Costco, called, Superfood Power Greens by Taylor Farms Organic. I really, really liked those a lot, because they're great in a salad, or sautéed with garlic as a side dish, or in soup. I'll be buying them again!
One more recipe note: do not try cooking your egg noodles in your slow cooker, or they will turn out with a mushy texture, and will taste raw. My hope is you'll enjoy this chicken soup in good health! Chicken soup feeds the body and soul, in my opinion. And if you are feeling less than tip top, I can't think of any food that would be better for you!
The Recipe for Flu-Fighter Soup: Chicken Soup with Greens and Garlic
Yield: 8 servings
Flu-Fighter Soup: Chicken Soup with Greens and Garlic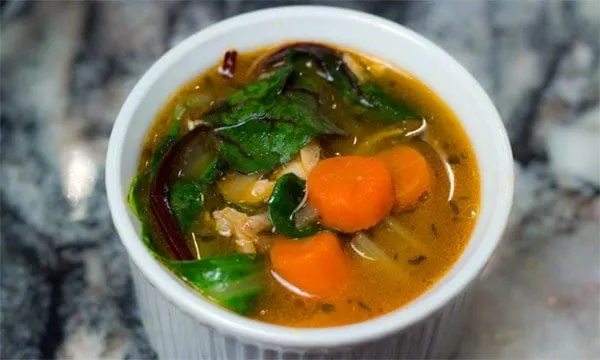 Chicken Soup filled with ingredients that are scientifically proven to boost your immune system: most notably, greens, and garlic.
Ingredients
1 1/2 lbs. boneless skinless chicken thighs
salt & pepper
1 T. vegetable oil
3 carrots, peeled and chopped, medium
2 celery ribs, chopped medium
1 onion, minced
6 cloves of garlic, peeled and minced
1 T. tomato paste
1/2 t. dried thyme (or 2 t. fresh thyme, if you have it)
1/4 t. dried red pepper flakes
8 c. chicken broth (I used homemade)
2 bay leaves
1 c. dried wide egg noodles
3. c. greens (I used chard, kale and spinach)
1 T. lemon juice
Instructions
Dry chicken thighs with paper towels and season with salt and pepper. Heat oil in a skillet until just smoking. Brown chicken thighs well on both sides, about 3 minutes per side. Transfer to a plate and let cool slightly.
Add carrots, celery and onion to the skillet, and cook over medium heat until vegetables are softened, 7 to 10 minutes. Stir in garlic, tomato paste, thyme, and red pepper chile flakes and cook until fragrant, about one minute. Stir in 1 c. chicken broth to scrape up any browned bits. Transfer vegetables to slow cooker.
Stir remaining 7 c. broth and bay leaves into slow cooker. Place browned chicken thighs with any accumulated juices from their plate into slow cooker. Cover and cook on low for 4 hours.
About 15 minutes before you want to serve the soup, cook egg noodles in boiling salted water, according to package directions, undercooking them just slightly (by about 1 minute). Drain, and reserve.
Remove chicken thighs from slow cooker and place on cutting board to rest. Remove the bay leaves from the soup. After chicken has rested for about 5 minutes, shred it into bite sized pieces, and add it and the greens, the cooked noodles, and finally, the lemon juice to the slow cooker. Allow the greens to just wilt, and the chicken to warm back up. This will take about 3-5 minutes. Stir, taste, and season with salt and pepper, if needed. Serve.
Recommended Products
As an Amazon Associate and member of other affiliate programs, I earn from qualifying purchases.
This might be a good place for me to mention some menu items I have that would go nicely with the soup, for the rest of the family!
What Goes Great with Soup?
It really is possible to make delicious, artisan sourdough bread AT HOME. It's not without quite a bit of effort, but you'll find your result deeply rewarding.