This post contains links that, if you click on them and make a purchase, will earn me money. As an Amazon Associate, I earn from qualifying purchases. . Regardless, I only recommend products or services that I believe will be good for my readers. Thanks for helping me continue to produce great content!
Made on the stove top, and Southern to their tips, this recipe for Green Beans and New Potatoes is just like Grandma used to make! (More or less.) In the South, eating a big plate of these is also known as sitting down to a "mess of beans and taters".
We try to incorporate lots of fresh, local veggies in our diet, and we do that by buying vegetables through a CSA (Community Supported Agriculture) group. It must have been a great year for potatoes for our CSA, because potatoes kept showing up in our share box this fall. When some lovely green beans arrived as well, inspiration arrived in the form of cooking them both together, in a big pot, with some bacon.
Because, face it: so much of inspiration involves bacon. Am I right?
Of course, right.
Southern Cooking and Green Beans
While I adore green beans that are slightly al dente – cooked so that they are still crisp-tender, these are not those beans. Those are delicious, but so are these. They have their own down-home charm: more in the style that your Southern grandmother would have made. (Well…if she was a good cook, this is how she would have made them.)
And really, this side dish is delicious enough to have as a main course. And I know this, because my husband and I eat them, every summer, in just that way. As my Southern grandmother would have said, we sat ourselves down to a big old mess of green beans and 'taters.
This recipe was adapted from a recipe I found via Paula Deen. I may not agree with her on quite a few topics, but I believe we would both agree that she makes a mean pot of green beans. The seasoning blend used in it is an adaptation of her "House Seasoning" recipe.
And I'd like to recommend this to you as a vegetarian dish…but….bacon.
Does bacon REALLY count, if you're a vegetarian?
Let's all us bacon-eaters have a moment of silence in honor of those who are not partaking of bacon, for whatever their individual, most excellent reasons.
On behalf of bacon-eaters, everywhere, let me say to those of you who are abstaining:
"Thank you. More for us."
With that little bit of business out of the way, on to the recipe. Here's how you can cook up your very own, most excellent, Mess of Green Beans and 'Taters. Lip smackin' good as a side dish, or satisfying enough to be a main dish, if you have enough green beans.
The Recipe for Green Beans and Potatoes
Yield: 6 servings
Green Beans and Potatoes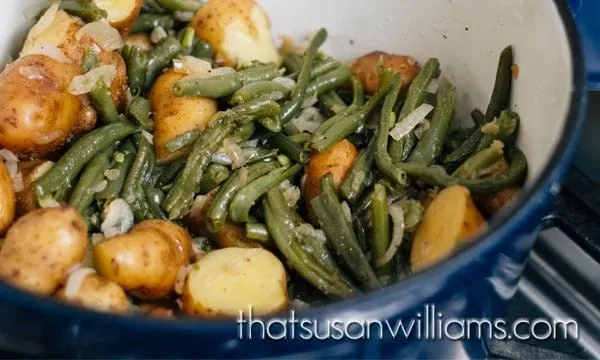 Green Beans and Potatoes: Just like Grandma used to make when she had a mess of green beans.
Total Time
1 hour
20 minutes
Ingredients
2 lbs. green beans
1/4 lb. sliced bacon
2 c. chicken broth
1 t. salt
1/2 t. garlic powder
1/2 t. freshly ground black pepper
2 lbs. potatoes (about 6 smallish potatoes, cut into fourths)(Either new potatoes or regular potatoes are fine: I've tried both, and they're both great.)
1 onion, cut in half from root to tip, and then sliced thinly


.
Instructions
Trim the ends from the beans, snap them in half, wash, and drain them in a colander.
Cut the bacon slices into 1/2" wide pieces (also called lardons, if you want to be all fancy.) Brown them in a large Dutch oven, and then remove the bacon from the rendered fat, and place on a paper towel to drain.
Toss the green beans into the bacon grease, stirring them to coat with the fat. Add the chicken broth, salt, garlic powder and pepper. Cook, covered, over medium-low heat for approximately 30 minutes, or until the beans are half done.
Add the potatoes and onion to the beans. Add an additional 1/4 c. of broth if needed. Cook, covered, until the potatoes are tender, which should be another 30 minutes approximately. Check them from time to time to be sure there is enough liquid in the bottom of the pan to keep them from burning. Add more as needed.
Taste, and season with additional salt and pepper, if desired.
Sprinkle with reserved lardons. (Bacon!)
Notes
Be sure to taste, and add additional seasoning as needed to finish the dish. Potatoes are notorious for soaking up salt, so you will likely want to add more salt at the end.
Recommended Products
As an Amazon Associate and member of other affiliate programs, I earn from qualifying purchases.
If you're interested in a recipe for green beans that is a little more refined, where the beans are a little more "crisp-tender", you'll love my recipe for
Green Beans Gremolata
. Also, my recipe for
Homemade Chicken Stock
comes in mighty handy, when you're cooking green beans, too!