This post contains links that, if you click on them and make a purchase, will earn me money. As an Amazon Associate, I earn from qualifying purchases. . Regardless, I only recommend products or services that I believe will be good for my readers. Thanks for helping me continue to produce great content!
This recipe for Homemade Pimento Cheese is made with creamy fontina cheese, roasted red peppers, and homemade mayonnaise. If you like pimento cheese, you won't believe how much you're going to love your own HOMEMADE version!!!
The very best recipes start with excellent ingredients, prepared simply. This recipe is no exception. It starts with a small mountain of creamy fontina cheese. This next image is nothing but gratuitous cheese porn. And to all the members of the #CheeseSquad, I offer a humble, but heartfelt, "You're welcome".
What the Heck is a Pimento?
OK, to be honest, I hated Pimento Cheese when I was a kid. I couldn't figure out what the heck a pimento was. I knew they lived inside of green olives. I figured they were some kind of unnatural little red worm-like slimy things that dangled off some kind of … something. Like, maybe they came from a pimento plant. And why you'd put those squishy things inside of cheese with mayonnaise (which I also hated) just seemed kind of wrong to me.
But I got older, and wiser, AND I married a Southern Boy. And Southern Boy, he loved him some pimento cheese. He'd buy it in these little flat round dip cartons, for a special treat for himself. I'd watch him at his momma's house, slathering it all over saltines.
So learning how to make pimento cheese for the man I loved became a special project for me: it might not be MY favorite, but I could occasionally treat HIM once in a while.
As far as the pimento plant went, I was sort of right. There is a cherry pepper that is known as a pimento, and it does grow on a pepper plant. It's very low on the Scoville scale. (That's the heat rating scale for chili peppers.) For my recipe, I just use regular red peppers, and roast them. Here's how I do it.
How to Roast a Red Pepper:
Put your oven rack about 4″ away from the broiler. Heat the broiler to 500º. Halve the peppers, cut off the stems, and scrape out the seeds. Place the peppers on a baking sheet, skin side up. Broil for about 10 minutes. You want the skin to completely char. Remove from oven, place in a bowl, and cover with plastic wrap. The skins will loosen in the little sauna environment you've created for them. After a half an hour, remove the plastic wrap and peel and chop the peppers.
I'd like to add, however, that it is perfectly acceptable to use a store bought jar of roasted red peppers, if that's what you have on hand.
Do I Have to Make Homemade Mayonnaise?
Absolutely not! Hellman's is great, as far as I'm concerned. Some people in the South prefer Duke's. I've tried it, and I like it very much. But Hellman's is ~slightly~ better tasting…to me, for store bought. I will not object if you disagree.
But if you want to make your own mayonnaise, like I did, I posted that recipe for How to Make Homemade Mayonnaise, just last week. It's the first mayonnaise recipe I've tried that has never failed, and that doesn't use raw eggs. (It has the genius idea of using soft-boiled eggs!) And, as far as flavor goes, I do prefer it to Hellman's, because I know exactly what's in mine.
I got these recipes, for the mayonnaise and the homemade pimento cheese, from a cookbook called, believe it or not, Genuine Pizza, by Michael Schwartz, a James Beard Award Winning Chef. It's one of my favorite cookbooks that I received last year. I was a bit surprised to find these recipes tucked inside a cookbook whose topic is pizza, but I'll tell you more about that in my next post.
What Kind of Cheese Do You Use for Homemade Pimento Cheese?
Any other time I've made homemade Pimento Cheese, I've used Cheddar, and I still think that Cheddar is a great choice, especially if it's Cabot. But for this recipe, Chef Schwartz chose Fontina, so we tried it his way.
I absolutely love his choice of Fontina, for its creaminess. So if you can find Fontina, go with Fontina. Otherwise, I'd use a white or yellow cheddar from Cabot.
A Word on Hot Sauce
Chef Schwartz recommended a Calabrian Chile Sauce, so I special ordered Calabrian Chile peppers on line and followed his recipe for making Calabrian Chile Sauce. He rhapsodized a bit over their flavor, but for my palate, I'm not sure ~that~ additional step was worth the effort. I'm going to recommend that you use a dash or two of Tabasco sauce – or whatever hot sauce you personally prefer. Except I'm going to take it one step further and encourage you to try Tabasco's Smoky Chipotle Chile Sauce. I love that extra little element of smoke it adds. Use it to taste, for your palate. We're not big on spicy for the sake of spicy, so I just add a dash or two, but you do you.
Yield: 4 servings
How to Make Homemade Pimento Cheese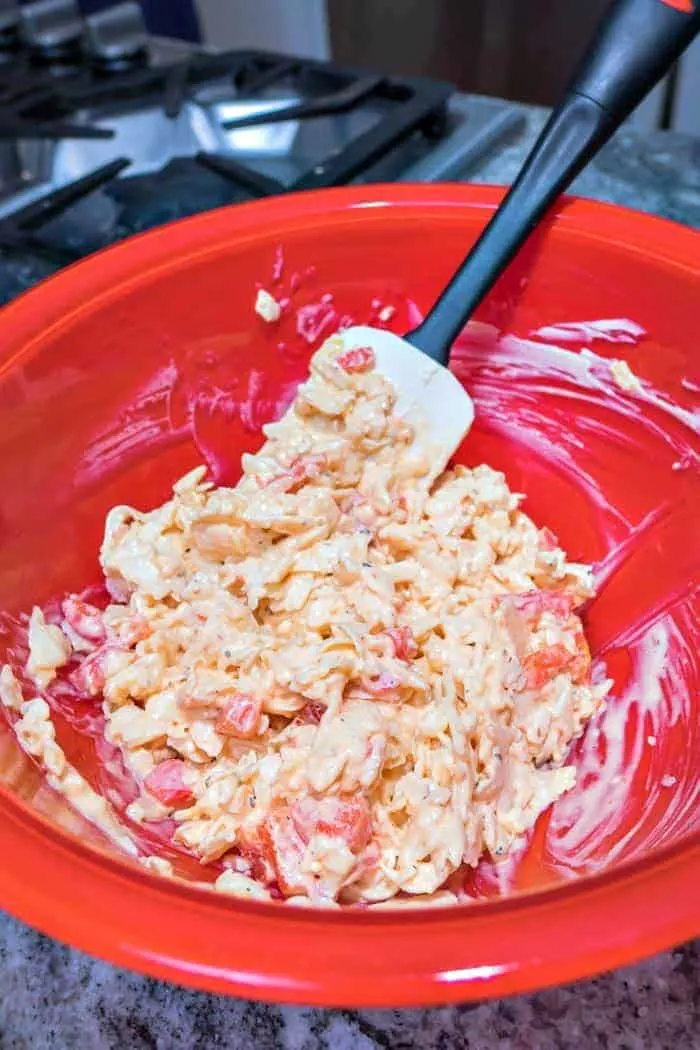 This recipe for Homemade Pimento Cheese is made with creamy fontina cheese, roasted red peppers, and homemade mayonnaise. If you like pimento cheese, you won't believe how much you're going to love your own HOMEMADE version!!!
Additional Time
45 minutes
Ingredients
2 cups (220 grams) of Fontina cheese, coarsely grated
1/4 c. mayonnaise
1/2 roasted red pepper, chopped
1 or 2 dashes of Tabasco Chipotle Chile Sauce
1 1/2 teaspoons red wine vinegar
1/4 teaspoon sea salt
1/4 teaspoon freshly ground black pepper
1/8 teaspoon cayenne pepper
1 pinch dried oregano
Instructions
Stir together all ingredients until combined.
Notes
The pimento cheese can be stored in a lidded jar in the fridge for up to a week.
Recommended Products
As an Amazon Associate and member of other affiliate programs, I earn from qualifying purchases.
As Long as We're Talking Cheese....
Specially chosen post for members of the Cheese Squad.