This post contains links that, if you click on them and make a purchase, will earn me money. As an Amazon Associate, I earn from qualifying purchases. . Regardless, I only recommend products or services that I believe will be good for my readers. Thanks for helping me continue to produce great content!
This recipe for how to make Easy Homemade Mayonnaise in an Immersion Blender is unlike any recipe you've probably used before because it is made with soft boiled egg, thereby removing the worry of using raw eggs.
Isn't the Tomato Toast pictured below beautiful? It's kind of like a good old southern staple, the tomato sandwich (aka the 'mater sammich) taken all the way up to haute cuisine. I'll tell you how I made it in another post. But for this post, the star is the easy homemade mayonnaise you see lying below those tomatoes. I made it using soft boiled eggs, and an immersion blender. And it's delicious. And, yes, I like it better than Hellman's, but don't tell them I said so.
How Do You Make Homemade Mayonnaise?
I got my husband to shoot a lot of pictures for this, so you could have a little image laden-tutorial, to see precisely how easy it is. And he got a little artsy with it. Indulge us.
Yield: 3 cups
How to Make Easy Homemade Mayonnaise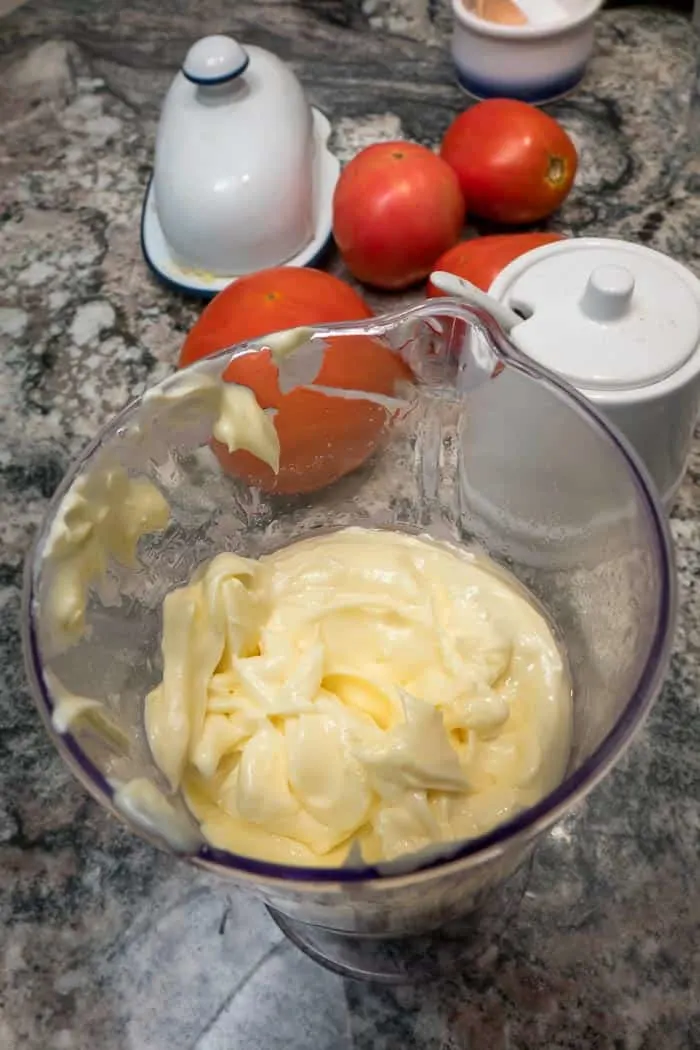 It's easier than you think to make worry free homemade mayonnaise. This will work fine in a regular blender or food processor, but I loved the simplicity of whirring it up in the pitcher that came with my Cuisinart Immersion Blender.
And...no....it's not a sponsored post....
Additional Time
20 minutes
Ingredients
2 teaspoons of sea salt
2 large eggs
Ice, for ice bath for soft boiled eggs
1 1/2 tablespoons of Dijon Mustard
2 cups canola oil
Instructions
Fill a pot with water. The pot should be large enough to hold 3 large eggs covered with water to 1" over the height of the eggs. Bring the water to a boil. Add 1 teaspoon of sea salt to the boiling water.
In a large bowl, prepare an ice bath to receive the eggs, once they're done.
Gently lower the eggs - still in their shells - into the pot of boiling water and cook them for 4 minutes.
Using a spider or large slotted spoon, remove the eggs from the boiling water, and gently lower them into the ice bath. This will stop the cooking process, and make them easier to peel. Leave them in the ice bath till they're cooled.
Crack the eggs on the counter, and when you have removed their shells, slide them into a tall 2 liter/2 quart jar.
Add the mustard and the remaining salt. Lower the immersion blender into the eggs and mustard mixer and pulse to break up the eggs. With the motor running drizzle in the canola oil, and before you know it, you'll have gorgeous, fresh, thick and creamy mayonnaise.
Notes
The mayonnaise can be covered and refrigerated for up to one week. I have made this recipe with extra virgin olive oil, but find I prefer the flavor of a more neutral oil.
Recommended Products
As an Amazon Associate and member of other affiliate programs, I earn from qualifying purchases.
Nutrition Information:
Yield:
48
Serving Size:
1
Amount Per Serving:
Calories:

85
Total Fat:

9g
Saturated Fat:

1g
Trans Fat:

0g
Unsaturated Fat:

8g
Cholesterol:

12mg
Sodium:

105mg
Carbohydrates:

0g
Fiber:

0g
Sugar:

0g
Protein:

0g
Recipes that Might Need a Little Homemade Mayonnaise
The best burger ever. You can use this recipe for ground venison, ground elk, and even lean ground beef!
This is one of my favorite ways to eat salmon. My mouth has completely filled with saliva just writing this recipe. Salmon "burger" is like big chunks of salmon too good to not sell, but too small for a "steak".