This post contains links that, if you click on them and make a purchase, will earn me money. Regardless, I only recommend products or services that I believe will be good for my readers. Thanks for helping me continue to produce great content!
Best Mac and Cheese I've ever had: Goat Cheese Mac and Cheese with Rosemary, Roasted Garlic and Chicken Skin Bacon.
I've had some good Mac and Cheese in my day. Martha Stewart's version comes to mind. I turned Martha Stewart's recipe for Mac and Cheese into "Clean Out the Cheese Drawer Mac and Cheese. With White Cheddar, and Smoked Gouda, and Toasted Bread Crumbs" on top, it was a real winner. Truly.
But: if I had to choose the best Mac and Cheese I've ever had? What we had for dinner tonight would be at the top of my list.
It would be at the top of my 14 year old daughter's list, too. She told me tonight that THIS is the dish that she wants for her 15th birthday party, where she gets to choose any dish in the world that she'd like.
Lately, I've grown awfully fond of several chefs from the Food Network. There are a couple or three of them that replicate my heart's culinary desires when they cook. In the top three, I'd place Chef Anne Burrell, Chef Bobby Flay, and Chef Michael Symon. I think I'd follow any of those three just about anywhere they'd like to take me.
The other day I turned on the TV around lunchtime, and watched The Chew. I saw Chef Michael Symon prepare his Mac and Cheese, that he has been serving at his restaurant "Lola" for over 15 years. He mentioned that he's grown so tired of fixing it over the past 15 years or so that he keeps hiking the price, hoping that his patrons will finally refuse to pay what he charges. But his customers keep demanding it with such persistent ardor, that he keeps serving it (at the higher price, he admitted, with a rueful grin).
I'm so glad he does!!!
Because, tonight, I tried his recipe with my family. (With a few changes. Just because I could! 😀 )
The other day, I roasted 3 heads of garlic. I only needed one for the recipe I was preparing that night, but I kept my eyes peeled in hopes that I might find another recipe in which I could throw another head of garlic. Tonight, I did.
I roasted a chicken last night, my usual standby
roasted chicken recipe
. I had a leftover half of a chicken, plus all the lovely sauce that comes from that recipe's chicken juices and the wine from which it's made. Enormous amounts of flavor in that. And then I had the roasted garlic head to add in as well. So, these were the alterations that I made to
Chef Symon's recipe
.
Well, that, and I cut the cream by half, and added 2% milk for 2 cups of the liquid, Because 4 cups of cream? I couldn't quite live with myself if I went ALL the way.
Oh, yes. And I heard Chef Symon mention that when he made this dish at his house, that he liked to crisp the chicken skin to go on top. AS IF I could resist THAT thought. I was after all, de-flowering a half of a roast chicken that I had seasoned and roasted myself. I knew how much flavor there was going to be in that skin, seasoned with Herbes de Provence, minced garlic, salt, pepper, olive oil, and lemon juice. I stuck the chopped up skin in a sauté pan, and it rendered out its fat, and crisped up, so much so that I've decided to call it Chicken Skin Bacon. That got sprinkled on top.
Enough of telling you how great it is. Here's my adapted version of:
Michael Symon's Mac and Cheese with Roasted Chicken, Goat Cheese, Rosemary (and Roasted Garlic)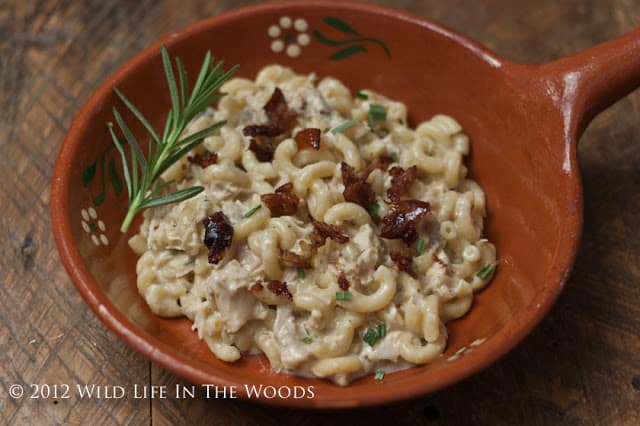 Goat Cheese Macaroni and Cheese with Roast Chicken, Rosemary and Roasted Garlic
2017-01-11 14:30:47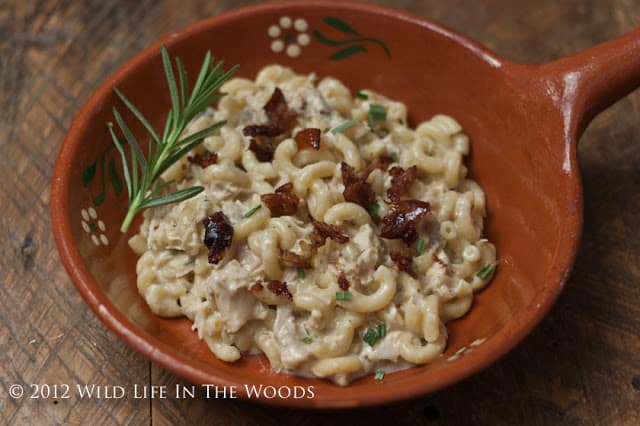 Serves 4
The best mac and cheese I have ever had! This goat cheese macaroni and cheese is enhanced by roast chicken, cream, rosemary, roasted garlic, and chicken skin bacon!
Ingredients
Kosher salt
1 lb. dried macaroni or rigatoni
1 qt. (4 cups) heavy cream (OR 2 c. cream, + 2 c. 2% milk)
2 T. chopped fresh rosemary
8 oz. fresh goat cheese
2 c. shredded roasted chicken (about 1/2 rotisserie chicken)
1 roasted head of garlic (optional)
black pepper
chicken skin from roasted chicken
Instructions
Bring a large pot of salted water to a boil. I use about 3 T. salt for a large pot of water.
While the water is coming to a boil, put the cream, chopped rosemary, a large pinch of salt, and a few grinds of pepper in a large saucepan over high heat. Bring just barely to a boil, then reduce heat to low, till you bring the cream to a simmer. Reduce the amount of liquid by half.
Add the chicken (and the roasted garlic, if using) to the cream and bring the mixture back to a simmer. Continue cooking till the liquid coats the back of a spoon, about 30 minutes.
Cut the chicken skin into small pieces. Place in a small sauté pan over high heat. Render fat until chicken skin is browned and crispy. Set aside.
Add the pasta to the boiling water and boil about 1 minute less than the package directions. (You want the pasta to absorb the creamy cheese sauce as it finishes cooking.) Drain the pasta, and add it to the sauce.
Add goat cheese to the pot. Toss the pasta to combine it with the sauce, and bring it just back to the simmer. Adjust seasoning to taste. Sprinkle each dish with the "chicken bacon" and a tiny bit of chopped fresh rosemary.
Notes
Bonus Recipe: How To Roast Garlic!
Pre-heat oven to 400º. Lop off about 1/2" from the top of a garlic head. (I did three, while I was at it, so I could have more for spreading on French bread, adding to mashed potatoes, and using for a steak topping with melted butter.) Spread out a sheet of foil, to wrap the garlic in for roasting. Drizzle garlic with about a tablespoon of oil. Wrap up in a foil bundle. Bake for about 1 hour. To extract the roasted garlic from it's peel, turn a head of garlic upside down and squeeze. Very satisfying! May be stored in the fridge, wrapped in plastic, for a week.
Adapted from Michael Symon, as seen on The Chew
That Susan Williams https://www.thatsusanwilliams.com/