This post contains links that, if you click on them and make a purchase, will earn me money. Regardless, I only recommend products or services that I believe will be good for my readers. Thanks for helping me continue to produce great content!
My Best Roast Chicken Recipe in a Cast Iron Skillet has several innovative ideas, that take a perfectly good roast chicken to the realm of greatness.
A Hybrid of a Recipe, Using the Techniques of Three Great Cooks
This recipe for Best Roast Chicken in a Cast Iron Skillet, is a bit of a hybrid recipe I developed, from the roast chicken recipes of three great chefs: Julia Child, Jacques Pepin, and Colman Andrews.
Fairly early in my marriage, I figured out that one of the most basic things a cook needs to be able to do right is to roast a chicken. It's simple. It's basic. But, it's telling, also. If you can roast a chicken right, then chances are good you can do other things well, too. So I set about researching the roast chicken, and went looking for the very best roast chicken recipes. I found a wonderful article in an old issue of Gourmet magazine where Julia Child and Jacque Pepin did a throwdown on roast chicken. I liked both their recipes, but neither one was perfect for me.
A Cast Iron Skillet Gives Great Results
The favorite idea that I gathered from those efforts was that using my cast iron skillet gave me very nice results. So, I decided that idea was a keeper.
Use Vegetables as a "Wire Rack"
I also liked the idea of using vegetables as a rack for the chicken to roast on, allowing the vegetables to receive the drippings from the chicken as blessings from above, packed with flavor.
Where's The Harm in Garlic & White Wine?
Then, I stumbled on a book by Colman Andrews, where he gives his wife's recipe for what she calls "Homecoming Chicken". She came up with a recipe that she could leave in the oven while she drove to the airport to pick him up on Friday nights. I liked a LOT about her recipe, including tucking minced garlic up under the skin of the bird, where it won't get burned and bitter, but adds spectacular flavor. And I especially love the addition of a nice white wine, used for basting the chicken about halfway through the recipe.
Herbes de Provence, an ingredient I use in this recipe, I USED to have to purchase at Williams Sonoma. I now see it in regular grocery stores, and lately, at Trader Joe's, in the spice aisle.
What's In Herbes de Provence?
If you want to make do with what you have in your pantry, it is an herb blend, and here's a recipe for making your own from Gofrance. (I have never tried making this myself, but I thought I'd do what I could for anyone who wanted to give it a go, but didn't want to buy a special ingredient. You could certainly omit the lavender, or whatever else you might not have on hand.
1 tsp dried thyme
1 tsp ground rosemary
1 tsp summer savory
1/2 tsp lavender (optional but traditional)
1 tsp marjoram
1 tsp dried basil
1/2 tsp dried sage
1/2 tsp dried oregano
When I make this recipe, my house is filled with an aroma that has been known to trigger salivary glands in the next county. And lest you think I exaggerate, my kids have left our house having eaten this for dinner to attend a Bible study with their Dad, where they have had kids follow them around sniffing them, saying, "Wow. You smell delicious. What did you have for dinner????"
So, here is my hybrid recipe, courtesy of Julia and Jacques and Colman, for Roasted Chicken, à la *that* Susan Williams.
*that* Susan Williams' Roast Chicken Recipe in a Cast Iron Skillet
Yield: 4 servings, plus leftovers
Best Roast Chicken Recipe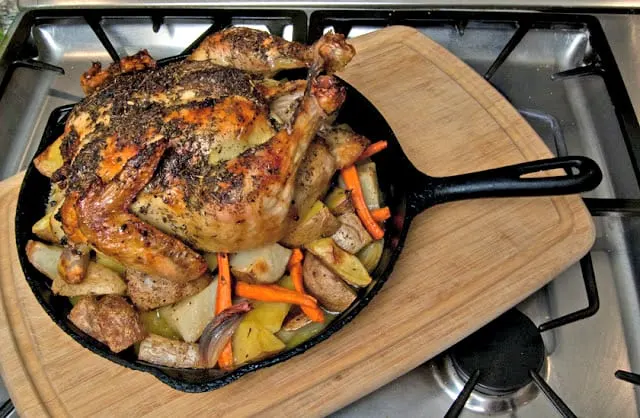 A delicious roast chicken recipe, with several innovations that take a simple roast chicken from being good, to great!
Total Time
1 hour
20 minutes
Ingredients
One 3 lb. roasting chicken
2 sprigs fresh rosemary
2 garlic cloves, minced
1/4 c. extra-virgin olive oil
1 T. Herbes de Provence
1 T. coarse salt
2 t. freshly ground black pepper
1/2 lemon
4 medium potatoes, cut into eighths
2 large carrots, cut into sticks 3" long and 1/2" thick
4 shallots, peeled and separated into cloves
1 c. dry, white wine; a Chardonnay will work well
Instructions
Pre-heat oven to 400º.
Place potatoes, carrots, and shallots in a large cast iron skillet. Toss with about a T. of olive oil, and some salt and pepper.
Place rosemary sprigs in cavity of chicken, and tie his/her little drumsticks together with some cotton kitchen twine.
Slide your fingers in between the the breast skin and the breasts, gently separating the two. Push minced garlic underneath skin. Rub surface of chicken with olive oil, then sprinkle with Herbes de Provence, salt and pepper. Squeeze lemon juice over top of chicken, and then insert lemon into cavity of chicken. Place chicken on top of vegetables and roast uncovered for 40 minutes.
Remove chicken from oven and pour wine over top of chicken, roasting for about another half hour, or until meatiest part of chicken breast registers 160º.

Adapted from several great chefs

Recommended Products
As an Amazon Associate and member of other affiliate programs, I earn from qualifying purchases.
Nutrition Information:
Yield:
6
Serving Size:
1
Amount Per Serving:
Calories:

815
Total Fat:

40g
Saturated Fat:

10g
Trans Fat:

0g
Unsaturated Fat:

27g
Cholesterol:

200mg
Sodium:

1378mg
Carbohydrates:

34g
Fiber:

5g
Sugar:

5g
Protein:

66g
Please: pin this recipe on Pinterest, or share it with someone you love. You will have done a kindness for me, and for them!
How do you roast your chicken?