This post contains links that, if you click on them and make a purchase, will earn me money. Regardless, I only recommend products or services that I believe will be good for my readers. Thanks for helping me continue to produce great content!
Roasted Okra and Pimento Cheese Pizza
is unlike any pizza you've ever had before. It combines two Southern favorites: okra, and pimento cheese, on a delicious homemade pizza crust. Wowser! This pizza embodies a couple of things that I dearly love about the South!
Where I Got the Idea for Roasted Okra Pimento Cheese Pizza
To be honest, I've been setting you up for this post, through the last two recipes I've shared. The first was "How to Make Easy Homemade Mayonnaise", which can be used in the making of the next recipe I shared, " How to Make Homemade Pimento Cheese".
Crafty, ain't I? Oh, so cunning! There's always a plan!
Ok, well….sometimes occasionally, there's a plan. Well…I planned, this time, anyway.
Last year, Abrams book publishers sent me a cookbook that I highly recommend, called Genuine Pizza…better pizza at home. It was written by James Beard Award winning chef, Michael Schwartz. I love the care and attention he puts into every pizza recipe he's written. He starts with excellent fresh ingredients. (Which, as you know, is how you produce excellent meals.) Thus it follows that to make a pimento cheese and okra pizza, he'd make his own pimento cheese. And to make his own pimento cheese, he makes his own mayonnaise.
My recipe for pizza dough is different than Chef Schwartz's recipe, and I'm kind of in love with my recipe, so that's the recipe I'll be sharing with you.
Do I Have to Make My Own Mayonnaise and Pimento Cheese to Make This Pizza?
Absolutely NOT! All I ask is that you start with relatively fresh, excellent ingredients. So, use your favorite store bought mayonnaise if you like, to make your own pimento cheese.
Or, if you know a great, locally made pimento cheese, use that, and forget about mayonnaise!
Do I Have to Make My Own Pizza Dough?
Neither do you have to make your own pizza dough. I'm told Trader Joe's has a most excellent pizza dough that you can buy and form and bake.
I will tell you that my pizza dough is our family's favorite, and we've tried a LOT of pizza in our day! One friend who was eating mine told me that my pizza crust reminded him of what his little Italian Nonna used to make. So if you have the time to make your own dough/crust, I'd really encourage you to give my recipe a try.
About Roasting the Okra
Chef Schwartz slices his okra lengthwise, but my family all agreed that they ended up being a little tough, sliced and roasted that way. After I'd cut off their little tops and tips, I sliced my okra as you see here, in the pictures.
I tossed the little niblets in about a tablespoon of olive oil, and salted them. Then I spread them out on a baking sheet. I only roasted them for ten minutes at 400º. Any longer than that, and they started getting too dark. Besides, remember: they'll be going into the oven a second time, on top of the pizza.
The Recipe for Roasted Okra and Pimento Cheese Pizza
Yield: 4 servings
Roasted Okra and Pimento Cheese Pizza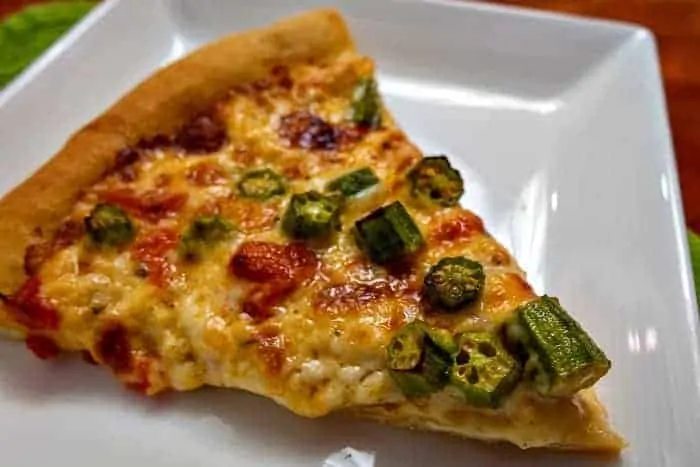 Roasted Okra and Pimento Cheese Pizza is unique. It combines two Southern favorites: okra and pimento cheese on a delicious homemade pizza crust
Ingredients
4 ounces of okra, sliced horizontally into 1/2" slices
1/2 teaspoon sea salt
1 tablespoon extra virgin olive oil
1 ball of pizza dough (half of the following recipe for pizza dough)
1/2 c. pimento cheese
Instructions
Pre-heat the oven to 400º. Place the sliced okra on a baking sheet. Drizzle with olive oil, and sprinkle with sea salt. Toss with your hands, to make sure olive oil and salt are evenly distributed. Roast for 10 minutes, until okra is just barely beginning to brown.
Turn the oven temperature up to 500º. If you have a cast iron pizza pan, or a baking stone, preheat those in the oven.
Spread a piece of parchment paper over top of a baking sheet, and form the crust into desired shape on the parchment paper that is on top of the baking sheet. The parchment paper will then act as a sling, so that you can easily slide your pizza off of the baking sheet and onto the top of the pre-heated cast iron pan or pizza stone.
Bake the pizza till the crust looks properly browned, about 10 minutes.
You can drizzle the crust with a delicious olive oil, if you like, or give it a little sprinkle of coarse salt, or even grate a little lemon zest over it , if you have a lemon on hand.
Recommended Products
As an Amazon Associate and member of other affiliate programs, I earn from qualifying purchases.
Nutrition Information:
Yield:
4 servings
Serving Size:
1
Amount Per Serving:
Calories:

183
Total Fat:

16g
Saturated Fat:

4g
Trans Fat:

0g
Unsaturated Fat:

11g
Cholesterol:

19mg
Sodium:

453mg
Carbohydrates:

5g
Fiber:

1g
Sugar:

1g
Protein:

4g
My Recipe for Pizza Dough
Yield: 2 balls of Pizza Dough
Pizza Dough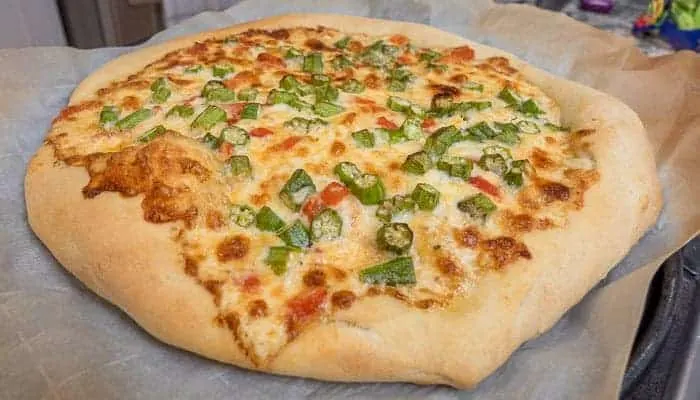 As good as your Italian Nonna used to make, if only you'd had one!
Total Time
2 hours
35 minutes
Ingredients
1 3/4 c. lukewarm water (110º), divided
4 t. dry yeast
5 1/2 c. bread flour
1/4 c. olive oil
2 T. milk
1 t. salt
Instructions
Combine 3/4 c. of the lukewarm water and the yeast in a small bowl.
Stir in 1/2 c. of the flour. Let stand 20 minutes, and pour in a mixer.
Add the remaining 5 c. flour (adding more if necessary), the remaining 1 c. of lukewarm water, the olive oil, milk, and salt. Mix the dough thoroughly with the paddle attachment.
Switch to the dough hook, and knead the dough for 10 minutes, until soft, but still moist.
Place in an oiled bowl, turning once. Cover the bowl with a towel or plastic wrap, and place it in a warm spot until the dough has doubled in volume, about 2 hours.
Punch down dough, and divide into 2 balls. Place one on floured work space, and let rest for half an hour. Freeze the other half in a ziplock bag for use another time.
Notes
REMEMBER, THIS RECIPE MAKES ENOUGH FOR TWO PIZZAS! If you'll only be using one, freeze the other to eat later.
Recommended Products
As an Amazon Associate and member of other affiliate programs, I earn from qualifying purchases.
Nutrition Information:
Yield:
16
Serving Size:
1
Amount Per Serving:
Calories:

204
Total Fat:

4g
Saturated Fat:

1g
Trans Fat:

0g
Unsaturated Fat:

3g
Cholesterol:

0mg
Sodium:

149mg
Carbohydrates:

35g
Fiber:

1g
Sugar:

0g
Protein:

6g
Other Recipes You Might Want to Try: