This post contains links that, if you click on them and make a purchase, will earn me money. As an Amazon Associate, I earn from qualifying purchases. . Regardless, I only recommend products or services that I believe will be good for my readers. Thanks for helping me continue to produce great content!
Gingery Balsamic Grilled Chicken Thighs with Grilled Peaches are luscious, beautiful, and easy to prepare. They're impressive enough to feed any company coming over for dinner, as well. Best of all, in these difficult economic times, they're affordable, too!
I found this recipe in the cooking section of the New York Times. The original recipe was written by Melissa Clark, whose recipes are often some of my favorites. I only modified it ever so slightly, by using bone-in, skin-on chicken thighs. And by changing up the herbs a little bit. But I have to give her credit!
What Kind of Chicken Do I Need to Make This Dish?
I used chicken thighs: bone-in, skin-on chicken thighs. But I honestly believe you could do it with boneless/skinless thighs, or breasts, or drumsticks. Basically, whatever chicken parts you've got. Bone-in or boned, skin on, or off. Just remember that the grilling times I'm giving are for bone-in chicken thighs with skin, and adjust your cooking time according to the chicken part you have.
How Can Grilled Chicken Thighs Be Good Enough for Company?
Even though it's "just grilled chicken thighs", you're going to be adding some great flavors and textures. Those flavors and textures will take just plain old grilled chicken thighs into the "Wow!" zone. None of the ways you'll do this are complicated, at all, either.
The Marinade/Serving Sauce:
This recipe calls for a sauce that you will divide up. Part of it will serve as a marinade, and the rest of it will be a sauce to serve with the meal. You start out by making a batch of the serving sauce. It calls for some finely chopped fresh ginger, some balsamic vinegar and a pinch of salt. Only three ingredients! How easy is that?
You'll use two tablespoons of that balsamic ginger marinade/sauce to marinate the raw chicken pieces in, reserving the rest. You'll add to your marinade base a few extras: rosemary, garlic, soy sauce and lime juice. Let the chicken marinate in that, in the fridge, for an hour or two.
The reserved marinade/sauce that you set aside earlier will be served with the meal. The marinade that's been used on the raw chicken needs to be thrown out when you're done marinating the chicken in it, because, ew, raw chicken = salmonella.
Herbed Honey Butter for the Peaches
Grilled peaches by themselves are lovely. Grilling peaches gives them a more intense flavor from the caramelization that comes with the grill marks. But in this recipe, you combine butter, rosemary, and a little bit of honey and spread that on the peaches before grilling them.
Not only does that keep the peaches from sticking to the grill, but it adds a lovely sweet herbal note to their intense flavor. It's really hard to explain how luscious they become, but they absolutely melt in your mouth.
Greek Yogurt (but this is optional).
If you're not a fan of yogurt, you can skip this part of the dish, but I served my gingery balsamic grilled chicken and peaches on top of a smeared spoonful of yogurt. I was surprised how much I loved the tang of the yogurt alongside the sweetness of the peaches and the chicken in its gingery balsamic glaze. Its creamy texture added another pleasing note to this dish. So if you like yogurt at all, I'd encourage you to try it. We loved it.
Yield: 4 servings
Gingery Balsamic Grilled Chicken Thighs with Grilled Peaches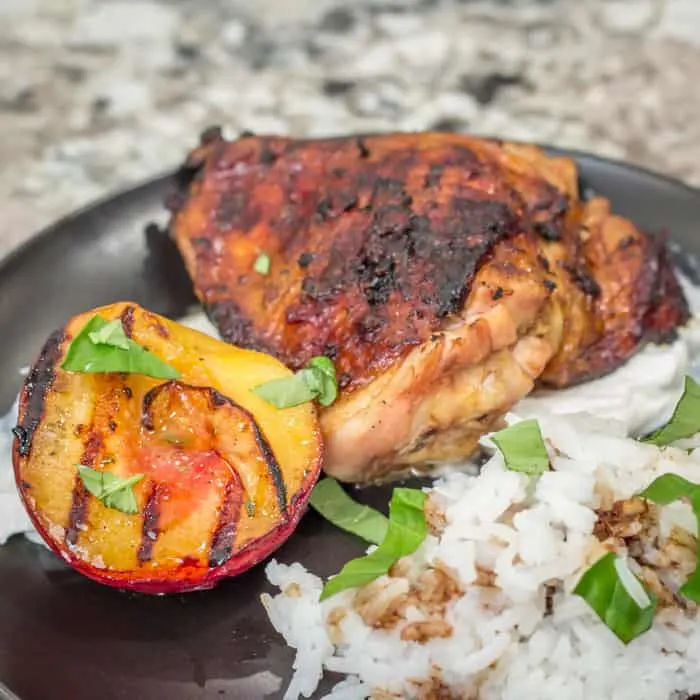 Gingery Balsamic Grilled Chicken Thighs with Grilled Peaches are luscious, beautiful, easy and affordable. Impressive enough to feed company!
Total Time
2 hours
35 minutes
Ingredients
FOR THE CHICKEN:
5 Tablespoons Balsamic Vinegar
2 Tablespoons finely grated/minced fresh ginger
Sea Salt
2 1/2 lb. of chicken thighs
4 sprigs of rosemary, needles removed
3 garlic cloves, finely minced
2 Tablespoons soy sauce
1 teaspoon fresh lime juice
1/2 cup Greek yogurt, for serving (optional)
8 torn fresh basil leaves
FOR THE PEACHES:
2 Tablespoons melted butter
2 teaspoons fresh rosemary needles, chopped
1 teaspoon honey
2 ripe peaches, halved and pitted
Instructions
In a bowl, mix together balsamic vinegar, minced ginger and a pinch of salt.
Season chicken thighs all over with salt. Separate out 2 T. of the balsamic vinegar, ginger and garlic into another bowl. Add the rosemary, garlic, soy sauce and 1 t. of lime juice. This will be your chicken marinade. Place the seasoned chicken thighs into a ziplock bag or a bowl that will hold them all closely. Close the bag, or cover the bowl with plastic wrap and allow them to marinate in the fridge for 1 - 2 hours, turning them at around the halfway mark, so as to allow both sides of the chicken to have time resting in the marinade.
Light and pre-heat the grill.
Prepare the peaches: in a bowl combine melted butter, rosemary and honey. Brush peaches with herbed honey butter mixture. Grill over direct heat until you have grill marks, about 2-4 minutes per side. transfer them to a serving platter, and brush with more herbed honey butter. Sprinkle with sea salt.
Remove chicken from marinade and grill until charred and browned, about 6-8 minutes per side.
Spoon and smear a big serving spoon of yogurt on each plate, and place chicken thigh on top of yogurt, and peach beside chicken. Drizzle with reserved balsamic ginger serving sauce. Sprinkle with chopped basil leaves.
Notes
We served our with rice, but farro or quinoa would be great as well. We drizzled the serving sauce over the rice, and sprinkled it with basil as well. So yummy!
Recommended Products
As an Amazon Associate and member of other affiliate programs, I earn from qualifying purchases.
I have a bunch of other chicken recipes on my site. You might want to check out my
Chicken Dukkah
recipe, which doesn't require grilling. Same with my
Peruvian Chicken with Green Sauce.
. Choosing my favorite is a lot like choosing a favorite child. They're EACH unique, and special, and wonderful. And unlike my children, (although I personally have never tried eating my children) they're flavorful and delicious!
Clucking Over My Favorite Chicken Recipes
This list is poultry in motion! I'm so proud I'm clucking over all my favorite chicken recipes.