This post contains links that, if you click on them and make a purchase, will earn me money. Regardless, I only recommend products or services that I believe will be good for my readers. Thanks for helping me continue to produce great content!
I couldn't decide whether to call this dish "Chicken and Chickpea Tagine" or "Bobby Flay, I Think I Love You". I really wanted to give it the name of the Food Network chef, but I was scared the search engines wouldn't figure out what I wanted people to be able to find. But YOU may call it "Bobby Flay, I Think I Love You", if you like. And if you try it, I bet you will.
I found this recipe because I received a box of Moroccan spices from a giveaway at Thyme in our Kitchen, and while I was familiar with the spice blend called "ras al-hanut", there was another spice blend, called "harissa", that I had no idea how to use. So, I googled, and found Bobby Flay's recipe, that I have adapted here.
On the Road to Morocco with Chicken and Chickpea Tagine
This dish was so good, that I knew I wanted to share it with you! It contained tender, juicy meat, sweetness from the apricots, the deeply complex spiciness of ras al-hanout, and both coolness and heat are found in the harissa sauce.
This dish was an amazing combination of flavors that burst on my tastebuds like a Moroccan sandstorm. Only juicier! And MUCH more flavorful. OK, almost nothing like a Moroccan sandstorm. I was going for the elements of power and speed here, in my little struggling analogy.
Spices and Cooking Methods from Morocco in Chicken and Chickpea Tagine
Don't be intimidated by a recipe that has terms that may be unfamiliar to you. Let me share with you what I've learned about a tagine, a spice blend called harissa, and one more spice blend: ras al-hanut.
Tagine: tagines (also spelled tajines) are a dish typical to Moroccan cuisine. They are slow cooked stews braised at low temperatures, resulting in meat that is very tender. The meat is simmered with aromatic vegetables and sauce. Moroccan tajines often contain dried fruits and special spice blends. The ceramic vessel they are cooked in is also called a tagine. It's a flat, circular dish with a conical cover. If you'd like to see a picture of that dish, or research more, here's a link. I didn't have a tagine dish, but a Dutch oven works just fine.
Harissa: a spice blend, typically used in North African cuisine, principally in Tunisia and Morocco. The ingredients in my jar, made by the Savory Spice Shop, contained roasted red jappone peppers, cumin, coriander, Hungarian and California paprika, garlic, salt, and caraway.
Ras al-hanut: is a popular Moroccan blend of spices, whose name literally means "top of the shop", meaning this is the best blend of spices a seller has to sell. My jar, also from the Savory Spice Shop, contained nutmeg, sea salt, black pepper, ginger, cardamom, mace, cinnamon, ground allspice, turmeric, and saffron. I have, however, made my own blend at home, and at the bottom of this post, I'll share with you the recipe I was given by my favorite local chef, Chef Deb Paquette:

I made a couple of slight adjustments to Chef Flay's recipe. His harissa sauce calls for crème fraiche, and to cut fat, I used Greek yogurt. That worked well. Also, he is known for enjoying spicy food, so I cut the amount of harissa in my version. He used 1 T. I cut the amount to two teaspoons: it's fiery hot stuff. And then I ended up adding another tablespoon or two of Greek yogurt to tame the flames a bit more. All that to say, that you can adjust the heat in this recipe to your own preference.
You could easily use this recipe with chicken breasts, rather than thighs. I used thighs, which are more flavorful (but, they have more fat, too). Just check the temperature of the meat. Poultry needs to be cooked to 165º, and breasts are larger, so they generally take longer to cook.
This recipe can be prepared either on the stovetop, or in the oven, according to your preference. I prepared mine in the oven, to mimic slow cooking. For that matter, I don't know why you couldn't use a slow cooker.
Are you exhausted from all this edumacation I'm giving you?
And you're ready for the actual recipe for the dish now?
Here we go, and remember, even though it has a long ingredient list, it is actually very easy to assemble.
The Recipe for Chicken and Chickpea Tagine with Apricots and Harissa:
Yield: 4 servings
Chicken and Chickpea Tagine with Apricots and Harissa Sauce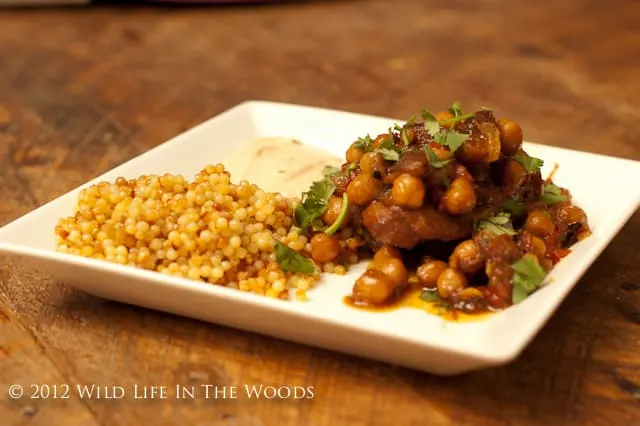 We're off on the Road to Morocco, with this delicious dish I've adapted from two great chefs, Bobby Flay, and Deb Paquette. A tagine is a slow cooked stew, and this one uses the spice blend known as ras al-hanut. The dish is served with a beautiful fiery yet cool harissa sauce.
Ingredients
2 T. canola oil
8 chicken thighs
Salt and freshly ground black pepper
2 T. olive oil
1 large yellow onion, peeled, halved, and thinly sliced
2 cloves garlic, finely chopped
1 tablespoon ras al-hanut*
Large pinch saffron, soaked in 1/4 cup warm water
1 cinnamon stick
1 1/2 cups canned diced tomatoes, drained (15-ounce can)
1 1/2 cups canned chickpeas, rinsed and drained (15-ounce can)
3/4 cup dried apricots, sliced in half
Chopped flat-leaf parsley, for garnish
Chopped fresh cilantro leaves, for garnish
HARISSA SAUCE:
1/2 cup creme fraiche
1 tablespoon harissa spice blend
Sea salt, to taste
Instructions
Pre-heat oven to 400º.
Heat canola oil in a large Dutch oven or a tagine over high heat. Season chicken with salt and pepper on both sides and place in the hot pan, skin side down, in batches if needed, cook until golden brown. Turn the thighs over and cook for 2 minutes longer. Remove chicken to a plate.
Remove all but 2 T. of the oil from the pan and then add the olive oil and heat over medium heat. Add the onions and cook until soft. Add the garlic and cook for 30 seconds. Add the ras al-hanut and cook another 30 seconds. Add the saffron with the soaking liquid, cinnamon stick, tomatoes, chickpeas, and apricots and bring to a simmer. Place the chicken into the mixture and bring to a simmer. Cover and cook, either on the stovetop, or in the oven for 35 to 40 minutes, or until the chicken is tender. Do not remove the lid to check on the chicken until this time is up. Garnish each serving with a dollop of Harissa Sauce, parsley and cilantro.
For the Harissa Sauce
Whisk all ingredients together in a small bowl and let stand at least 30 minutes in the refrigerator before serving.
Recommended Products
As an Amazon Associate and member of other affiliate programs, I earn from qualifying purchases.
I served this dish with couscous, because it seemed like a more Moroccan thing to do, but I think rice would be great as well.
The Recipe to Make Your Own Ras Al-Hanut Spice Blend:
Ras Al-Hanut Spice Blend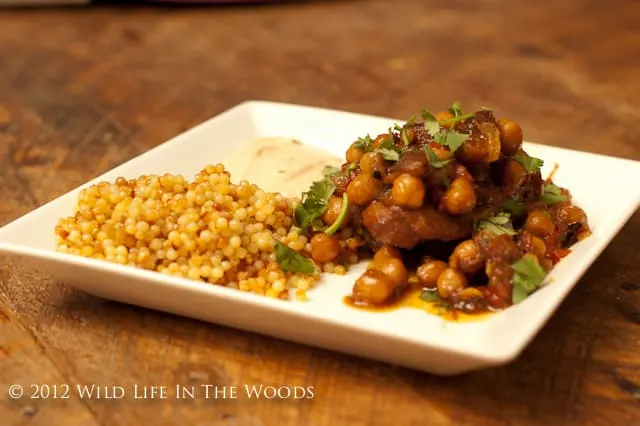 You can make your own Ras Al-Hanut Spice blend at home. This recipe was shared with me by Nashville's own Deb Paquette.
Ingredients
2 teaspoons each of the following spices
. freshly ground nutmeg
. coriander
. cumin
. ginger
. turmeric
. salt
. cinnamon
1 1/2 teaspoons each of these spices
. sugar
. paprika
. black pepper
1 tsp. of these spices
. cayenne
. cardamom
. allspice
1/2 teaspoon of
. ground clove
Instructions
Mix all spices well. This makes about 8 tablespoons and you can keep the rest in a little jar that you label "Ras al-hanout" till you want to use it again.
Notes
This spice blend is great for flavoring rice, couscous, meatballs or used as a rub on a pork tenderloin, which is how I've used it.
I'd love to hear from you. Ever had Moroccan cuisine?
Are you a fan of Chef Flay?