This post contains links that, if you click on them and make a purchase, will earn me money. As an Amazon Associate, I earn from qualifying purchases. . Regardless, I only recommend products or services that I believe will be good for my readers. Thanks for helping me continue to produce great content!
I know next to nothing about Indian food, and technically, from what I've read, Chicken Tikka Masala is more of a restaurant dish from Great Britain (which of course has a large number of Indian restaurants) than it is an authentic Indian dish. (But that's kind of true for spaghetti and meat sauce, that it's not authentically Italian, but more an American invented restaurant dish, from what Alton Brown tells me.)
Anyhow, I tried this recipe from Cook's Illustrated, because I saw it on TV (America's Test Kitchen), and wow, do I love this dish. We usually have it once a month or so in the fall and winter, when I'm craving warm, fragrant food. Everyone in the family loves this one!
If you've never heard of/tried a recipe that uses garam masala before, PLEASE, do not give up before hearing me out. I am going to walk you through the process so that you won't even have to buy any garam masala if you don't want to: you can make your own!
Let me explain!
Chicken Tikka means chunks of chicken that have been marinated in spices and yogurt. (Tikka actually means a kebab, although this recipe calls for broiling whole chicken breasts, not kebab sized chunks.)
Masala is a mixture of ground spices that are used in North Indian cuisine. They are actually more pungent than hot. These spices are heated in oil, and used in a sauce that usually involves tomatoes and cream.
Garam, (which in Hindi means "hot") is the first word in the name of a spice blend that is called Garam Masala. This is an ingredient you will see used in this recipe. You can buy it already prepared, or, I will give you a recipe for a blend of spices that you likely have in your cabinet, so you don't have to go looking for an ingredient that your grocery store MAY not carry.
I have made this dish both ways: with my own homemade blend, and with a blend I purchased.
I have used the spice blend recipe I'll give you here.
And I have made it with some garam masala that I purchased (I bought the small jar, because spices lose their pungency in 6 months) from Penzey's,. I visited one of their stores on my trip to the Richmond area to see my friend Anne.
Honestly, I preferred the Penzey's blend, I think, just a bit. But it was only because they had a few ingredients that I did not have in mine.
Here is the Cooks Illustrated recipe for:


Make Your Own Garam Masala:
2 t. coriander
1/2 t. black pepper
1/4 t. cinnamon
1/4 t. cardamom
Here is the ingredient list, in order of quantity of each spice, of Penzey's Punjabi Style Garam Masala.
coriander
black pepper
cardamom
cinnamon
chamushka
caraway
cloves
ginger
nutmeg
(Notice that the first four ingredients are the same. I think those extra ingredients were worth purchasing it, so when I run out, I'll probably re-purchase from Penzey's. But the other "Make Your Own" is perfectly acceptable.)
The recipe itself is a bit involved, but here are the basics that you'll need to know.
1. You rub/coat the chicken breasts in salt and spices and put them in the fridge to absorb those flavors.
2. You make the sauce, and enjoy the fragrance as those spices bloom in the oil and onions.
3. While the sauce is simmering, you dip the spiced chicken into a protective coating of a yogurt/oil mixture, and then broil it on a rack placed over a foil-lined rimmed baking sheet.
4. You cut up the broiled chicken into bite sized chunks, sprinkle on some cilantro, and serve over Basmati rice. (or at least, that's what I do).
So, that's the general idea.
Here's the recipe for :
Chicken Tikka Masala
Yield: 4 servings
Chicken Tikka Masala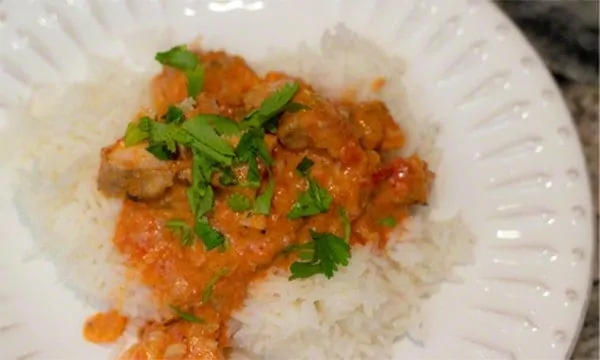 A flavor bomb of a dish, Chicken Tikka Masala has become almost the national dish of Great Britain. So delicious!
Ingredients
For the Chicken Tikka:
. 1/2 teaspoon ground cumin
. 1/2 teaspoon ground coriander
. 1/4 teaspoon cayenne pepper
. 1 teaspoon salt
. 2 pounds boneless, skinless chicken breasts , trimmed of fat
. 1 cup plain, whole milk yogurt (see note above)
. 2 tablespoons vegetable oil
. 2 medium garlic cloves , minced or pressed through a garlic press (about 2 teaspoons)
. 1 tablespoon grated fresh ginger
For the Masala Sauce:
. 3 tablespoons vegetable oil
. 1 medium onion , diced fine (about 1 1/4 cups)
. 2 medium garlic cloves , minced or pressed through a garlic press (about 2 teaspoons)
. 2 teaspoons grated fresh ginger
. 1 fresh serrano chile , ribs and seeds removed, flesh minced (see note above)
. 1 tablespoon tomato paste
. 1 tablespoon garam masala (see recipe for spice blend above; I prefer Penzey's blend.)
. 1 (28 ounce) can crushed tomatoes 
. 2 teaspoons sugar
. 1/2 teaspoon table salt
. 2/3 cup heavy cream
. 1/4 cup chopped fresh cilantro leaves
Instructions
FOR THE CHICKEN:
Combine cumin, coriander, cayenne, and salt in small bowl. Sprinkle both sides of chicken with spice mixture, pressing gently so mixture adheres. Place chicken on plate, cover with plastic wrap, and refrigerate for 30 to 60 minutes. In large bowl, whisk together yogurt, oil, garlic, and ginger; set aside.
FOR THE SAUCE:
Heat oil in large Dutch oven over medium heat until shimmering. Add onion and cook, stirring frequently, until light golden, 8 to 10 minutes. Add garlic, ginger, chile, tomato paste, and garam masala; cook, stirring frequently, until fragrant, about 3 minutes. Add crushed tomatoes, sugar, and salt; bring to boil. Reduce heat to medium-low, cover, and simmer for 15 minutes, stirring occasionally. Stir in cream and return to simmer. Remove pan from heat and cover to keep warm.
While sauce simmers, adjust oven rack to upper-middle position (about 6 inches from heating element) and heat broiler. Using tongs, dip chicken into yogurt mixture (chicken should be coated with thick layer of yogurt) and arrange on wire rack set in foil-lined rimmed baking sheet or broiler pan. Discard excess yogurt mixture. Broil chicken until thickest parts register 160 degrees on instant-read thermometer and exterior is lightly charred in spots, 10 to 18 minutes, flipping chicken halfway through cooking.
Let chicken rest 5 minutes, then cut into 1-inch chunks and stir into warm sauce (do not simmer chicken in sauce). Stir in cilantro, adjust seasoning with salt, and serve.
Notes
If you have no Garam Masala spice, you can make your own Garam Masala spice mixture:
2 t. coriander
1/2 t. black pepper
1/4 t. cinnamon
1/4 t. cardamom
Recommended Products
As an Amazon Associate and member of other affiliate programs, I earn from qualifying purchases.
If you're looking for other delicious recipes for chicken, I have a FLOCK of them. SO MANY cuisines from around the world use chicken, putting their own ethnic spin on it, and I love it because it's delicious and affordable. Might I suggest you check out my recipe for Peruvian Chicken, which is a super easy weeknight meal. It uses a Middle Eastern spice and seed blend that's just delicious. And I suppose I shouldn't have favorites, but I have to say that my recipe for Peruvian Chicken is probably my favorite, with its delicious green sauce! No, wait. I take that back. Chicken Marbella, with olives and prunes, is the best.
OK, you may just have to try them all, and decide for yourself!