This post contains links that, if you click on them and make a purchase, will earn me money. Regardless, I only recommend products or services that I believe will be good for my readers. Thanks for helping me continue to produce great content!
Chicken Marbella, a classic dish, is chicken roasted with garlic, olives, capers, and prunes. It's the perfect meal for a large dinner party.
Chicken Marbella is one of those dishes that has been around for what is seemingly forever, yet to this day, I find many friends who have yet to try it. If you are one of those folks who have not tried it, but this post persuades you to give it a go, well…you're likely to find yourself crying into your plate, over all the wasted years. It's that good.
You have been warned.
But your salty tears will merely add a touch more brininess to the dish. It's all good!
The Origins of the Recipe for Chicken Marbella
The recipe for Chicken Marbella first appeared in a cookbook called The Silver Palate Cookbook, published back in 1982, and was the signature dish of that New York take out/catering business. I'm pretty sure that I read their cookbook cover to cover. Even way back then, I loved good food, and loved reading a good cookbook almost as much.
The Silver Palate Cookbook's approachable writing style was sprinkled with cool tips and entertaining advice, in addition to their hand drawn illustrations. That cookbook was like no other cookbook I'd seen, up to that point. Along with the great cooks of the Berkeley, California Food movement, these ladies were breaking new ground in America's Food Revolution. And I was in the front row, shoving popcorn into my face, and watching with rapt attention, while they cooked.
Flash Forward 36 Years
I attended a retreat at a gorgeous lake front cabin in Alabama, with ten or so of my closest Nashville friends, back in October. I was volunteered to do Saturday night's dinner. When you're a food blogger, your friends expect you to put your money where their mouths are, if you know what I mean.
But, heck, I wanted to have fun and enjoy the retreat, too. So dinner needed to be EASY. And I wanted to keep the costs down. (Hmmm….Chicken seemed a likely suspect….) I scrolled through the recipe box of my mind…which is pretty crowded these days. And I remembered the first big dinner I'd cooked for my extended family after my mom died. And how impressive, but inexpensive it was. Chicken Marbella! Just the ticket.
About the Ingredients in Chicken Marbella
Garlic:
So, the Saturday morning of the retreat, the girls were having an opening session in the living room, and I was doing the measly amount of prep work required for this dish, in the kitchen area. The floor plan was one big open room, with an island separating me from them, but no walls. And one by one, the ladies kept drifting over saying things like, "WHAT is that delicious smell? Oh, that's GARLIC???" "My garlic doesn't smell like that. What kind of garlic are you using???"
Turns out, I was using fresh garlic. And I heard about 5 different preparations of pre-prepped garlic from these ladies, that they used in their own homes. From pre-peeled whole cloves, to jarred chopped garlic, to little pats of frozen garlic, to I don't even remember what all else.
Gentle Reader: DON'T FEAR THE GARLIC. Yes, I know. This recipe calls for a whole head of garlic. (Stop whining. It WANTS the whole head. Trust me.)
You can do this! Take those precious 5 minutes it will take to smash, peel, and mince all the cloves in a bulb of garlic. If you do, you will be rewarded with a flavor and an aroma that simply cannot be duplicated with those jars of pre-fab garlic. There is so little else to do in this recipe: I beg of you to smash, peel and chop your own garlic.
Prunes
??? Really??? Prunes??? Well, it doesn't *have* to be prunes. You could do a dried apricot, for example, if you're so inclined. But I'm not a huge prune fan myself, in general. However, in the words of my friend Donna, that night, who stared at her empty fork in slack jawed admiration, and whispered reverently, "I didn't know a prune could taste like that…", I do recommend the prunes.
Brown Sugar
A Whole Cup??? Yes, Virginia. I used a whole cup. You're adding balance to all that pungent garlic, and to the saltiness of the olives and capers. But you may use less sugar, if you like, and feel all virtuous about it, and I'll never know. I even used dark brown sugar, just to punch the flavor pedal to the floor. Because I'm like that. One important reason for adding the sugar
to the marinade is that it helps the meat get that gorgeous caramelized color that you see in my photos. You don't have to let the chicken marinate overnight, but you could. I put my chicken and all the other goodies into two gallon size ziplock bags on Saturday morning, before roasting and serving them Saturday night.
Chicken
And because I was serving 10 women whose type of meat preferences I didn't know, but wanted to cater to, I bought a large package of thighs, and a normal package of breasts. And because those breasts were MASSIVE, I went ahead and cut them in half before I roasted them. Then, when cooking time came around, I put all the white meat in one baking dish, and all the dark meat in another. My goal was to get similar sized pieces in the same pan, so that when I took the pan out of the oven, they'd all be done in that pan at around the same time, even if the other pan wasn't done yet. And sure enough, one pan DID take longer. But it was the breasts. They took longer because they were so dang thick. Double D's, for sure. Take your meat's temperature, so you know for sure when it's ready to remove it. And don't forget to let it rest.
Wine
No, you don't have to use wine. You could substitute chicken broth. But know that I'll be crying for you, if you do. The aroma, of that wine cooking with that garlic, and those capers, and prunes and olives? You'll be changing your shirt before dinner, due to excess droolage. A nice Chardonnay will do. I believe I used either a Viognier, or a Sauvignon Blanc. But use something you'd enjoy drinking with the meal. And for the love of all that's holy, don't use "cooking wine". It's just nasty, and Jesus would be offended. He made the GOOD stuff for the wedding at Cana.
Without further ado, and God knows I've made a lot of ado:
The Recipe for Chicken Marbella:
Yield: 12 servings
Chicken Marbella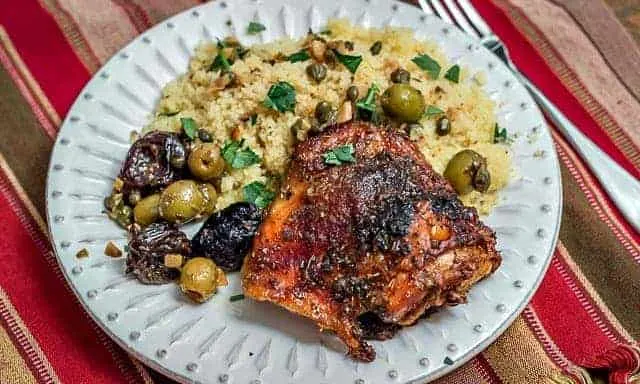 Chicken Marbella, a classic dish, is chicken roasted with garlic, olives, capers, and prunes. It's the perfect meal for a large dinner party.
Total Time
9 hours
15 minutes
Ingredients
Approximately 7 lbs. of chicken parts: one large tray of chicken thighs, one regular package of chicken breasts
1 head of garlic, smashed, peeled, and finely chopped
1/4 c. of dried oregano
coarse sea salt, about 2 T.
freshly ground black pepper, about 1 t.
1/2 c. red wine vinegar
1/2 c. olive oil
1 c. pitted prunes
1/2 c. pitted Spanish green olives
1/2 c. capers, with a bit of their juice
6 bay leaves
1 c. dark brown sugar
1 c. white wine
1/4 c. finely chopped fresh parsley


.
Instructions
Season chicken parts generously with salt and pepper.
Combine them in a large bowl with garlic, oregano, red wine vinegar, olive oil, prunes, olives, capers and their juice, and bay leaves.
Mix with your hands. (I like to wear gloves for this part.) Empty the contents of the bowl into two large ziplock bags, and refrigerate, at least 8 hours, and up to overnight, if you like.

Preheat oven to 350º.
.
Arrange chicken in a single layer to two large shallow baking pans, and spoon marinade over it evenly. Sprinkle chicken pieces with brown sugar, and pour white wine around them.
.
Bake for approximately 1 hour, Chicken is done when its temperature reaches 160º at its thickest part. , and when juices run yellow, rather than pink.
.
With a slotted spoon, transfer chicken, prunes, olives, and capers to a serving platter. Moisten with a few spoonfuls of pan juices, and sprinkle generously with parsley. Pass remaining juices in a sauce boat. They're great drizzled over couscous.

Notes
I cannot stress enough how great couscous is as a side dish. It soaks up the pan sauce/drippings beautifully!
Recommended Products
As an Amazon Associate and member of other affiliate programs, I earn from qualifying purchases.
If you really want to go for the gold with this meal, I'd encourage you to try either my
Sticky Toffee Pumpkin Pudding
, or my
Goat Cheese Ice Cream with Boozy Cherries and Decadent Hot Fudge Sauce
, for dessert. This meal will be remembered fondly for years to come!
Some Great Dessert Offerings for a Dinner Party
I was thinking you might enjoy some suggestions you could consider for dessert. Here are a few that came to mind