This post contains links that, if you click on them and make a purchase, will earn me money. Regardless, I only recommend products or services that I believe will be good for my readers. Thanks for helping me continue to produce great content!
In a recent post about Sunnyside Farms Organic Herb products, I mentioned that they carry gourmet dried herbs and spice blends. In today's post, I'd like to tell you about the spice blends that are available on their website, and share a recipe I developed using one of those spice blends. The recipe is for a dish I'm calling, Pizza Chicken.
Four Cooking Spice Blends:
The four cooking spice blends available on the Sunnyside Farms Organic Herb Products website are:
Tennessee Valley Blend: a blend of Sun Dried Tomatoes , Rosemary, Lemon Peel, Fennel, Black Pepper, Chili, Garlic, Citric Acid, and Sea Salt.
Herbes de Provence Sea Salt is made of French Gray Salt, Basil, Thyme, Savory, Rosemary, Tarragon, Lavender and Fennel seed.
Pizza Spice Blend: you could add this to your pizza sauce or crust. It's made of Basil, Black Pepper, Chile Pepper, Garlic, Oregano, Sun-Dried Tomatoes, Rosemary, Sea Salt, and Thyme.
Mulling Spices: containing whole allspice, cloves, orange peel, cinnamon, and green cardamom. This blend can be added to wine, brandy, cider or tea in the wintertime, to give you that "cozy" feeling.
Pizza Chicken
The Pizza Chicken recipe came about because I really wanted to to try that seasoning, but I wanted to do something a little more outside the box than just…pizza. While there weren't any little kids at my house the night I made it, I am just SURE that with a name like "Pizza Chicken", little ones would get excited to have THAT for dinner!
For the cheese, in my Pizza Chicken recipe, I used fresh mozzarella. I love the big puddles of cheesy goodness it forms when it melts. If you don't have any, you can feel free to substitute regular mozzarella.
If you don't happen to have any Pizza Spice Blend, and want to try this recipe anyway, you could certainly try it, using an "Italian Spice Blend" – the kind you find in most spice lines. But you'll need to add in some black pepper, and hot red pepper flakes, sea salt and garlic, and you'll miss out on the Sundried Tomatoes, and you won't get that precise combo of flavors that come in Sunnyside Farm's Pizza Spice Blend
But don't let that hold you back from trying this recipe! It will still be a winner! I love that I could do it all in my big cast iron skillet, too. Well, except for the pasta. This dish was inspired by a recipe I saw in the NY Times by Melissa Clark.
The Recipe for Pizza Chicken Pasta: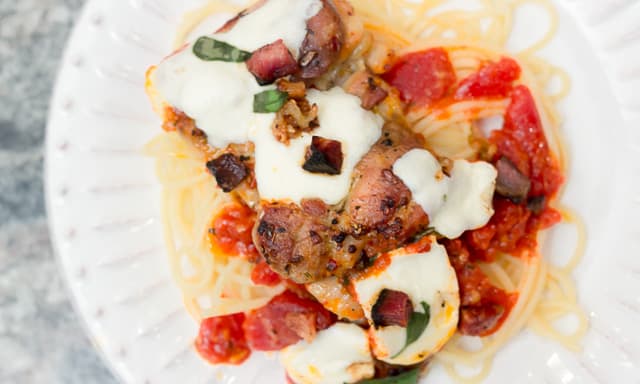 Pizza Chicken Pasta
2017-06-06 15:56:56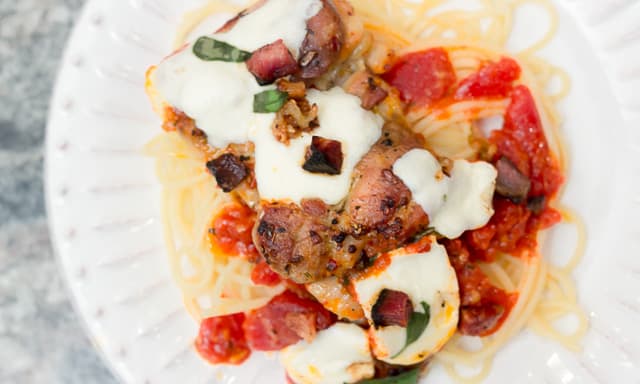 If you tell your kids you're having Pizza Chicken for dinner, they're going to get really excited. But you can tell the grownups that this is ACTUALLY DELICIOUS.
Ingredients
1 3 lb. package of boneless, skinless chicken thighs
1 t. sea salt
2 t. Sunnyside Farms Pizza & Pasta Seasoning (divided: 1 t. for chicken, 1 t. for sauce)
1 tablespoon extra-virgin olive oil
4 slices of bacon, diced
3 garlic cloves, thinly sliced
1 (28-ounce) can whole plum tomatoes
1 large basil sprig, plus more chopped basil for serving
8 oz. fresh mozzarella slices
1 16 oz. pkg. dried spaghetti noodles, prepared according to package directions
Instructions
Heat oven to 400 degrees. Pat chicken dry and season with salt and 1 t. Pizza Seasoning Blend.
In a large oven-proof skillet, warm oil over medium-high heat. Add bacon and cook, stirring frequently, until browned. Use a slotted spoon to transfer bacon to a paper-towel-lined plate.
Add chicken to skillet. Sear, turning only occasionally, until well browned on all sides, about 3-5 minutes per side. Transfer to a large plate. Pour off all but 1 tablespoon oil.
Add garlic slices to skillet, and fry 1 minute. Stir in tomatoes, 1 t. Pizza Seasoning and some fresh basil. Cook, breaking up tomatoes with a spatula, until sauce thickens somewhat, about 10 minutes.
Return chicken to skillet. Transfer skillet to oven and cook, uncovered, until chicken is no longer pink, about 15 minutes.
Scatter mozzarella pieces over skillet. Adjust oven temperature to broil. Return skillet to oven and broil until cheese is melted and bubbling, 2 to 3 minutes (watch carefully to see that it does not burn). Garnish with pancetta and chopped basil before serving.
Serve over 1 package of spaghetti, prepared according to package directions.
Notes
The spaghetti is optional, if you're trying to cut carbs.
Adapted from Melissa Clark of the NY Times
That Susan Williams https://www.thatsusanwilliams.com/