This post contains links that, if you click on them and make a purchase, will earn me money. As an Amazon Associate, I earn from qualifying purchases. . Regardless, I only recommend products or services that I believe will be good for my readers. Thanks for helping me continue to produce great content!
Heirloom Tomato Appetizer with Bacon, Fresh Mozzarella and Basil is my most favorite summer appetizer of all time! No kidding. It not only has not only has bacon and fresh mozzarella, it also has a delightfully tangy vinaigrette drizzled over top that truly makes this an unforgettable appetizer! And did I mention the fried bread?
Heirloom Tomato Bruschetta is an Heirloom Treasure of a Recipe.
Today, I am going to give to you a treasure: the recipe for Heirloom Tomato Bruschetta, with Bacon, Fresh Mozzarella, and Basil. It's one of the best things I've ever eaten. I know it has a slightly fancy word in it, but bruschetta is only an Italian word for grilled bread. It is usually rubbed with garlic, and often drizzled with olive oil. Sometimes it's topped with tomatoes and herbs.
If you want bonus points for being EXTRA fancy, you can even pronounce it correctly. That would be bru-sket-ta. (You know those Italians…it's like they have a different word for *everything*!)
And since it is full blown tomato and basil season, MAKE THIS NOW!!! Could I be any clearer?
I served this the night of the Great Reptilian Uninvited Dinner Guest. Now, don't let this put you off, but this is so good, it COULD be what drew him to the door.
A few recipe notes: I'm skimping on the bacon these days due to The Big Bison's (my dear husband's) heart attack, but you might not want to. I'm also going light on olive oil for the same reason. Do what you feel you need to do. You're going to use some of the bacon grease to fry bread in (yes! fry bread!) for flavor. You need enough oil/fat to make a warm vinaigrette, and the ratio is usually 1 part vinegar to 3 parts fat, although some cooks do a 1:4 ratio. To make this more heart healthy, if you already have your grill fired up, you could rub the bread with garlic and then grill it briefly, and then drizzle it lightly with some olive oil. Just giving you options!
The Recipe for Heirloom Tomatoes with Bacon, Fresh Mozzarella and Basil
Yield: 12 servings
Heirloom Tomato Appetizer with Bacon, Fresh Mozzarella and Basil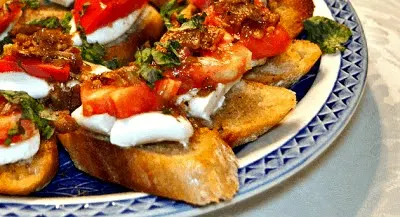 The best appetizer in the world for summer. Period. Use fresh heirloom tomatoes, fresh mozzarella, fresh basil and BACON. And go find some sherry vinegar.
Ingredients
1 baguette, thinly sliced
4 slices of bacon
6 tablespoons olive oil
1/4 c. finely chopped shallot
3 tablespoons sherry vinegar
4 assorted medium heirloom tomatoes, (2 lbs. total), cut into 1/4 " slices (or chopped cherry tomatoes)
30 small fresh basil leaves
1 ball fresh mozzarella cheese, sliced into medallions that will fit your baguette slices
Instructions
Cook bacon in a 10" heavy skillet over moderate heat until crisp, then transfer to paper towels to drain. Pour off bacon fat from skillet and reserve fat (do not clean skillet).
Heat 1 1/2 T. oil in skillet over moderate heat, until hot but not smoking. Sauté as many of the baguette slices as will fit in one layer in the pan, turning over once, until golden brown. This takes about 3 minutes. Transfer toasts to a rack to cool and season with salt and pepper. Repeat with remaining baguette slices.
Cook shallot in 2 T. reserved bacon fat and remaining 3 T. oil in a small heavy saucepan over moderate heat, stirring, until softened, about 2 minutes. Add vinegar, and simmer, whisking, until emulsified, about 1 minute. Season dressing with salt and pepper and keep warm, covered.
Crumble bacon. Arrange baguette slices on large plate and place one piece of fresh mozzarella on each piece of toast. Top with tomatoes, sprinkle with basil and bacon. Spoon the warm bacon dressing over and around each slice, and season with salt and pepper.
Recommended Products
As an Amazon Associate and member of other affiliate programs, I earn from qualifying purchases.
Nutrition Information:
Yield:
12
Serving Size:
1
Amount Per Serving:
Calories:

242
Total Fat:

10g
Saturated Fat:

2g
Trans Fat:

0g
Unsaturated Fat:

7g
Cholesterol:

6mg
Sodium:

407mg
Carbohydrates:

30g
Fiber:

2g
Sugar:

4g
Protein:

8g
Oh, you are going to so thank me for this. I offer this, one of my most favorite recipes ever, freely, with the greatest of love. Enjoy!