This post contains links that, if you click on them and make a purchase, will earn me money. Regardless, I only recommend products or services that I believe will be good for my readers. Thanks for helping me continue to produce great content!
There is a story behind this recipe for Mimosa Fried Chicken Biscuits, and it all started on my recent trip to Asheville, NC .
The Highland Brewing Company in Asheville
While I was in Asheville, I went to the Highland Brewing Company, where I met the owner, the incomparable Oscar Wong. I don't throw that term "incomparable" around lightly, either. What a remarkable guy!
Mr. Wong introduced himself saying that he was the son of Chinese parents, born in Jamaica, who went to school at Notre Dame (where he got a little Irish in him), moved to California, became a successful engineer, worked on nuclear power plants, and has been married for 49 years to a woman who still likes him.
"My house and car are paid for, I'm doing what I love, and I'm basically living the American Dream."
How can you not like a guy like that???
Oscar started the local Asheville brewing scene 20 years ago, after he retired, as a hobby. Some retirement!!! And in so doing, he was laying the foundation for many other local artisan breweries. So many, in fact, that Asheville has become known as Beer City, USA. (This title is hotly contested by Portland, OR, in an east vs. west tug-of-war.) He is known around Asheville as the Godfather of Brewing.
Where Oscar and I really connected was in talking about our respective daughters. Proud parents love to swap stories, and I could tell you a story or two about Oscar's beautiful daughter Leah, who is so very competently following in her Dad's footsteps, and is set to take over entirely running the company. I'll keep those stories to myself, but I will say that I have no doubt whatsoever that Leah has everything it takes, and more, to take the helm of Highland Brewing Company.
Highland hosted a restaurant tasting event (the one I mentioned in my last post, where I tasted the marvelous honey that came from the The Asheville Bee Charmer, and my husband's favorite bite, hands down, came from a restaurant called Biscuit Head.
It was their Mimosa Fried Chicken Biscuit. He kept saying, "That chicken was ROCKIN'!" When I got home, for my husband's sake, I knew I wanted to attempt to recreate it. Imagine my delight when I found the recipe on the flash drive that Asheville sent home with me.

Tips for Making Mimosa Restaurant's Fried Chicken Biscuit with Sweet Potato Butter
1. Use Boneless Skinless Chicken Thighs:
So that you can learn from my mistakes, I'll share with you what I've learned from making this recipe several times. First, I do NOT recommend that you try this with chicken breasts. I did, and the thighs do a MUCH better job of soaking up the flavor of the orange juice and spices. So use boneless, skinless chicken thighs, which make a much better biscuit sandwich.
2. Make big biscuits:
At Biscuit Head, chef Jason Roy, who originally developed this recipe, says they serve these with a cat-head biscuit. (That means a biscuit as big as a ….you know….) So I recommend making your biscuits on the large size, large enough to accommodate a fried chicken thigh, obviously. If you don't have a recipe for a GREAT biscuit, I just happen to have one here on my blog, and I guarantee you will LOVE them. (White Lily Flour is my flour of choice for biscuits, if you happen to be able to find some in your area. It makes the softest, fluffiest, most tender biscuits.)
Start This Recipe the Day Before You Plan to Serve It
My best advice is to start this recipe the day before you want to serve it. Get the chicken in the marinade, make the dressing for the slaw, and the sweet potato butter. Each of these tasks is quite easy, and can be done fairly quickly, leaving not that much to do on the following day.
I think Mimosa Fried Chicken Biscuits would be PERFECT for a football game/tailgating party in your own living room, served with your favorite brew. And I know Oscar would love it if you'd give one of his Highland Brews a try!
Please, pin this post on Pinterest, so that you don't lose the recipe. Or share it with your friends on Facebook. Or tweet it on Twitter, if that's your thing.
The Recipe for Mimosa Fried Chicken Biscuits
Yield: 4 servings
Mimosa Fried Chicken Biscuits with Sweet Potato Butter and Sriracha Slaw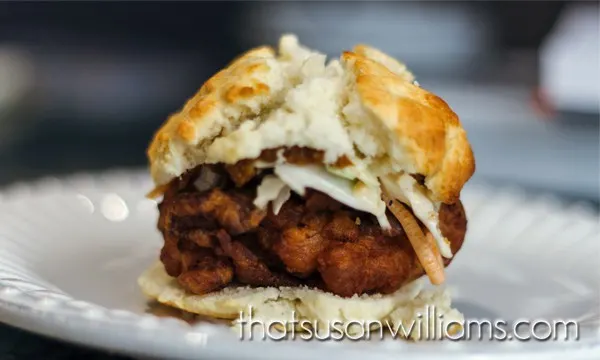 The chicken soaks up the flavor of the spices in the marinade, the sweet potato butter adds a sweet note, and the sriracha slaw brings heat and fresh crunch.
Total Time
9 hours
15 minutes
Ingredients
For the chicken
4 large boneless, skinless chicken thighs
2 T. kosher salt
3 T. sugar
2 t. ground coriander
1 bay leaf
2 t. smoked paprika
2 t. curry powder
2 c. orange juice
For the slaw:
1 c. mayonnaise
1 T. chopped ginger
1 T. chopped garlic
1 T. salt
1 t. freshly ground black pepper
1/2 c. brown sugar
1 small squirt of Sriracha
1/2 c. apple cider vinegar
1 bag of cole slaw mix (or 1 qt. chopped cabbage)
For the Sweet Potato Butter:
1 large sweet potato
1 c. brown sugar
2 t. cinnamon
a pinch of allspice
a pinch of freshly grated nutmeg
a pinch of clove
a pinch of ground ginger
1 t. lemon zest
1/4 t. salt
Instructions
For the Chicken: Mix all of the chicken marinade ingredients together and marinate overnight in a ziplock bag.
For the Slaw: Mix all of the slaw dressing ingredients together EXCEPT the cabbage/coleslaw mix. Allow the ingredients to "marry" in the fridge overnight. When ready to assemble the sandwiches, stir dressing onto cabbage/coleslaw mix, and mix thoroughly.
For the Sweet Potato Butter: Boil sweet potato till fork tender. (Mine took about 15 minutes, but you'll need to test yours with a fork.) Drain all water from potato and mash with sugar and spices, and zest. Store in plastic container overnight, until ready to assemble the sandwich.
To Fry the Chicken: Shake the chicken around in a bag with some flour. (I use an old, clean brown paper bag.) Let the chicken rest for a minute or two, to be sure the flour adheres. Fry it in oil in a cast iron skillet, if you have one. (I use canola oil usually, although if I'm lucky enough to have peanut oil around, it's my first choice for frying.) Oil needs to be around 350-375º, and the chicken needs to cook to a temperature of 165º.
To Assemble the Sandwich: I spread sweet potato butter on the inside of the top half of the biscuit. It will help secure the coleslaw. Put the chicken thigh on the bottom half, some slaw on top of that, and then, the sweet potato butter "top hat" goes on top.
Notes
THE DAY BEFORE YOU PLAN TO SERVE: Marinate the chicken, make the dressing, and make the sweet potato butter. Each component is very easy and quick to make.
THE DAY YOU PLAN TO SERVE: All that will remain to be done is frying the chicken, making the biscuits, putting the dressing on the cabbage, and assembling the sandwich.
ADAPTATIONS I MADE To the Original Recipe:
I have doubled the curry powder, changed the "paprika" to smoked paprika, omitted any water from the brine (the original recipe called for two cups of water, but using OJ alone worked fine, since I was going for greater intensity of flavor in the chicken). In the slaw, I have used less pepper and sriracha, because I think too much heat numbs the taste buds. In the sweet potato butter, I have added lemon zest and a little salt, because the sweet potato butter I made according to the original recipe was a little too sweet, and a bit flat in flavor.
Recommended Products
As an Amazon Associate and member of other affiliate programs, I earn from qualifying purchases.
Nutrition Information:
Yield:
4
Serving Size:
1
Amount Per Serving:
Calories:

1137
Total Fat:

57g
Saturated Fat:

11g
Trans Fat:

0g
Unsaturated Fat:

45g
Cholesterol:

182mg
Sodium:

6099mg
Carbohydrates:

124g
Fiber:

6g
Sugar:

105g
Protein:

36g