This post contains links that, if you click on them and make a purchase, will earn me money. Regardless, I only recommend products or services that I believe will be good for my readers. Thanks for helping me continue to produce great content!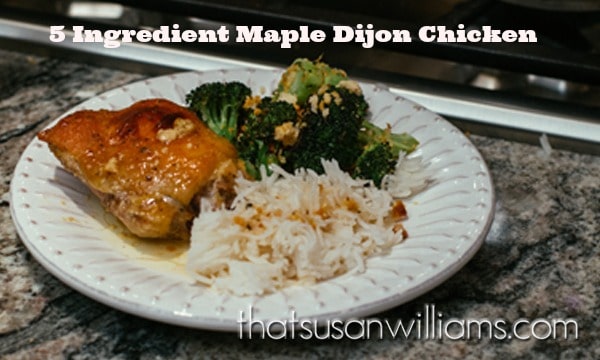 Here's a recipe that's so easy, so flavorful, and so delicious that you'll be GLAD to add this one to your weeknight repertoire. I don't even need to write a lot of words to doll this one up. You can make this recipe with chicken breasts or chicken thighs (or drumsticks, if that's what you have on hand). Just adjust the cooking time accordingly: breasts take almost an hour in my oven, whereas thighs take 45 minutes. Boneless chicken takes less time than bone-in chicken, but I think bone-in meat usually tastes better, so bear that in mind as well. Your oven will likely vary from mine, so take your chicken's little temperature with a digital thermometer. It needs to have reached 165º. I served my chicken with roasted broccoli – another really easy and delicious recipe that I can hook you up with – and rice. Fast. Easy. Delicious. Yum.
If you like this recipe, please share it on Facebook or tweet it on Twitter. And by all means, pin it on Pinterest so you remember to try it!
5 Ingredient Mustard Maple Chicken
2014-10-13 10:31:47
Serves 6
An easy, delicious chicken addition to your weekday repertoire.
Ingredients
1 package of chicken breasts or thighs
1/2 c. Dijon mustard
1/4 c. maple syrup
1 T. rice wine vinegar
1 T. chopped fresh rosemary
(I didn't count the salt and freshly ground black pepper as ingredients, but I'm OK with that.)
Instructions
Pre-heat oven to 350º.
Generously salt and pepper chicken on both sides and place in an 13 x 9" baking dish.
Mix together mustard, maple syrup, and rice wine vinegar.
Pour mustard mixture over chicken, being sure that both sides are thoroughly coated.
Roast chicken at 350º for approximately 45 minutes to 1 hour. Chicken will be done when the largest piece of chicken reaches 165º internally.
Sprinkle roasted chicken with rosemary, and drizzle with the sauce it has roasted in.
Adapted from my friend Debbie
Adapted from my friend Debbie
That Susan Williams https://www.thatsusanwilliams.com/