This post contains links that, if you click on them and make a purchase, will earn me money. As an Amazon Associate, I earn from qualifying purchases. . Regardless, I only recommend products or services that I believe will be good for my readers. Thanks for helping me continue to produce great content!
This recipe for Crispy Lime and Cilantro Chicken Wings with Sriracha produces wonderfully crisp wings, packed with delicious, delightful flavor, that won't burn your lips off your face.
Now that I've tried a couple of Chef Michael Symon's recipes, I have been on the lookout for more. I'm on the waiting list at the library for his cookbook, and I'm trying to be patient about it…But I was watching "The Chew" the other day, and I noticed Clinton (the guy on "What Not to Wear") could not keep his hands off the chicken wings that the group was sampling. I actually missed that part of the program where Chef Symon cooked the recipe, but I gather that it was HIS wings that drove Clinton into such a feeding frenzy, and I thought: "Whoa! Gotta try me some of those!"A little research on The Chew website took me to Chef Symon's recipe, and so today, I'm going to give you a glimpse of what I cooked up using it, and some feedback on what I'll do differently next time.
I bought my very first bottle of Sriracha (it's a hot sauce) for this recipe, and I'm pretty excited about it. It's not just hot. There is a smokiness, and a slight sweetness, and a depth of flavor behind the heat that is tasty. The first thing that hit my palate was the heat, but if you hang in there, after the heat fades, there's more to taste beyond the heat, and that "more" is really nice. I think I'll be using it (albeit cautiously) in more recipes in the future. I found it in the Asian foods section of my grocery store, although it's made in California, and it has a rooster on the bottle. Hope that helps.
My Alterations to Chef Symon's Recipe, Regarding Fat
I had no duck fat, which is what the original recipe called for: 4 cups of duck fat. But, I know that peanut oil has one of the highest smoking temperatures, so I did purchase a big bottle of peanut oil to fry these in. That worked out well for me, and if I want to fry chicken wings again, I'd use peanut oil happily.
However, if you happen to HAVE access to duck fat, Chef Symon says he likes to use the animal fat of the animal (or the cousin of the animal) that he is cooking when he cooks it. So, I guess the duck is the poultry cousin of the chicken, and hence, was his fat of choice.
I have not yet tried this recipe in my air fryer, but plan to to this year. It seems like a perfect candidate for air frying!
Alterations Regarding Heat:
As I have said on this blog repeatedly, we are weenies when it comes to spicy foods. We are growing in our ability to tolerate more heat, but I was too optimistic, and made his hot sauce recipe as written. For my benefit, and probably for yours, so that your taste buds aren't forever seared off your tongue, I have halved the amount of sriracha. But you do you.
You can start by pouring half of the sauce over the wings, and then let people dip their wings in the sauce they put on their plates, if they desire more heat. If you're a fire loving family, who just can't get enough heat, then you can double the sriracha amount listed here, and good luck with that.
His recipe called for thinly sliced jalapeños to be sprinkled over the wings at the end. I omitted the jalapeños. Frankly, I don't know how the man has any taste buds left in his head that have not been incinerated. But CLEARLY he has some of the world's most awesome taste buds, if the food he puts out is any indicator.
So jalapeñocize this recipe at your own risk. Lime slices are another accompaniment that Chef Symon serves with the wings, and although we didn't need them, I can see where they would enhance the recipe.
Smoked Paprika is Everything
Use the smoked paprika that the recipe calls for! Don't be tempted to substitute regular paprika. Go out and find the smoked stuff and buy it. Better yet, use my affiliate link at the bottom of the recipe card to order some via Amazon. Poof! It comes to your door! The flavor smoked paprika gives is WONDERFUL. So worth it.
Pay Attention to the Temperature of the Oil
Keep your eye on the oil temperature! For me it was kinda like Goldilocks and her issues with the Three Bears' porridge. My oil got a little too hot when I was frying the first batch, so I adjusted the temperature downward, and then it dropped a LOT when I put in the second batch of wings, and so they didn't fry as quickly, which causes fried food to take on more grease. So be sure to not overcompensate with the temperature dial like I did. Still, they turned out great!
So, Here's My Adapted Version of Michael Symon's:
Yield: 6 servings
Crispy Lime and Cilantro Chicken Wings with Sriracha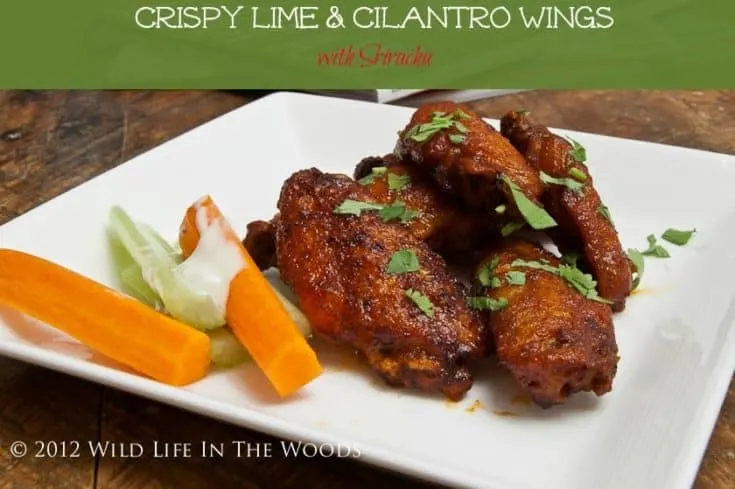 Wonderful crispy wings, packed with delicious, delightful flavor, that won't burn your lips off your face.
Ingredients
3 lb. chicken wings
4 c. peanut oil (you can use duck fat if you have it - I didn't)
1/2 c. cilantro leaves, chopped
FOR THE MARINADE:
1 T. kosher salt
1 t. sugar
1 T. smoked paprika
2 limes, juiced
1/2 c. extra virgin olive oil
FOR THE WING SAUCE
1/4 c. Sriracha
1 T. apple cider vinegar
2 T. honey
3 T. butter
zest of 1 lime
1/2 t. salt
Instructions
Combine the marinade ingredients in a bowl, and add the chicken wings. Toss and coat the wings, and then dump them in a ziplock bag and place them in the fridge to marinate for 1-2 hours.
Heat the oil in a large cast iron pan or Dutch oven. Use a deep frying thermometer to monitor the temperature. The oil will be ready to fry in when it reaches a temperature of 360º.
While the oil is heating, preheat the oven to 350º. After the wings have finished marinating for a couple of hours, spread them out on a baking tray, along with any liquid from the marinade, and bake for 15-20 minutes, until just about cooked through. Remove from the oven and let cool slightly.
While the wings are in the oven, assemble the ingredients for the sauce in a small saucepan, and cook over medium heat. Whisk occasionally until the butter has melted, and then taste and season with salt or more honey if desired. (This is where I'll be trying HALF as much sriracha sauce next time!) Set aside untilready to use.
When your fat has reached 360º, add the wings, deep frying until golden brown and crispy. Remove them onto some paper towels, and season them with salt. Place them in a bowl, and pour some of the sauce over top, mixing to coat all wings evenly. Sprinkle with cilantro and toss one more time.
Notes
Serve with blue cheese dressing, and carrot and celery sticks.
Recommended Products
As an Amazon Associate and member of other affiliate programs, I earn from qualifying purchases.
Nutrition Information:
Yield:
6 servings
Serving Size:
1
Amount Per Serving:
Calories:

2278
Total Fat:

223g
Saturated Fat:

50g
Trans Fat:

1g
Unsaturated Fat:

160g
Cholesterol:

202mg
Sodium:

2578mg
Carbohydrates:

36g
Fiber:

3g
Sugar:

10g
Protein:

39g
I think this recipe calorie count is way off, since it includes all the oil used in frying. What the heck?
I served mine with carrot and celery sticks, and blue cheese dressing, which kind of helps cut the heat a bit: that's my recommendation, because you may find you need it.
These were my daughter's and my husband's very favorite wings that I have ever made, even though we all sat around wiping our eyes and noses while we were eating them. My son, bless his heart, missed out because he was out galavanting. Maybe next time, kid.
As always, if you love the look or sound of this recipe, feel free to pin it or share it.
And if you're looking for some more recipes for your next tailgating/football event, check out my Wild White Turkey Chili. Or how about my World's Best Chili Makes A SuperBowl, Whether you make it with venison, or beef, you'll learn a lot about chili powder!
Recipes for Game Day
Whatever your Game Day Traditions, any one of these recipes will make your Game Day Menu a little tastier.