This post contains links that, if you click on them and make a purchase, will earn me money. As an Amazon Associate, I earn from qualifying purchases. . Regardless, I only recommend products or services that I believe will be good for my readers. Thanks for helping me continue to produce great content!
Wild White Turkey Chili is a delicious and healthy recipe, with great depth of flavor, thanks to utilizing 3 different types of chilis: poblano, Anaheim, and jalapeño.
What is White Chili?
Most people from the USA think of chili as that perfectly yummy, warming dish that is perfect for fall, winter and basically what a lot of us think of as "football weather". White chili is a spin on what Americans think of as "regular" chili, that omits the tomatoes, and substitutes poultry for beef.
I love white chili! While we've still got a little bit of potential winter weather left in the sorry excuse for a winter we've had this year, I thought I'd share with you a recipe that really warms us up here in the Boonies, during the colder months of the year.
I've seen many recipes for white chili with chicken, but a few years ago, I saw a recipe in Cooks Illustrated for White Turkey chili, and decided I wanted to give their recipe a try.
Basically, this was due to the fact that I needed to figure out how to used the wild turkey my husband was bringing home from hunting trips.
THE RECIPE DIRECTIONS THAT I AM GOING TO GIVE YOU ARE PRETTY CLOSE TO Cook's Illustrated's ORIGINAL DIRECTIONS, which call for using A STORE BOUGHT TURKEY BREAST. I am doing this because I suspect that this is what most people reading this will have access to. However, I want you to know that when I made this recipe, I used the wild turkey breast that my husband brought home from one of his hunting trips.

What You Need to Know If You're Using Wild Turkey Breast That's Different From the Recipe Below
If you are using a wild turkey breast: Wild turkey is very, very lean, and so it's important to be very careful in the cooking process, because if cooked too long, it can toughen up quickly.
A wild turkey breast will also, in general, be smaller than the store bought turkey breast this recipe calls for, so this is another reason to pay careful attention to the length of time you cook it.
Less than 2 1/2 lbs. of meat means that your cooking time would be less. My wild turkey breast had no bone, and no skin. Again, this reduced the cooking time necessary.
If you attempt this recipe using a wild turkey breast, my main suggestion would be that you check the temperature of the turkey breast at the thickest part, early, periodically, and carefully. You want to cook it to the FDA's recommended temperature for cooking poultry, which is 165º. That said, once you remove a piece of meat from the heat, the temperature will continue to rise for a few minutes, so taking it out at 160º is a good rule of thumb.
Where this recipe calls for you to return the meat to the chili to continue cooking it, do not, if it has already reached the desired temperature of 165º. Your goose…er…turkey…is cooked.
Wear Gloves to Mince the Chile Peppers
I would strongly encourage you to use gloves to initially cut and seed your chile peppers. Either those yellow latex gloves or the clear latex or non-latex disposable gloves will save your fingers from post-chile pepper cutting burn. I've suffered through this before, and you don't want it. My fingers burned for several hours once after chopping chile peppers. So don't go there: wear gloves.
Good News: Let the Food Processor Chop Your Onions
Cooks Illustrated recommended that I use a food processor to prepare the onions and chili peppers. I doubted them. Silly me. My experience in the past with chopping onions using a food processor is that food processors turn onions into mush. Well, they do, if you process the onions too long.
So follow the directions and PULSE the onions and chili peppers until they look like salsa. It was about 10 pulses with my food processor. Many tears went UNshed using this method. Big time-saver, too. I highly recommend it.
In Regard To Heat Levels:
The only thing I am really changing seriously in this recipe is the amount of heat/chile peppers. We are not stout of heart when it comes to heat in food. So, if you like your chili HOT, adjust the amount of chile peppers accordingly. I cut the amount the original recipe called for.
I used one third the amount of jalapeño peppers they used. (In general, one pepper where they called for 3 peppers.) If you REALLY like it hot, don't remove the ribs or seeds from your chile peppers. That's where the REAL heat comes in.
Canned Beans vs. Dried Home-Cooked Beans
I cooked my white (cannelini) beans from scratch, with garlic, thyme and a bay leaf. You could easily substitute Great Northern beans, or even Navy Beans in a pinch.
I like the cannelini because they are large. Canned beans are fine, if that's what you've got, and it's easier for you. Beans you cook yourself are tastier, cheaper, and better, in general, because you know what's in there. That's my opinion.
In Regard to Chicken Stock
I use my own homemade chicken stock. Again, it's tastier, and you know what's in there. But you don't have to. But it WILL bump the quality and taste up a notch. Here's a link to my recipe, if you'd like to try making some for yourself: Homemade Chicken Stock.
White Turkey Chili Recipe
Yield: 6 servings
(Wild) White Turkey Chili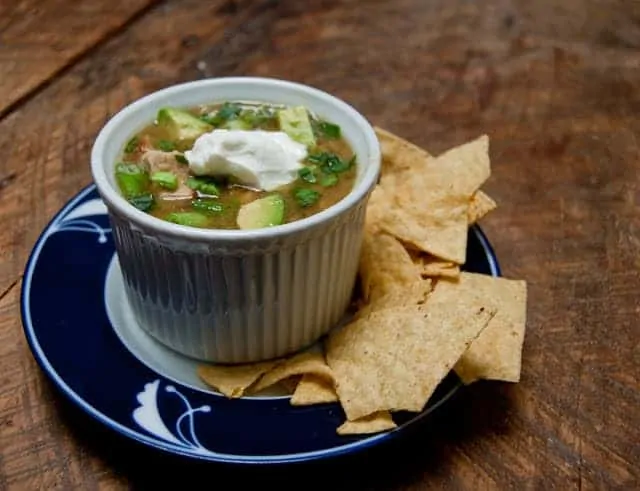 Wild White Turkey Chili is delicious whether you use a store-bought turkey breast, or the breast of a wild turkey, like I did. The variety of peppers brings a richer depth of flavor!
Ingredients
1 bone-in skin on split turkey breast (about 2 1/2 pounds), trimmed of excess fat and skin OR
1 wild turkey breast, (about 2 1/2 lbs.) skinless and boneless
sea salt and freshly ground black pepper
1 T. vegetable oil
1 medium jalapeño chile
1 poblano chile (medium) stemmed, seeded, and cut into large pieces
1 medium Anaheim chile pepper (medium), stemmed, seeded, and cut into large pieces
2 medium onions, cut into large pieces (2 c.)
6 medium cloves garlic, minced
1 T. ground cumin
1 1/ t. ground coriander
4 c. cannellini beans, drained and rinsed
3 c. chicken broth
TO FINISH THE CHILI:
3 T. fresh lime juice (from a couple of limes)
1/4 c. fresh chopped cilantro leaves
4 scallions, white and light green parts sliced thin
1 chopped avocado, optional, for garnish
Instructions
Season turkey liberally with salt and pepper. Heat oil in large Dutch oven over medium-high heat until just smoking. Add turkey, skin-side down, and cook without moving until skin is golden brown, 6 to 8 minutes. (If cooking wild turkey, there will be no skin to brown, obviously, since it's likely skinless, but that's fine. You need to develop the lovely caramelization, so brown it without the skin, and turn the turkey after 6 minutes Take its temperature to see if the wild turkey has already reached 160º). Using tongs, turn turkey and lightly brown on other side, about 2 minutes. Transfer turkey to plate; remove and discard skin.
While turkey is browning, remove and discard ribs and seeds from the jalapeño; mince flesh. In food processor, process half of poblano chile pieces, Anaheim chile pieces, and onions until consistency of chunky salsa, 10 to 12 1-second pulses, scraping down sides of work bowl halfway through. Transfer mixture to medium bowl. Repeat with remaining poblano chiles, Anaheim chiles, and onions; combine with first batch (do not wash food processor blade or work bowl).
Pour off all but 1 T. fat from Dutch oven adding more vegetable oil if necessary) and reduce heat to medium. Add minced jalapeños, chile-onion mixture, garlic, cumin, coriander, and 1/4 t. salt. Cover and cook, stirring occasionally, until vegetables soften, about 10 minutes. Remove pot from heat.
Transfer 1 cup cooked vegetable mixture to now-empty food processor work bowl. Add 1 c. broth, 1 c. beans, and process until smooth, about 20 seconds.
Add vegetable-bean mixture, remaining 2 c. broth, and turkey breast* (bone-side down) to Dutch oven and bring to boil over medium-high heat. Reduce heat to medium-low and simmer, covered, stirring occasionally, until turkey registers 160º on an instant-read thermometer, 30 to 35 minutes.
Using tongs, transfer turkey to large plate. Stir in remaining beans and continue to simmer, uncovered, until beans are heated through and chili has thickened slightly, about 10 minutes.
Mince any remaining jalapeño and set aside. (I omitted adding additional jalapeño. We don't need the extra heat around here.) When cool enough to handle, shred turkey into bite-sized pieces, discarding bones.
Stir shredded turkey, lime juice, cilantro, scallions, and remaining minced jalapeño into chili and return to simmer. Adjust seasonings with salt and pepper and serve.
I top my chili with sour cream, avocado chunks, and tortilla chips.
Notes
If you are using a wild turkey breast, the last simmering of the turkey breast mentioned in Step 5 may NOT be necessary. In fact, it will only cause an already cooked turkey breast to draw up and get tough if the breast has already reached 165º. So don't return it to the pot to continue to cook, if the turkey has already come to the desired temperature. If that is the case, just add it at the end of the recipe, and simmer the turkey breast enough to warm it back up.)
Recommended Products
As an Amazon Associate and member of other affiliate programs, I earn from qualifying purchases.
Nutrition Information:
Yield:
6 servings
Serving Size:
1
Amount Per Serving:
Calories:

314
Total Fat:

9g
Saturated Fat:

1g
Trans Fat:

0g
Unsaturated Fat:

7g
Cholesterol:

19mg
Sodium:

900mg
Carbohydrates:

42g
Fiber:

11g
Sugar:

4g
Protein:

20g
If you're interested in other recipes that use the wild game a hunter brings home, you might want to check out my recipe for the World's Greatest Chili, that uses venison OR beef, or my Venison Stroganoff , that's served on a combination of white, and wild rice.