This post contains links that, if you click on them and make a purchase, will earn me money. As an Amazon Associate, I earn from qualifying purchases. . Regardless, I only recommend products or services that I believe will be good for my readers. Thanks for helping me continue to produce great content!
I love a good summer pizza, but this pizza, my Peach Ricotta and Prosciutto Pizza with Rosemary Balsamic Reduction may be the best pizza I've ever made in my life! Or had. Wow, its just like I have ordered a pizza delivery from a famous pizza store.
I love my own homemade pizza. It's completely different from any other pizza I've ever had.
Do I Have to Use Homemade Pizza Crust?
No, you don't! Of course not. If you already have a great pizza crust recipe that your family loves, it's fine to stick with what you've got.
If you need to speed things up a bit, and you're going with store bought, I think Trader Joe's pizza crust is pretty great. I kind of avoid this pizza-dough-crust-in-a-tube things.
The pizza crust recipe I'm providing you I learned from a crust recipe by Joanne Weir, and if you've never tried it before, it's dreamy. But thin and crispy, it's not. It's more like thick, chewy, but also still manages to be crisp on the outside. It's perfect. I may be biased, and clearly, I am, but I think the dough recipe I'm giving you will be a revelation for some of you. PLEASE try it, and let me know what you think.
Salty and Sweet on a Pizza
Some people like pineapple and ham on a pizza, and I'm one of them. And here's why. Not only do we get the chewy crust. Not only do we get the melty cheese. But we also get salty AND sweet. So, is it any wonder this is the food of the gods?
We don't grow pineapples here in Tennessee. But we sure do grow peaches. And sometimes, you just have to take a flavor risk, to see how something will work out. This flavor combo of prosciutto and peaches is kind of the pinnacle salty and sweet.
Peaches OR Figs?
I had originally planned to make this pizza with the fresh figs my daughter spotted at Whole Foods. But by the time she made it back there to get me some, they had run out. (sadness) They did, however have peaches. And believe me, peaches alone are all you need for a little slice of Pizza Heaven.
If you don't have any fresh figs, either, I can testify that this pizza is ALSO good using semi-dried frozen figs. I happened to have a bag of them in the freezer.
So I made ONE pizza with just peaches, and one pizza with the semi-dried frozen figs and fresh peaches, together. I loved both combinations, but my husband wasn't wild about the semi-dried frozen figs. He said they reminded him too much of Fig Newtons. Now, I know for a fact that he LOVES fresh figs, so, the next time I find those rare (in these parts) beauties, I'm going to try this recipe with those.
Other Fruit Substitutes for Peach Ricotta Prosciutto Pizza
I think plums or nectarines could each be lovely substitutes for peaches or fresh figs. Use what you have in these days of avoiding more trips to the grocery store!
Does Prosciutto By Another Name Taste As Good?
Since I chose peaches because they're more local, couldn't I find a ham product similar to prosciutto that didn't have to be flown across the ocean? Oh, friends, did I ever.
My husband and I took a field trip to Murfreesboro, TN, since we didn't have anything better to do in the midst of a pandemic. We drove to a little place in Murfreesboro called The Hamery. (No, it's not pronounced the HAYMERY. It's pronounced the HAMMERY. But if they spelled it that way, they'd have to make hammers. )
At The Hamery, they cure hams. And lots of them. Holy hamhocks, Batman. Lots and lots of them. And the hams they cure are delicious indeed.
This family owned business has been around for 50 years. Basically, they get the raw hams in January, and by adding the cure, and hanging it, and boiling it, and boning it, and hanging it some more, they end up with lots of hams that are ready to sell by around Thanksgiving.
But they let some of those ham hang another 6 months, aging in springhouse temperatures, wherein the meat continues to tenderize and intensify in flavor. What they end up with is something completely akin to prosciutto in Italy.
And voilà! Prosciutto becomes TennShooToe. It's just our little homegrown version. (And YES! It's available to order!) And yes, it's UNBELIEVABLY delicious. Tender? Like buttah.
If you're looking for prosciutto in your regular grocery store, try the deli section.
What Kinds of Cheeses Did You Use?
Ricotta cheese is easy (and rewarding!) to make at home, and I have a recipe for how to make Homemade Ricotta Cheese using a Sous Vide, just in case you've got a hankering to try it. But if not, you can certainly use store bought. I like Trader Joe's Ricotta particularly well.
Ricotta cheese gives this pizza a fresh and creamy flavor. Italians frequently combine their summer fruits with ricotta, and maybe a drizzle of honey, and call it dessert. Since this is a pizza, I also use mozzarella, but the peaches and the balsamic reduction really taste beautiful with a fresh cheese.
I also used fresh mozzarella, and freshly grated Parmesan. The mozzarella for its creaminess, and the parm for its salty nuttiness. Mmmm…cheese….
What's A Rosemary Balsamic Reduction?
A reduction is simply boiling a substance down (reducing some of the water content) until all the flavors become more intense and concentrated. It's one more delightful flavor bomb that gets drizzled over the peaches, in particular.
In this case, I took some balsamic vinegar and simmered it with some honey, red pepper flakes, and sprig of rosemary. You can omit the rosemary if you don't want that herbal note. Your reduction gets drizzled all over the pizza at the end, when the pizza comes out of the oven. That, and a sprinkle of fresh basil, and you're in hog heaven. (Almost literally. Thank you, TennShooToe.)
Yield: 8 slices
Peach Ricotta and Prosciutto Pizza with Rosemary Balsamic Reduction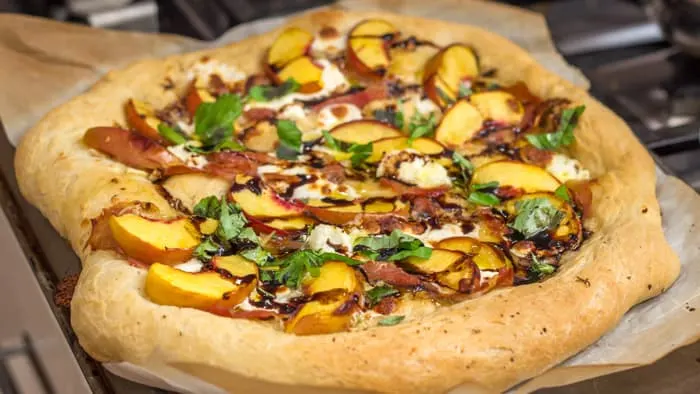 Salty and sweet, this may be the best pizza I've ever had! A taste of summer!
Prep Time
2 hours
30 minutes
Total Time
2 hours
42 minutes
Ingredients
FOR THE CRUST:
3/4 c. lukewarm water (110º)
4 teaspoons yeast
5 1/2 c. bread flour (divided)
1 c. lukewarm water (110º)
1/4 c. olive oil
2 tablespoons milk
1 teaspoon salt
FOR THE PIZZA TOPPING:
1 tablespoon of olive oil
1 garlic clove, minced
sea salt
freshly ground black pepper
3 oz. Tennshootoe (prosciutto)
4 oz. fresh mozzarella, sliced into small cubes
4 oz. ricotta cheese, applied in smallish blobs
1/2 c. freshly grated Parmigiano Reggiano
2 fresh peaches (you can leave the skins on)
ROSEMARY BALSAMIC REDUCTION:
1 c. balsamic vinegar
1/4 c. honey
1/4 teaspoon of red pepper flakes
1 sprig fresh rosemary
1/4 cup torn basil leaves, for garnish
Instructions
FOR THE CRUST: Combine the 3/4 c. of lukewarm water and the yeast in a small bowl. Stir in 1/2 c. flour, and let stand for 20 minutes.
Pour this bubbly mixture into your mixer, and add the remaining 5 c. flour, the 1 c. of lukewarm water, the olive oil, milk, and salt.
Mix the dough thoroughly, and then using the dough hook attachment, knead the dough for 10 minutes. (This can be done by hand, too, but it's a lot more work, and no more delicious.) The dough should be soft, and still moist, but not sticking to the side of the mixer bowl, so you can add more flour, 1/4 c. at a time if it seems to to be too sticky. Place in an oiled bowl, and flip it so that the dough is coated with a thin layer of olive oil. Cover the bowl with plastic wrap, and let rise in a warm spot for a couple of hours, until the dough is doubled in size.
(While the dough is rising, you can do the prep work for the topping.)
When the dough has doubled in volume, shape one half of the dough into the size and shape pizza you desire, and place it on a baking sheet covered with parchment paper (for easy transfer to my cast iron pizza pan that is preheating). I stretch my pizza dough into a circle that is approximately 15" in diameter, the size of my cast iron pizza pan.
(THIS IS ENOUGH DOUGH FOR TWO PIZZAS, SO IF YOUR FAMILY WILL ONLY EAT ONE, take half the dough and store it in a ziplock bag in the freezer, and it will be ready for another night.
THE TOPPING AMOUNTS ARE ONLY ENOUGH FOR ONE PIZZA, SO IF YOUR FAMILY WILL EAT TWO PIZZAS, you'll need to double the amounts of toppings.)
Preheat the oven and a cast iron pizza pan, or a baking stone, to 450º.
TO MAKE THE ROSEMARY BALSAMIC REDUCTION: Pour the balsamic vinegar and honey into a medium saucepan. Add rosemary sprig and red pepper flakes. Bring to boil over medium high heat and reduce to simmer, allowing the mixture to thicken and reduce by half. (Keep an eye on it, stirring from time to time to be sure it does not burn, especially toward the end.) Simmer about 10 to 15 minutes.
Put minced garlic into a small bowl holding the olive oil, and brush the entire pizza crust with the garlic oil. Season crust lightly with sea salt and freshly ground black pepper.
Top the pizza crust first with the prosciutto, then evenly distribute the cheeses: mozzarella, parmesan, and small dollops of ricotta, hither and thither.
Slice peaches about 1/2" thick and arrange them in a "come hither" fashion, on top of the pizza.
Bake pizza for 10-12 minutes. Drizzle with Rosemary Balsamic syrup. Sprinkle on some torn, fresh basil leaves, and prepare to die from deliciousness.
Notes
I highly recommend my cast iron pizza pan. I place it in the oven to pre-heat it when I turn on the oven to pre-heat (in the same way that some people pre-heat a baking stone).
I build my pizza on a sheet of parchment paper, stretched out over a baking sheet. Then when it's time to transfer the pizza to the oven, I slide the pizza on its sheet of parchment paper, off of the baking sheet, and onto the pre-heated cast iron pizza pan.

The cast iron pizza pan provides solid, even heat, the crust browns nicely, and becomes slightly crisp on the bottom. You'll see a cast iron pizza pan in the recommended products below, if you'd like to order one for yourself.
Recommended Products
As an Amazon Associate and member of other affiliate programs, I earn from qualifying purchases.
Nutrition Information:
Yield:
8
Serving Size:
1
Amount Per Serving:
Calories:

618
Total Fat:

17g
Saturated Fat:

5g
Trans Fat:

0g
Unsaturated Fat:

10g
Cholesterol:

21mg
Sodium:

620mg
Carbohydrates:

95g
Fiber:

4g
Sugar:

18g
Protein:

20g
The calorie count should be significantly less, since this recipe contains the ingredients for TWO PIZZA CRUSTS.