This post contains links that, if you click on them and make a purchase, will earn me money. As an Amazon Associate, I earn from qualifying purchases. . Regardless, I only recommend products or services that I believe will be good for my readers. Thanks for helping me continue to produce great content!
In the South, "we" like our fried baloney sandwiches.
And I use that "we", loosely.
OK, at least my HUSBAND likes HIS fried baloney sandwiches.
I can take or leave them, and if given the choice, I'll leave them.
White Wonder Bread (and it's a wonder why they call it bread), a thick old slab of fried baloney and a processed slice of Velveeta, with Miracle (White Trash) Whip? No thank ye.
And yes, I DO know that baloney is actually spelled b-o-l-o-g-n-a. I've seen the commercial.
But this is the SOUTH we're talking about here, and in the SOUTH, you don't order up a "bologna" sandwich. It's fried baloney, 'round these parts.
My husband bought me my first (and last) fried baloney sandwich at a gas station once in Lower Alabama. Because all the great cuisine is coming out of gas stations in L.A., don'tchaknow.
Anyway, I hear they're still a tradition, but really, not for me, nor at my house.
But April is Grilled Cheese Month, and I've been wanting to make something special, and somebody already wrote up my idea for a Grilled Chipotle Cheddar Cheese with Avocado and Pickled Onions and Cilantro on a Tortilla. That one was a doozy, I'm here to tell you!!! Mmmm mmm!
So, it occurred to me, why not bump up the deliciousness factor on that old Southern favorite, a fried baloney sandwich? Why not, indeed???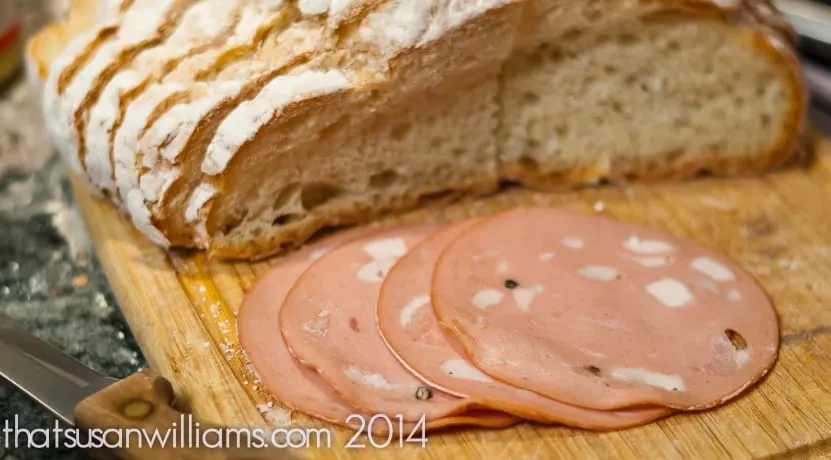 Step One: some GOOD bread. I favor a rustic artisan loaf I find locally, chewy, with big holes, called Tuscan Bread.
Step Two: bump up the yum factor of the bologna. Mortadella is a pork cold cut that is a lot like bologna, but it's imported from (perhaps not surprisingly) Bologna, Italy. I buy Boar's Head, and it contains both peppercorns and pistachios. Really, really yummy stuff.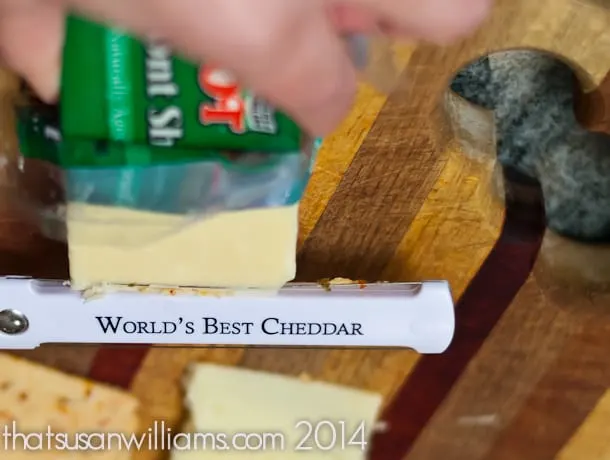 Step Three: Cabot Seriously Sharp White Cheddar Cheese, if you please. So, so good! (You can also throw on a slice or two of Chipotle Cheddar, if you'd like to add a little heat to the mix, like I did.)
Step Four: what goes great with cheddar cheese? How about apples? On the right track, but that's not quite what I want on my sandwich. So, to balance out all the savory, crispy, creamy goodness, how about a sweet spread, made with apples. Apple butter! Perfect!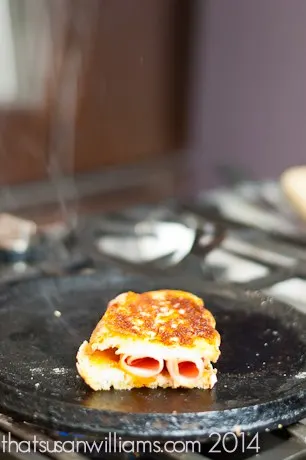 Step Five: Spread the outside of the bread with butter, and slap it on the griddle, baby. That gives you crispy crunch you're craving.
They say April is the cruelest month, but how can any month that celebrates and elevates the grilled cheese sandwich be cruel???
Voilà the Fried Baloney Sandwich, gone gourmet: The Grilled White Cheddar Cheese, Mortadella and Apple Butter Sandwich! Bon appétit!
Don't forget to pin this on Pinterest or share it on Facebook, so you and your friends can enjoy the fun of Grilled Cheese Month together.