This post contains links that, if you click on them and make a purchase, will earn me money. Regardless, I only recommend products or services that I believe will be good for my readers. Thanks for helping me continue to produce great content!
This Double Chocolate Layer Cake is dark, deeply rich, and insanely moist, with a ganache on top, for those who simply can't get enough chocolate. Because, for some of us, too much is not enough.
It's a Gourmet Recipe
I'd also like to tell you that this is my "own" recipe, as if I came up with it, but it's not. I found it on the Epicurious website, initially. And then, a few years later, I found it in a cookbook, Gourmet Today, the bright green one, not the yellow one.
They'd probably tell you it's theirs, too, but Gourmet got it from a restaurant, Engine Co. No. 28, in downtown Los Angeles.
My goal is to share the best of the best with my readers. And this, my friends, is a REALLY good chocolate cake, that I'd be proud to serve to anyone.
What I Love About This Double Layer Chocolate Cake:
Here's what's great about this cake: it is dense, but not too dense.
It is moist. It is rich. It is delicious.
Some of the deep dark richness comes from adding strongly brewed coffee to the cake. Coffee has a way of deepening chocolate flavors, without making you think there's coffee in there.
The frosting is a ganache, which means it is basically melted chocolate mixed with cream. Lovely.
Ways You Might Want to Change it Up
Next time I make this, I believe I'm going to make an adjustment or two to this recipe.
First, I'd add a pinch of salt. probably, to the icing. I just felt that it needed a bit more zing.
Maybe even a liqueur would be nice? Like some kirsch (cherry brandy)? Maybe Grand Marnier? Or Irish Cream or Kahlua? Any of those would be lovely, I'd think.
OR: a stabilized whipped cream kind of frosting in between the center layers, flavored with vanilla? That would also be lovely.
Personally, I'd enjoy some other flavor to break up the dense chocolate loveliness a bit. But that might be just me. Maybe you can't get enough chocolate. And if you can't, sistah, then this is the cake for you! It certainly was the cake for my son, the deep dark chocolate fan. He loved it.

Special Note in Regard to Cake Pan Sizes:
*NOTE*: The ORIGINAL recipe (not the one you'll read below) called for TWO 10″ cake pans, and to bake it at 300º for 1 hour – 1 hour and 10 minutes.
I didn't have 10″ cake pans. I had 9″ cake pans.
So in the recipe that I am giving you, I'll tell you how to make it for those. You'll need THREE 9″ pans, to hold all the chocolate goodness, and then you'll need to reduce the baking time to around 45 minutes, or whenever a toothpick inserted in the center of the layer comes out clean.
So now you have directions for either size cake pan you have.
If you have 10″ cake pans, I'd suggest you use them, because that way you'll have what will seem like more icing to work with, since you'll only be icing the surface area of two circles, rather than 3.
Clear as
mud
chocolate ganache? Good!
After icing the first two layers.
My chocolate ganache was still pretty soft. I could have refrigerated it a bit to get it to firm up, but…
Then you'd have missed out on seeing me pour it.
After the icing had "set" for a bit. It's a little messy, but I had run out of time for my fast approaching party.
Are you a fan of chocolate cake? What flavor might YOU add to jazz the ganache up just a bit?
Yield: 16 servings
Double Chocolate Layer Cake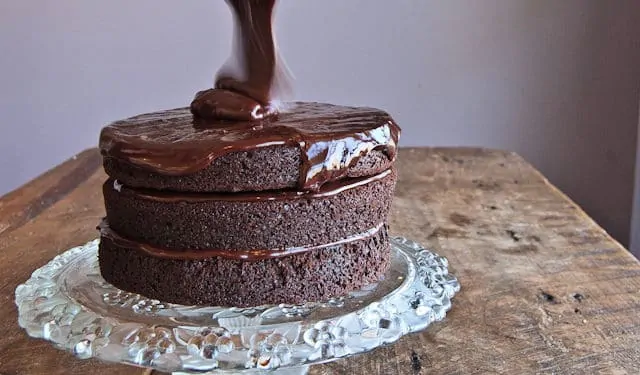 Additional Time
20 minutes
Total Time
2 hours
5 minutes
Ingredients
FOR CAKE LAYERS:
3 ounces fine-quality semisweet chocolate (I used Ghirardelli)

1 1/2 c. hot brewed coffee

3 c. sugar

2 1/2 c. all -purpose flour

1 1/2 c. unsweetened cocoa powder

2 t. baking soda

3/4 t. baking powder

1 1/4 t. salt

3 large eggs

3/4 c. vegetable oil

1 1/2 c. well-shaken buttermilk

1 t. vanilla
FOR FROSTING:
1 lb. fine-quality semisweet chocolate (I used Ghirardelli)

1 c. heavy cream

2 T. sugar

2 T. light corn syrup

1/4 c. butter (1/2 stick)
3 9″ cake pans*(see NOTE above)
Instructions
Make cake layers:
Preheat oven to 300º and grease pans. Line bottoms with rounds of wax paper and grease paper.
Finely chop chocolate and in a bowl combine with hot coffee. Let mixture stand, stirring occasionally, until chocolate is melted and mixture is smooth.
Into a large bowl, sift together sugar, flour, cocoa powder, baking soda, baking powder, and salt.
In another large bowl with an electric mixer, beat eggs until thickened slightly and lemon colored (about 3 minutes with a standing mixer or 5 minutes with a hand-held mixer).
Slowly add oil, buttermilk, vanilla, and melted chocolate mixture to eggs, beating until combined well. Add sugar mixture (the dry ingredients) and beat on medium speed until just combined well.
Divide batter between pans and bake in middle of oven until a tester inserted in center comes out clean, approximately 45 minutes.
Cool layers in pans on racks.
Run a thin knife around edges of pans and invert layers onto racks. Carefully remove wax paper and cool layers completely. Cake layers may be made 1 day ahead and kept wrapped well in plastic wrap, at room temperature.
Make frosting:
Finely chop chocolate. In a 1 1/2 to 2 quart saucepan bring cream, sugar, and corn syrup to a boil over moderately low heat, whisking until sugar is dissolved.
Remove pan from heat and add chocolate, whisking until chocolate is melted.
Cut butter into pieces and add to frosting whisking until smooth.
Transfer frosting to a bowl and cool, stirring occasionally, until spreadable.
Spread frosting between cake layers and over top and sides. Cake keeps, covered and chilled, 3 days. Bring cake to room temperature before serving.
Notes
Ganache loses its glossy look after it's been chilled in the fridge.
Recommended Products
As an Amazon Associate and member of other affiliate programs, I earn from qualifying purchases.
Nutrition Information:
Yield:
16
Serving Size:
1
Amount Per Serving:
Calories:

777
Total Fat:

38g
Saturated Fat:

14g
Trans Fat:

1g
Unsaturated Fat:

22g
Cholesterol:

92mg
Sodium:

565mg
Carbohydrates:

107g
Fiber:

4g
Sugar:

79g
Protein:

9g
Cakes I Have Loved
This cake is divine. But so are these. So consider them, in your search for the perfect cake.