This post contains links that, if you click on them and make a purchase, will earn me money. As an Amazon Associate, I earn from qualifying purchases. . Regardless, I only recommend products or services that I believe will be good for my readers. Thanks for helping me continue to produce great content!
This recipe for Caramelized Upside-Down Pear Tart is as delicious as it is gorgeous to look at! It's a bit of a show-stopper, and the perfect dessert following a lovely fall meal.
I first made this recipe about three years ago for Thanksgiving. Then, I forgot about it. Then, I saw pears on sale last week at Publix grocery store. The recipe is even yummier than I remembered. There are a couple of things that make it unique.
Caramelized Pear Tart Made in A Cast Iron Skillet
First, it's made in a cast iron skillet. Obviously, most pies and tarts are made in pie plates, or pie dishes. (Whatever you call them.)
Caramelized Pear Tart is Unique in Form and Flavor
Second, it's somewhere between a pineapple upside down cake, and a tarte Tatin, which is kind of the French version of an apple pie. This Caramelized Pear Tart has a lovely, buttery crust, that is different from the normal pie crust that I make for a peach pie or an apple pie.
Easy Steps That Require a Bit of Time To Plan For:
There are a couple of steps that you'll need to plan for in your prep time. They're not difficult, but you do need to allow for the appropriate amount of time.
Allot extra time for chilling the dough:
You will need to chill the crust for at least an hour. (This is not an unusual step. I chill all my pie pastry doughs before I begin working with them.) You can certainly make the pastry dough the day before, and let it chill all night, so that you won't have to spend as much time making it the day you plan to serve it.
Allot Time for the Caramelized Pears to Cool:
After you have caramelized the pears in the sugar, you need to allow time for the pears to cool in the skillet before you place the crust on top. This takes a couple of hours, so be sure to allow for that.
Both the recipe for the crust, and the tart came from my yellow copy of The Gourmet Cookbook
which was published in 2004, by the Houghton Mifflin Company.
Yield: 8 servings
Caramelized Upside-Down Pear Tart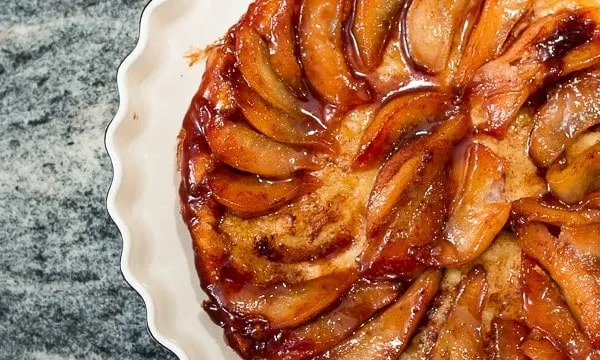 This recipe for Caramelized Upside-Down Pear Tart is as delicious as it is gorgeous to look at! It's a bit of a show-stopper, and the perfect dessert following a lovely fall meal.
Ingredients
For Pastry Dough
. 3/4 stick (6 tablespoons) cold unsalted butter
. 1 1/4 cups all-purpose flour
. 2 tablespoons cold vegetable shortening
. 1/4 teaspoon salt
. 2 to 4 tablespoons ice water
For Filling
. 4 large firm-ripe Bosc pears (2 pounds total)
. 1/2 stick (1/4 cup) unsalted butter
. 1/2 cup sugar
. 1/2 teaspoon cinnamon
Instructions
For Pastry: Cut butter into 1/2-inch cubes.
In a bowl with your fingertips or a pastry blender blend together flour, butter, shortening, and salt until most of mixture resembles coarse meal with remainder in small (roughly pea-size) lumps.
Drizzle 2 tablespoons ice water evenly over mixture and gently stir with a fork until incorporated. Test mixture by gently squeezing a small handful: When it has proper texture it should hold together without crumbling apart.
If necessary, add more water, 1 tablespoon at a time, stirring until incorporated, and test mixture again. (Do not overwork or add too much water; pastry will be tough.)
Turn mixture out onto a work surface and divide into 4 portions. With heel of hand smear each portion once in a forward motion to help distribute fat. Gather dough together and form it, rotating it on work surface, into a disk. Chill dough, wrapped in plastic wrap, until firm, at least 1 hour, and up to 1 day.
For filling: Peel, core and slice the pears.
Heat butter in a 9- to 10-inch well-seasoned cast-iron skillet over moderate heat until foam subsides, then stir in sugar (sugar will not be dissolved).
Arrange pears, cut sides up, in skillet with wide parts at rim of skillet. Sprinkle pears with cinnamon and cook, undisturbed, until sugar turns a deep golden caramel.(This can take as little as 10 minutes or as much as 25, depending on pears, skillets, and stove.) So watch the fragrance and the color of the caramel closely. Cool pears completely in skillet.
Put oven rack in middle position and preheat oven to 425°F.
Roll out dough on a lightly floured surface with a floured rolling pin into a 12-inch round and trim to a 9 1/2- to 10 1/2-inch round. Arrange pastry over caramelized pears, tucking edge around pears inside rim of skillet. Bake tart until pastry is golden brown, 30 to 35 minutes. Cool on rack 5 minutes.
Invert a rimmed serving plate (slightly larger than skillet) over skillet and, using pot holders to hold skillet and plate tightly together, carefully invert tart onto plate. Serve tart warm or at room temperature.
Recommended Products
As an Amazon Associate and member of other affiliate programs, I earn from qualifying purchases.
Nutrition Information:
Yield:
8
Serving Size:
1
Amount Per Serving:
Calories:

345
Total Fat:

14g
Saturated Fat:

6g
Trans Fat:

0g
Unsaturated Fat:

7g
Cholesterol:

12mg
Sodium:

226mg
Carbohydrates:

51g
Fiber:

2g
Sugar:

17g
Protein:

4g