This post contains links that, if you click on them and make a purchase, will earn me money. Regardless, I only recommend products or services that I believe will be good for my readers. Thanks for helping me continue to produce great content!
This recipe for Oven Roasted Green Beans with Bacon and Onion is pretty much a Facepalm Idea, for me. It's one of those ideas that is so obvious, it hurts. I feel the need to whack myself in the forehead, à la "V-8", so badly does it pain me to think of all the wasted years I haven't been doing this.
The reason it cuts so deep is that I've been roasting vegetables for years. Broccoli, cauliflower, carrots, parsnips, butternut squash…ALMOST, you name it, and I've roasted it. Most vegetable flavors really do improve when we roast them. And yet, I've been neglecting to roast my green beans.
Why do vegetable flavors improve when you roast them in the oven, you ask? I'm so glad you did! Especially if you're someone who is challenging yourself to up your cooking game, a bit. This next bit is important, and all good cooks know this secret. So pay attention.
Why Should You Roast Vegetables?
You should roast vegetables because roasting them causes something to happen that is called the Maillard Reaction. (This is not the reaction you see in the Cranky AFLAC Duck. That's the Mallard Reaction. Neither is it the raised, impatient eyebrow, you see from Leroy Jethro Gibbs, when his medical examiner, Ducky, on NCIS, goes off on another verbal tangent. Again, that's also known as the Mallard reaction. The MAILLARD Reaction is something quite different.)
The Maillard Reaction is when the natural sugars in veggies, having been exposed to sufficient heat, start to turn brown, and caramelize. This releases a brand new bunch of aromatic flavor compounds which were not present before. Yes, it's chemistry. But fear not, it's chemistry of the very best kind.
Let's face it, and we all know this, intuitively: in the words of Chef Anne Burrell, "Brown Food Tastes GOOD!". (And you say the word "GOOD" with a growl.)
Tips for Improving Simple Roasted Green Beans:
So really, there's truly not much to it. But each thing I mention in this section is important, and you shouldn't skip one of them. Mostly, it involves bacon, and onions.
Take a couple of strips of bacon, and cut each strip into lardons. That means cut them into nuggets about the width of your index finger. Blame the French for the fancy name. Personally, I prefer thick cut bacon. Sprinkle the lardons on the sheet pan to roast with the green beans.
Dice an onion. Sprinkle that on too.
Season assertively with sea salt, and freshly ground black pepper. I like my pepper like I like my men. Coarse. OK, that was a joke, except for the how I like my ground pepper part.
Finally, don't hesitate to use TWO sheet pans, because that's how the green beans will develop color faster. The Maillard Reaction. Remember? You're so smart! If you crowd them all onto one pan, snuggled up together, they'll STEAM, not brown. And brown food tastes GOOD! Remember? Yes, I know you'll have to wash one more pan, but it will be worth it. Promise.
Last of all, our biggest surprise of this recipe was….drumroll please….
When roasted…purple green beans turn a slightly disappointing shade of …green. Oh, well. They still taste great!!!
The Recipe for Oven Roasted Green Beans with Bacon and Onions
Yield: 4 servings
Oven Roasted Green Beans with Bacon and Onion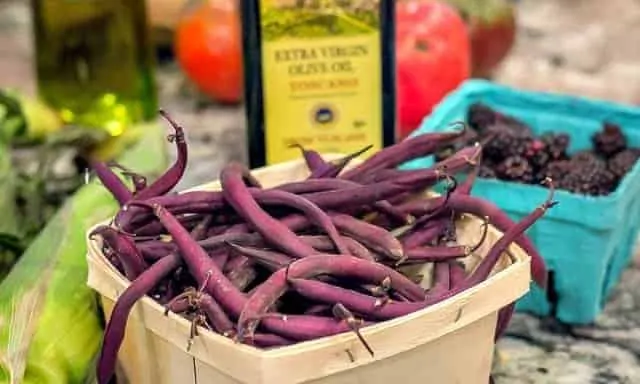 Roasting Green Beans is easy! Adding bacon lardons and diced onion makes it even better. What an easy and tasty way to eat your fresh veggies!
Ingredients
2 lbs. green beans, ends broken off
2 slices thick cut bacon, cut into lardons
1 medium onion, diced
2 Tablespoons of olive oil
sea salt, to taste
freshly ground black pepper, to taste
Instructions
Preheat oven to 400º.
Spread green beans out over a couple of sheet pans.
Sprinkle each pan with half the bacon lardons, and half of the diced onion.
Drizzle each pan with a tablespoon or so of olive oil.
Season each pan assertively with salt and pepper. Mix the contents of each pan with your hands to be sure oil and seasoning are evenly distributed.
Roast for about 15 - 20 minutes, or until the bacon looks crispy and the green beans have begun to slightly caramelize. Check on things when they start smelling good.
Notes
If your green beans have strings, you'll want to remove them when you break off the ends.
Lardons are merely little nuggets of bacon, about as wide as your index finger. Blame the French for the fancy name.
If you're using thin cut bacon, use 4 strips, instead of 2.
Recommended Products
As an Amazon Associate and member of other affiliate programs, I earn from qualifying purchases.
Nutrition Information:
Yield:
4
Serving Size:
1
Amount Per Serving:
Calories:

179
Total Fat:

10g
Saturated Fat:

2g
Trans Fat:

0g
Unsaturated Fat:

7g
Cholesterol:

6mg
Sodium:

250mg
Carbohydrates:

21g
Fiber:

8g
Sugar:

9g
Protein:

7g
If you were looking for something a tad different, in how to prepare your green beans, I've got two other green bean recipes that I've been making for years. One, is quite southern and old fashioned, my
Green Beans and Potatoes
. The other is one I make nearly every Thanksgiving and Christmas, and it's a bit more refined. It's Ina Garten's
Green Beans Gremolata
.
Now, off to your garden, or your nearest Farmer's Market with you! And get roasting! Right after you share this recipe, if you please. That would be a great way to thank me!