This post contains links that, if you click on them and make a purchase, will earn me money. As an Amazon Associate, I earn from qualifying purchases. . Regardless, I only recommend products or services that I believe will be good for my readers. Thanks for helping me continue to produce great content!
Caboose is a cheap, easy and delicious dish of stovetop cooked cabbage, potatoes, onions and bacon. It's a dish that requires minimal prep time on your part, and what's more, it takes very little money out of your pocket. It's comfort food for when money's tight, but it's just as delicious if you're flush with cash.
Where Did Caboose Get Its Name?
Caboose is an old recipe of railroad men. True story! Apparently railroad men had to eat, too, when they were out riding the rails, back in the olden days. So, when trains depended on the heat generated from steam or coal fueled engines, the smart railroad men also used that heat the engine was generating as their impromptu cooktop. They'd set a Dutch oven (cast iron, no doubt) up on top of the hot surface, and that's where they'd cook their dinner of potatoes, onions, bacon and cabbage. And all they had to do was give it an occasional stir. Genius, right?!
I learned about Caboose from my friend, Tricia Walker. Tricia is a Mississippi-born singer and songwriter (and college professor) with a voice as sweet and smooth as Karo syrup ever dared to be. We attended the same church many years ago, and at that time, the church was putting out one of those wonderful church cookbooks. This one was called, Sharing Our Best, and I contributed my recipe for Brazilian Black Beans and Rice.
Tricia contributed a recipe called Caboose. I wanted to try her recipe, for sure, because she was one of my favorite people. But her recipe didn't sound like anything to write home about to me. Cooked cabbage? My recollection of cooked cabbage from my childhood was not particularly pleasant.
Nevertheless, Tricia was wonderful enough that if SHE contributed a recipe for cooked cabbage, I was for dang sure going to at least try it.
Stovetop Cooked Cabbage???
What the alchemy is here in these 4 ingredients: stovetop cooked cabbage, potatoes, bacon, and onions, I can't precisely explain. But the result is, undeniably, gold.
I think one of the keys to having your best outcome is plenty of salt and pepper. Yes, the bacon is salty…and smoky…mmmm….bacon…., but potatoes can take a LOT of salt, and will be all the better for it. Use sea salt if you have it. (And you should.) And freshly ground black pepper. They're both worth the trouble.
So do yourself a favor, and try it, one time, just because I asked you to. You won't regret.
The Oh-So-Simple Process of Making Caboose:
So, after you've browned the bacon a bit, you put the potatoes in, and let them just begin to brown in the bacon fat.
Then you put in the wedges of onions, and plenty of salt and pepper, and stir stuff around really good, so that everything has a shot at being on the bottom of the pot for a bit.
You lay the cabbage wedges on top of all that, and then pour in about a cup and a half of water. You could certainly add chicken broth, instead of water, but water works just fine. There's plenty of flavor in the juices from the onions and cabbage and bacon.
Since you're only adding a cup and a half of liquid, the cabbage, lying on top of the potatoes, steams, rather than boils. So, it doesn't get boiled to death, which can be the downfall of some cooked cabbage recipes.
Yield: 4 servings
Caboose: Stovetop Cooked Cabbage, Potatoes and Bacon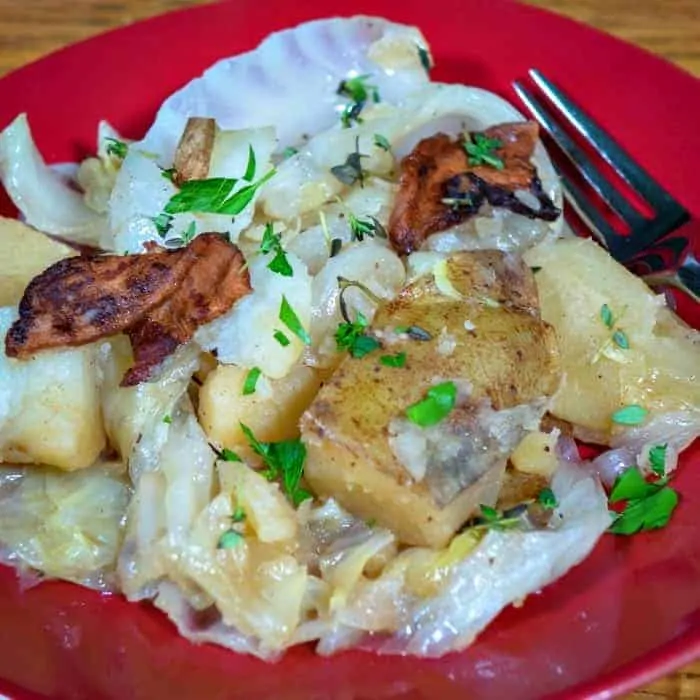 Caboose is a cheap, easy and delicious dish of stovetop cooked cabbage, potatoes, and bacon. Southern comfort food with a historical origin. Try it!
Total Time
1 hour
10 minutes
Ingredients
4 pieces of bacon, sliced into thirds
4 potatoes, cut into sixths
2 medium sized onions, cut into fourths
1/2 head cabbage, cut into 6 wedges.
1 1/2 c. water
sea salt and freshly ground black pepper, to taste
Instructions
In a Dutch oven, slightly fry bacon strips, until they are brown on one side.
Add cut potato slices, and let them begin to brown in the bacon fat.
Add onion wedges, and give everything a good stir. Season generously with sea salt and freshly ground black pepper.
Finally, place cabbage wedges on top, season them with a bit more salt and pepper.
Pour 1 1/2 c. water over everything. Bring to a boil. Reduce to a simmer, and then cover with a lid.
Allow caboose to simmer, covered, for at least a half an hour, and then remove lid, and turn cabbage over. Replace lid. Cook till potatoes are fork tender, about another 15 minutes. Then replace the lid, one more time, and turn off heat. If you can possibly bear it, allow everything to just sit in the juice in the pot another 15 minutes. My friend Tricia says that's the secret to a great caboose.
Recommended Products
As an Amazon Associate and member of other affiliate programs, I earn from qualifying purchases.
Nutrition Information:
Yield:
4
Serving Size:
1
Amount Per Serving:
Calories:

432
Total Fat:

16g
Saturated Fat:

6g
Trans Fat:

0g
Unsaturated Fat:

10g
Cholesterol:

45mg
Sodium:

879mg
Carbohydrates:

51g
Fiber:

7g
Sugar:

9g
Protein:

23g
Budget Friendly Recipes
Here's a list of several other budget friendly recipes that exist here on my website, in case you're on the market for more. Each one is delicious, in its own right.