This post contains links that, if you click on them and make a purchase, will earn me money. Regardless, I only recommend products or services that I believe will be good for my readers. Thanks for helping me continue to produce great content!
I was given an air fryer to review by Cosori, and this recipe for Crispy, Tasty, Air Fryer Roasted Chickpeas with Garlic and Thyme is one of my favorite snacks. Not only did this recipe turn out very well in the air fryer, it's also faster than traditional oven roasting.
Some Facts About Chickpeas and Nutrition
First, chickpeas, which are also known as garbanzo beans, are a legume.
They're also the main ingredient in most types of hummus. No, Virginia, hummus does not come from a hummus plant, nor does it dangle in its plastic container, from a little hummus bush. It's ground up garbanzo beans, ground up sesame seeds, garlic, lemon juice and olive oil and stuff.
Second, they're really good for you. Chickpeas are a rich source of vitamins, minerals, fiber and protein. They make an excellent meat substitute for a vegetarian or vegan diet, or for those of us who are trying to eat less meat. One cup of chickpeas contains 1/3 the amount of protein needed in an adult's diet.
The bottom line is: this is a DELICIOUS snack, you can feel GREAT about, because you're really doing your body a favor by eating it.
My Review of the Cosori Air Fryer
Ever since Cosori sent me a Pressure Cooker to review, I've been so impressed by their products. They offer small appliances that get the job done right, at a reasonable price. My husband and I were so impressed by the quality of the pressure cooker, in fact, that when our old tea kettle gave up the ghost, we immediately purchased our new instant electric kettle from Cosori.
So I had high hopes when it came to this air fryer, and I was not disappointed.
We all know the benefit of air frying is that you can cook with less fat, right? So I'm going to zoom over that part. Basically, it's like a mini-convection oven, that preheats faster than a regular large convection oven. And not all of us have a convection function on our ovens. (I do, and I love it, because I find it bakes everything more evenly, in less time.)
I'm kind of a sucker when it comes to blue light technology, so I liked the control panel display. The display contains several pre-set suggested times for whatever you're air frying, including beef, chicken, fish, shrimp, bacon and a pre-heat function button on the left.
On the right you can see the pre-sets for frozen foods, fries, veggies, root veggies, breads, and desserts. You can see that the finish is a brushed black matte. It offers temperature selections from 170º to 400ºF, and comes with a recipe book that will help you gain the confidence you need to try your own recipes.
One of the most helpful features, I found, was the alarm to remind me when it was time to "shake" (or flip) whatever I was air frying.
So do I recommend the Cosori Air Fryer? I do! However, I especially recommend it to those who don't already have a convection function on their regular oven.
About the Crispy Air Fryer Roasted Chickpea Recipe
Here's the best news: IT'S EASY!!! Oh, wait, there's more: IT'S DELICIOUS!!! And…it's FRUGAL!!! (That means it's cheap/budget friendly.) And it's HEALTHY! Low in fat. High in vitamins, minerals, protein…all that good stuff.
I found a similar recipe in a Cookbook called "Great Good Food", by Julie Rosso, one of the authors of the Silver Palate Cookbook. And so I've been doing something like her recipe, since it was published.
Can I Use Canned Chickpeas?
Yes, you CAN!!! (get it?) All you need to do is rinse, and drain them well. I'd even blot them with paper towels, after you've rinsed and drained them to get them as dry as possible. Canned beans will work just fine.
But I very often cook dried garbanzo beans I've cooked myself. That way I know how much salt is going in there, and I can add a little more flavor to them. I generally add some onion, a bay leaf, and salt when I cook mine. The added flavor make me prefer my home-cooked garbanzo beans to store-bought canned beans.
Here's the Process for Air Fryer Roasted Chickpeas:
Yield: 4 servings
Crispy Air Fryer Roasted Chickpeas with Garlic and Thyme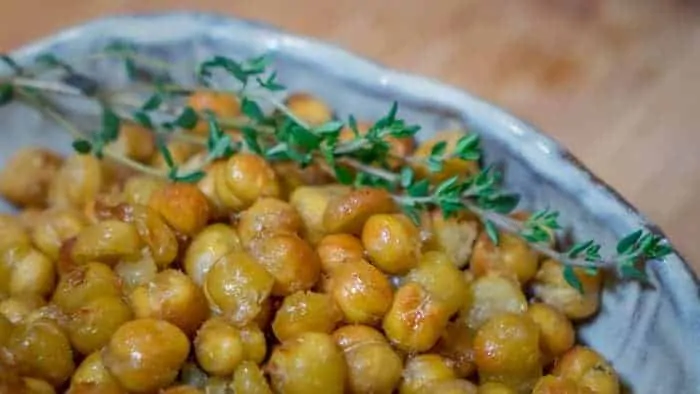 A frugal snack that is delicious, and healthy. It's easy to make in an air fryer, or in your oven.
Ingredients
2 cans (14 oz. each) of chickpeas, rinsed, drained, and blotted dry
2 T. of olive oil
1/4 t. red pepper flakes
sea salt
freshly ground black pepper
12 sprigs of fresh thyme
2 T. minced garlic
Instructions
Select the Preheat Button on the air fryer, and press start.
Mix all ingredients except garlic in a bowl.
Pour the ingredients into the basket of the air fryer, when it's preheated.
Select Root Vegetables, and press Start.
When the Shake Alarm sounds, halfway through cooking, stir the garlic into the garbanzo beans, and finish the cooking cycle.
Season with any additional desired sea salt, and garnish with fresh thyme stems.
Notes
To adapt this recipe to a regular oven, simply set oven to 400º, and roast about 25 minutes, stirring in garlic for the last 5 minutes of roasting time.
Recommended Products
As an Amazon Associate and member of other affiliate programs, I earn from qualifying purchases.
Nutrition Information:
Yield:
4 servings
Serving Size:
1
Amount Per Serving:
Calories:

205
Total Fat:

9g
Saturated Fat:

1g
Trans Fat:

0g
Unsaturated Fat:

7g
Cholesterol:

0mg
Sodium:

152mg
Carbohydrates:

25g
Fiber:

7g
Sugar:

4g
Protein:

8g