This post contains links that, if you click on them and make a purchase, will earn me money. As an Amazon Associate, I earn from qualifying purchases. . Regardless, I only recommend products or services that I believe will be good for my readers. Thanks for helping me continue to produce great content!

This post was sponsored by Morton's Salt as part of their Morton's Salt Next Door Chef Campaign. All opinions are, of course, my own.
This past Monday, I joined a number of guests at a unique dining experience, here in Nashville: "Morton Salt's Next Door Chef: Nashville" event. Morton Salt, converted the backyard of Travis and Claire, an Nashville couple, into an actual restaurant for a day. The famous chef, who will be revealed in March, tutored Travis, a home chef, whose adorable desire in undertaking this event was to impress his wife in the kitchen. Travis made a remarkable meal, with a special focus on how a professional chef uses different types of salt.
The event in Nashville was Morton Salt's second Next Door Chef event, after having opened the campaign in Chicago. I am thrilled they chose to come to Nashville, which has become nationally known over the last several years, for its exciting food scene.
At the first event in Chicago, Next Door Chef focused on holiday cooking and I encourage you to view their tips and recipes at mortonsalt.com/nextdoorchef , to get some inspiration for your own holiday season.
At the event, the professional chef who tutored Travis spoke about the benefits of using Morton Kosher Salt, Morton Coarse Sea Salt, and Morton Fine Sea Salt, rather than standard table salt when cooking. Something I've known and talked about for years is the benefit of improved flavor that I find through using both kosher and sea salt. I use kosher salt for dry-aging beef, as well for salting meats of all kinds, and Coarse Grained Sea Salt for nearly all the rest of my cooking. Fine Sea Salt works well for baking. I taste a real difference, and strongly prefer kosher and sea salts, to regular table salt. At the Next Door Chef event, we tried a number of dishes where we could taste how the salt transformed each dish.
I will be sharing more information about the salt and cuisine in a few months, but I wanted to take a moment to share some key tips for salt as you prepare your holiday meals. Morton Kosher Salt adds a gourmet touch to the dish. It is the preferred salt of so many chefs because it is easy to control for perfectly seasoned food. Morton Coarse Sea Salt adds an artistic "pop" you and your dinner guests can see and taste. The larger than table salt crystals provide contrasting texture. Morton Fine Sea Salt still adds that "pop", yet is fine enough for blending in all cooking. The fine salt crystals dissolve quickly making them perfect for marinades, soups, sauces and dressings.
You can go to MortonSalt.com/NextDoorChef to download your own hosting kit complete with recipes and how-to steps to add that extra something to your meal. And if you do host your own "Next Door Chef" party or have a recipe idea for using Morton Kosher or sea salt, post your photos using the hashtag, #NextDoorChef.
I will be sharing more about this event when the video and recipes get published on the Next Door Chef website, but I encourage you to go there to see what they did in Chicago, to learn more about how you can improve your cooking technique for the holidays.
In the meantime, I thought I'd share with you a very special recipe that I make during our holidays, that really highlights the difference that using the right salt, sea salt – in this case – makes in a dish. You can use either coarse sea salt (which is what I use) or fine sea salt. Either will work well.
I make this every Thanksgiving: Goat Cheese with Sun-dried Tomatoes and Rosemary. If I didn't make this, there'd be a mob formed (by my family), which would include pitchforks and torches. It's the perfect dish to tide us over until the big feast around 5:00. My daughter and I enjoy this while we're watching the dog show.
Goat Cheese with Sun-dried Tomatoes Appetizer
Yield: 8 servings
Goat Cheese with Sun-Dried Tomatoes Holiday Appetizer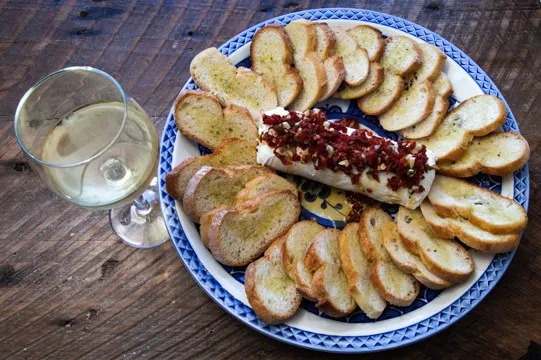 A Thanksgiving appetizer that's quick, easy, beautiful, and amazingly delicious! Goat Cheese with Sun-Dried Tomatoes, Garlic, and Rosemary on Crostini. Perfect for Christmas parties, too! It's the red and the green, dontchaknow?
Ingredients
Approximately 6 sun-dried tomato halves
3 cloves of garlic, minced
2 T. of excellent, fruity extra virgin olive oil
1 T. chopped fresh rosemary
1 French baguette, thinly sliced
olive oil
sea salt
freshly ground black pepper
1 11 oz. package of fresh goat cheese
Instructions
Cover sun-dried tomato halves in boiling water; let stand five minutes. Drain, and chop. Combine chopped tomatoes, garlic, oil, and rosemary in a bowl. Cover with plastic wrap and chill up to 4 hours.
Pre-heat oven to 350º. Brush baguette rounds with additional olive oil. Sprinkle with sea salt and freshly ground black pepper. Place on an ungreased baking sheet and bake for 8 minutes, or until lightly toasted.

Just before serving, place goat cheese on a serving plate, and top with tomato mixture. Serve with toasted baguette slices

.
Notes
You can substitute sun-dried tomatoes that have been packed in oil; just don't hydrate them, if you do.

Adapted from Southern Living 20th Anniversary Edition Annual Recipes
Recommended Products
As an Amazon Associate and member of other affiliate programs, I earn from qualifying purchases.
Nutrition Information:
Yield:
8
Serving Size:
1
Amount Per Serving:
Calories:

265
Total Fat:

14g
Saturated Fat:

7g
Trans Fat:

0g
Unsaturated Fat:

7g
Cholesterol:

18mg
Sodium:

499mg
Carbohydrates:

23g
Fiber:

1g
Sugar:

2g
Protein:

12g