This post contains links that, if you click on them and make a purchase, will earn me money. Regardless, I only recommend products or services that I believe will be good for my readers. Thanks for helping me continue to produce great content!
In my determination to eat more veggies, and to buy local produce whenever possible, I joined a Community Supported Agriculture group (a CSA). And each time my CSA basket arrives, it is filled with veritable vegetable treasures.
And let's face it, sometimes I am completely without a clue as to WHAT to do with some of the "treasures" they send me. Makes them a little more of the "hidden treasure" variety of treasure, I guess.
And so, last fall, the cry went up from my kitchen,
"What the heck do I do with an acorn squash???!!!"
My old answer to that question was to let it sit in a bowl that held all kinds of fall gourds and squashes as Thanksgiving decorations, until they molded.
But I'm a Reformed Squash-Waster! I was determined to learn how to cook something I'd never eaten before. Something I honestly had a few doubts as to whether or not it COULD be eaten. It looks like a large, pleated acorn, and is about the size of a grapefruit. Some of them are orange, and some of them are dark green. They look very "fall-ish". But eat them? Well, yes: not only do I now eat them, you could go as far as to say that I now love them! And (hold on to your hats, because this is going to shock you) my kids love them, too. My whole family loves them! It's my little Harvest Miracle.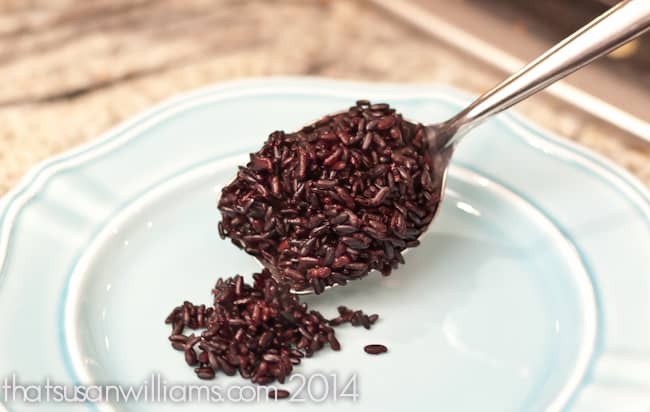 Black Rice, as you can see, is not really black. It has that deep purple hue of the black bean. Scientists tell us that the more natural pigment there is in our food, the higher the antioxidant level, so the greater the nutrients. And black rice is delicious, as well as beautiful.
Here's the overview for this recipe, and it couldn't be more simple. Basically, I slice them, scoop out the seeds, and roast them. While they're roasting, I cook a pot of black rice (which I find at Costco), and drizzle it all with a vinaigrette at the end. TA-DAH! For color, you can add some craisins. For crunch, you can add some pine nuts. They're nice additions, but totally unnecessary. It's gilding the lily. Or the acorn squash. As the case may be.
You need to pin this recipe, because you will LOVE it!
Roasted Acorn Squash with Chile-Lime Vinaigrette
2014-01-16 10:13:37
Serves 4
A delicious fall or winter vegetarian meal.
Ingredients
2 (approximately 1 and 1/2 lb.) acorn squash
1/2 t. freshly ground black pepper
1 t. salt
1/4 c. + 2 T. olive oil
1 garlic clove, minced
1 1/2 T. lime juice
1/2 t. lime zest
1/2 t. minced jalapeno
2 T. fresh cilantro
2 T. toasted pine nuts (optional)
2 T. craisins (optional)
2 c. black rice
pinch of salt
Squash
Preheat oven to 450º.
Halve squash lengthwise, and cut off and discard stems.
Scoop out seeds and slice squash into wedges that are approximately 3/4" thick.
Place squash in a large bowl, and toss squash with freshly ground black pepper, 3/4 of a teaspoon of salt, and 2 T. of the olive oil.
Arrange the squash slices on a rimmed baking sheet so that they are not touching (use 2 baking sheets if necessary).
Roast until squash is tender, and undersides of squash are golden.
Rice
While the squash is roasting, cook the black rice according to the package directions. My package called for 3 1/2 c. of water for 2 c. of rice, plus a pinch of salt, brought to a boil, then reduced to simmer for 30 minutes.
Vinaigrette
Mash the minced garlic into a paste, by sprinkling it with 1/4 t. coarse grained salt, and running your chef's knife over it again and again. I use not only the sharp edge of the blade, but also the side of the knife to squish the garlic with the salt crystals, making it juicy and like a paste. Transfer this paste to a small bowl, and whisk in the lime juice, jalapeño, cilantro and remaining 1/4 c. of oil, until combined.
To plate, use the black rice as a base, transfer squash, browned side up, onto rice, drizzle with vinaigrette, and sprinkle with craisins and toasted pine nuts, if desired.
Notes
To toast the pine nuts, I place them in a small sauté pan, place it over a medium heat on the stove, and watch them like a hawk, stirring every now and again, and watching their color. Pine nuts will burn quickly: only a few seconds can cause them to go black, so use your eyes and your nose, and when you have the color you like, dump them out of the pan and onto a saucer, to keep them from becoming overly browned. Depending on your pan, and the heat, this only takes 2-4 minutes.
Adapted from Gourmet via Epicurious
That Susan Williams https://www.thatsusanwilliams.com/
I'd be delighted to have you share this, and even more delighted if you pin it on Pinterest. And of course, I'd love to know if you've ever made acorn squash before, and how you do yours.