This post contains links that, if you click on them and make a purchase, will earn me money. As an Amazon Associate, I earn from qualifying purchases. . Regardless, I only recommend products or services that I believe will be good for my readers. Thanks for helping me continue to produce great content!
Chipotle Honey Glazed Chicken Wings with Toasted Sesame Seeds and Green Onions are sweet and spicy. They're perfect for entertaining, and sure to be a hit at your next get-together. This post is all about my experience making this dish for a wine tasting party I hosted.
Thanks to the great folks at Mirassou for sending me their wines to taste. I received no other compensation, and all opinions are my own.
Find A Reason To Host A Wine Tasting Party
I don't know about you, but I am one of those die-hard Downton Abbey/Masterpiece Classic Fans who has stuck with them through Season 4, and I'm so glad I have! So when a friend mentioned coming over to watch it with me, right about the time that I received 3 bottles of wine from the great folks at Mirassou Winery , I decided that the perfect evening with a good friend would be a Downton Abbey Wine Tasting Party.
With three wines to taste, and a show to watch, I knew we'd need some protein, so we didn't accidentally end up totally schnockered. LOL! So I went looking for a wing recipe that would pair well with various types of wine, and chose one from Bobby Flay. Since Flavah Flay (one of my favorite TV chefs) is famous for spicing things up, I knew that for my family's tastes, I'd be decreasing the heat. After all, who can truly taste a wine if their tastebuds have been singed. So my recipe for Chipotle Honey Glazed Chicken Wings with Toasted Sesame Seeds and Green Onions is an adaptation of one I found on the epicurious recipe website: I've ratcheted down the heat level somewhat.
Since I'm a devoted fan of Downton Abbey, and really wanted to be able to focus on the show (Will Anna and Bates ever be truly happy again? Will Lady Mary regret turning Lord Gillingham down??? Is that conniving ladies maid Braithwaite really, truly gone for good?), my plan was to do the actual wine tasting portion of the evening before the show started. Then, once everyone knew which wine they preferred, I planned to serve a dish for dinner that would pair nicely with any of the wines we had opened, and then, enjoy watching Downton Abbey!
Choose Some Cheese to Taste With Your Wines
Mirassou sent me three different wines to try: Sunset Red, which is a blend of three varieties of grapes (pinot noir, red zinfandel, and merlot) , a Pinot Noir, and a lovely golden-colored Moscato. After doing a bit of research online to find out what cheeses paired nicely with these varieties, I chose a Gruyère to taste with the Sunset Red, a Comté to try with the Pinot Noir, and a blue cheese to go with the Moscato.
We first sniffed a wine, discussed the aromas we each detected in the "nose" of the wine, and then tasted it, carefully. We then nibbled the cheese that went with that wine, tasted the wine again, and then shared our observations and preferences following the tasting of the wine with the cheese .
What I Learned About Wine WITH Cheese
What I discovered through first tasting the wine by itself, and then tasting it after a bite of the cheese, was that having the wine with food makes an unbelievable difference in the way in which my palate perceives that wine. The cheeses I had paired with the wines enhanced and improved the taste of each of these wines to me, and my guests all agreed.
If you're thinking it might be fun to try doing something like this yourself, Mirassou has some great resources available on their website to help you host a wine tasting/wine scoring party. The Mirassou family has been making wine for 6 generations: that's 160 years! I had the pleasure of meeting David Mirassou, who heads up the business now, at a blogging conference I attended in Atlanta in 2012, Bloggy Boot Camp. Mirassou has served as a key sponsor of those conferences. At that event, I tasted Mirassou's Chardonnay, Sauvignon Blanc, and Cabernet Sauvignon. I am a sucker for a Sauvignon Blanc, and it's probably my favorite of all their varieties, but I enjoyed the other two as well.
When I was attending that event, Bloggy Boot Camp, I heard so many of the younger bloggers exclaiming about how crazy they were over the Moscato. It is exceptionally sweet, with a hint of melon and citrus. While it was too sweet for my palate, I did notice that nibbling blue cheese with it completely changed its character, and I found myself sipping and nibbling more, several times, just because the sweet and salty flavors together were such a tasty combination. So if you favor sweet wines, I would really encourage you to try a bite of blue cheese with your next glass: I think you might be pleasantly surprised.
About Mirrasou Wines
Mirassou wines are value priced, and available nationwide. If you're curious if they're available near where you live, they have a store locator link on their website. Here's a link to some really helpful materials for hosting a wine tasting party, including a food and wine pairing chart, that I used to help me choose the recipe I'll be sharing with you today.
Why Chipotle Honey Glazed Chicken Wings?
For our wine tasting party, I wanted a dish that would pair well with all three varieties of wine that I would be serving. The Moscato is so fundamentally different from the other two varieties (the Sunset Red and the Pinot Noir) I was serving, that there was only one dish listed on the food/wine pairing chart that Mirassou provided. that filled that bill: and that dish was barbecue chicken. I decided to look for a recipe that could act as a main dish, or an hors d'oeuvres, and on epicurious.com, I found a Bobby Flay recipe for Chipotle Honey Glazed Chicken Wings with Toasted Sesame Seeds and Green Onions.
Recipe Notes for Chipotle Honey Glazed Chicken Wings:
Homemade Chile Powder:
One additional note: I didn't have any "ancho chile powder", so I made my own. This is super easy to do if you have a great blender (I have a Vitamix) or a spice grinder (like a coffee grinder that you use for spices). I have a big bag of dried ancho chiles that I found in the Mexican Food section at Walmart. I took a couple of those, cut off the stems, took out the seeds and toast them on my griddle for about 30 seconds per side. Whir it around in your Vitamix, and voilà, you have homemade chile powder! Fresh, flavorful, and your kitchen will smell delicious. This link will take you to some really cool photos of how I do that process, if you're interested.
Less Chile Powder; Less Dijon
My recipe is somewhat different than the original Bobby Flay recipe, because I decreased the amount of chili powder I used by 1 tablespoon, and only used 1 T. of Dijon mustard.
Adapted To Be Made Inside; But You Could Grill Them Outside
One more change: I did not grill my wings on the grill, because it was blinking cold that day. I used the grill pan inside to put grill marks on them, and finished them in the oven. (Couldn't talk my husband into braving the cold outside.)
The Recipe for Chipotle Honey Glazed Chicken Wings
Yield: 6 servings
Chipotle Honey Glazed Wings with Toasted Sesame Seeds and Green Onions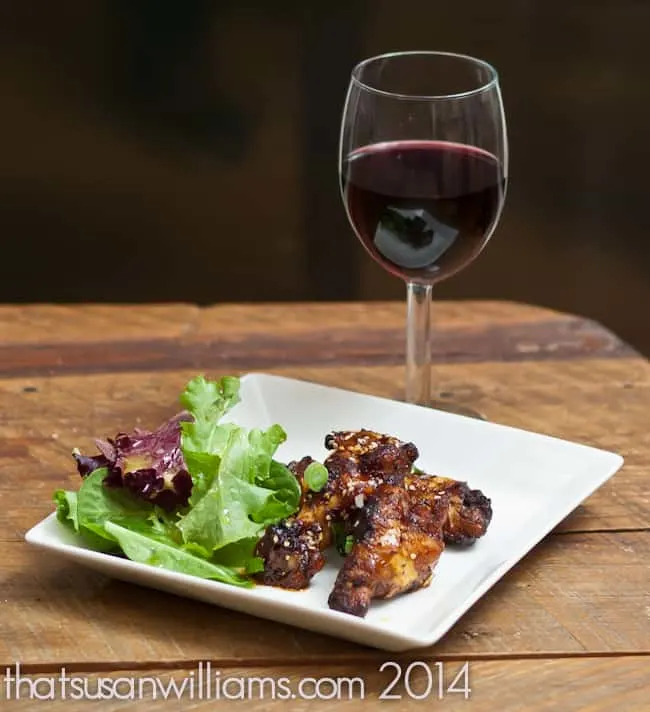 Sweet and spicy, these wings are sure to be a hit at your next affair.
Ingredients
5 lbs of chicken wings
1 teaspoon sea salt
SPICE RUB:
3 tablespoons ancho chile powder
2 teaspoons ground coriander
2 teaspoons ground cumin
2 teaspoons paprika
1/4 c. canola oil
GLAZE:
1 c. honey
2 tablespoons pureed canned chipotle chiles in adobo sauce
1 tablespoons Dijon mustard
1 teaspoon sea salt
2 tablespoons toasted sesame seeds
3 green onions, chopped
Instructions
Pat the wings dry with paper towels.
Chop off the tips (I saved those in a ziplock bag in the freezer for when I make chicken stock), and cut each wing into two pieces, at the joint.
Salt the wings liberally with the sea salt.
FOR THE SPICE RUB: Mix 2 tablespoons of ancho chile powder with the coriander, cumin, and paprika in a small bowl.
Place the chicken wings in a large bowl, add the spice rub and 2 T. of canola oil, and toss to coat. Cover with plastic wrap and refrigerate.
MAKE THE GLAZE: Whisk together the honey, chipotle purée, Dijon mustard, remaining tablespoon of Ancho chile powder, 1 t. salt and remaining 2 T. of the canola oil in in a small bowl. Pour half of the glaze into another bowl, to use for basting uncooked wings. Use the other half of the glaze for tossing the cooked wings in, when they're finished cooking. Set aside the glaze, for now.
Heat your grill pan to medium high.
Pre-heat your oven to 425º.
If you are using a grill pan on top of the stove, you will probably need to grill your wings in two batches.
When the grill pan is lightly smoking place half of the batch of spice-rubbed wings at an angle, as if they were the hands on a clock marking the time 10:20. To get the lovely diamond shaped grill marks on your wings, after 3 minutes, you're going to turn them a quarter turn (like a windshield wiper blade goes to the other side of the windshield) as if they were clock hands marking the time 2:40. Then, you'll flip them over and repeat the process.
(So, cook them for about 6 minutes total, per side.)
When your wings have cooked a total of 12 minutes, place them in a rectangular shaped baking dish, and brush both sides lightly with the glaze. Place the wings in the oven to finish, about 10- 15 minutes. (And of course, you'll repeat this process of grilling and basting and baking with the second batch of wings, as well.)
When they have baked for 15 minutes, remove them from the oven, and toss with remaining (untainted by raw chicken) bowl of glaze, toasted sesame seeds, and green onions.
Notes
I browned these inside, on my grill pan, and finished them in my oven, because it was the dead of winter when I made them. But you could certainly do them completely outside on your grill, all the way, and just apply the glaze once they're suitably browned, and close the lid to finish them.
Be careful not to apply the glaze too soon. It is high in sugar content, and will burn, easily.
Recommended Products
As an Amazon Associate and member of other affiliate programs, I earn from qualifying purchases.
Have you ever hosted a wine tasting party before?
What wines would you enjoy sampling?