This post contains links that, if you click on them and make a purchase, will earn me money. Regardless, I only recommend products or services that I believe will be good for my readers. Thanks for helping me continue to produce great content!
Easy Basil Pine Nut Pesto Recipe : A bit of butter gives this recipe amazing flavor! This is the best pesto I have ever had, whether served to me in an Italian restaurant, or purchased from a store, or homemade!
Basil: The One Thing I Can Grow
We don't grow much here in the Boonies (mainly because we have to pipe in the sunshine) apart from ticks, chiggers, poison ivy, and the occasional rattlesnake. But one thing I can grow is basil. And here it is the end of August, and my basil has yet to give up the ghost. This, in and of itself is a minor miracle.
So, last night, I told my dear husband, the Big Bison, that it was time to make some pesto and for him to snap a few shots. He started whining saying something about the light needed to be such and such, because he and I are reading a book about photography. Well, mostly, he's reading, and I'm looking at the pretty pictures.
So I suggested we try a shoot out on the porch, and he whiningly willingly complied. I got things set up, and then we both stood out there smacking little "no-see-ums" (annoying teeny-weenie stinging bugs that you…um…can't see) on our legs, but we got some nice shots. Well, HE got some nice shots. And "AH HAY-ELPED" (to be read with the voice of the little girl on the Shake and Bake commercial from eons ago).
But YOU want the recipe, right?
Of course right!
Easy Basil Pine Nut Pesto Recipe Source
I originally found this recipe in The Moosewood Cookbook, which is a famous vegetarian cookbook from the late 70's. My copy is stained and split in half, but I prefer to think of it as very, very REAL. It's as well loved and REAL as the Velveteen Rabbit. Through the years, I've made a couple of adaptations, that I think help.
I've always called this Killer Pesto, but last night while I was on the phone with my friend Anne, she said "Besto Pesto" and snickered, and I did, too. So I'm wavering on the name. Maybe I'll take a poll in the comments, and you can weigh in on this important issue.
How Do I Use this Pesto?
I usually gobble mine up the night I make it, by putting it on pasta. Sometimes I'll pour a little heated cream over the pasta with pesto, just to have a creamier sauce.
But I've also been known to freeze it, and use it for later. Pesto on toasted baguettes, topped with a few chopped tomatoes and some ricotta makes an exquisite hors d'oeuvres. I've used it to top a pizza crust, or some focaccia with chopped tomatoes and fresh mozzarella as a beautiful pizza. And I even use it as a garnish to my minestrone soup.
Assembled ingredients: they call this "mise en place", kids.
Adding butter.
Adding oil
Yummy.
So what do you think: Besto Pesto? Killer Pesto? Boonie Pesto? "Git In My Belly"? Or something original of your own? Please weigh in on this important issue: Name That Pesto!
Yield: 2 cups
Easy Basil Pine Nut Pesto Recipe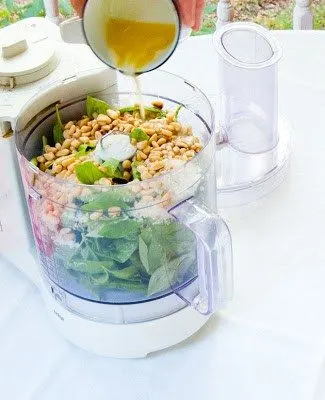 A bit of butter gives this recipe amazing flavor! This is the best pesto I have ever had, whether served to me in an Italian restaurant, or purchased from a store, or homemade!
Ingredients
4 packed cups fresh basil leaves, washed, dried, removed from stems
3 large garlic cloves
1/2 c. toasted pine nuts (lightly brown them in a skillet on the stove top - only takes a New York minute)
3/4 c. packed fresh chopped parsley
3/4 c. freshly grated parmesan
1/2 c. olive oil
1/4 c. melted butter
1/2 t. sea salt, and more, to taste
1/4 t. freshly ground black pepper
Instructions
Assemble all your ingredients, and then combine everything in a food processor. Run food processor for about 5 seconds, till all the leaves get incorporated, and then pulse till you achieve the texture you like.
I like my pesto with a bit of "tooth" (kind of grainy, with a tiny crunch from bits of pine nuts - not puréed), but you might like yours with a smoother texture, so process for as long as you think you should. Taste for seasoning, adding more salt or pepper if needed.
Toss with hot, drained pasta. Or freeze till you're ready to use it later. I like linguini with pesto.


Notes
You can substitute most any kind of nut you prefer, if pine nuts don't float your boat. But they are my absolute favorite!
Recommended Products
As an Amazon Associate and member of other affiliate programs, I earn from qualifying purchases.