This post contains links that, if you click on them and make a purchase, will earn me money. Regardless, I only recommend products or services that I believe will be good for my readers. Thanks for helping me continue to produce great content!
Best Ever Venison Enchiladas are called that simply because they ARE the best ever meat enchiladas I've ever had. I've had enchiladas made by friends. I've had enchiladas made at restaurants. These are better. That is the verdict, and it is true, just, and right.
But I Don't Eat Venison….Is Beef OK?
Actually, *I* DO eat venison. But perhaps you clicked on this post because the recipe looks so yummy (and it's every bit as yummy as it looks), but you, personally, don't have access to venison. That is 100% fine! I have made these with beef, and they're scrumptious that way, too. So…to answer your question: Beef IS ok. You could also make these with ground chicken or ground turkey, if that's your protein preference.
Start By Making the Enchilada Sauce:
The enchilada sauce comes together very quickly and easily.
I recommend for your beef broth, that rather than using canned or boxed beef broth (which are fine, if that's what you have) that you try using a jar of Beef Better Than Bouillion. I find the flavor to be so much more like real beef broth. I know that may come as a surprise. It surprised me when I did a taste test. But the winner at my house was definitely Beef Better Than Bouillion.
For your convenience, I've placed a link to Better Than Bouillion in the Amazon recommended products you'll find below the recipe. Please use my affiliate link to order some if you don't have any. Especially if you've never tried it before, you'll thank me.
I noticed that Cook's Illustrated magazine recently did a taste test on beef broths, and they came to the same conclusion! So if my own personal findings weren't enough for you, you can relax in knowing that Cook's Illustrated came to the same conclusion regarding Better Than Bouillion. And even better? It's a much cheaper option than buying canned or boxed stock or broth.
Time to Make the Seasoned Venison Meat:
First brown the meat and the chopped onions till they start to look translucent. Then add the spices, and brown for a minute. Finally add the tomatoes. Now taste the meat. If you like more heat, this would be a good time to add more chili powder. (Chipotle chili powder packs a punch. You could also add red pepper flakes to turn up the heat. This recipe has a mild amount of heat, so adjust to your family's preferences for spiciness.
To Warm the Tortillas and Stuff the Enchiladas:
We add a bit of oil to a skillet, and fry each tortilla for a few scant seconds on each side. We're not trying to brown it. We just need it to be soft and pliable. Place it on a plate that has been covered with paper towels, and blot it on top with another wadded up paper towel.
We immediately stuff the tortillas with the seasoned meat, sliced black olives and chopped onions. Following that, we roll them up and place them in a large baking dish.
What Do You Serve with Your Best Ever Venison Enchilada Recipe?
I highly recommend you serve these with freshly warmed up tortilla chips, a few slices of fresh avocado sprinkled with Durkees garlic salt, if you've got it, and a dollop of sour cream. They all work together for good!
If you're as much of a TEXMEX food hound as I am, you'll want to check out some of my other TexMex recipes, including the simplest and best guacamole, Lunch Lady tacos, and Sour Cream enchiladas. YUM!
The Recipe for Best Ever Venison Enchiladas
Yield: 6 servings
Best Ever Venison Enchiladas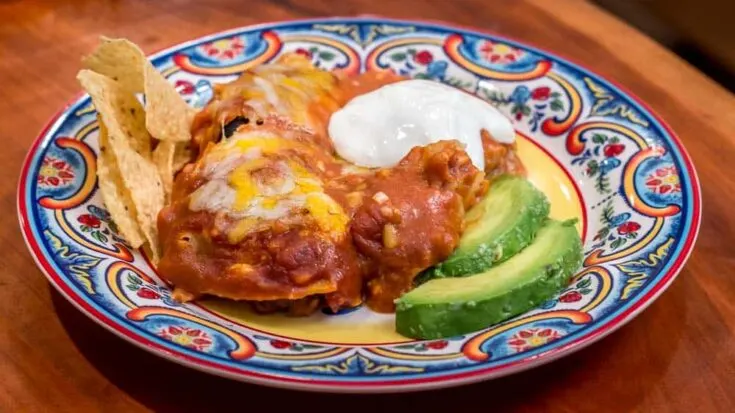 Wonderful enchilada recipe. We use it with venison, but beef would be a great substitute, if you prefer.
Ingredients
TO MAKE THE ENCHILADA SAUCE:
2 teaspoons "Better Than Bouillion Beef Bouillon" dissolved in 16 oz. boiling water, mixed together, to make 2 cups (16 oz.) of beef Better Than Bouillion)
1 stick of butter, melted (1/2 c. butter)
1/3 cup flour
8 cloves of garlic, minced
2 8 oz. cans of tomato sauce
2 Tablespoons of chili powder
1 teaspoon of ground cumin
FOR THE SEASONED GROUND VENISON:
1 pound ground venison (or beef)
1 large onion, chopped
1 tablespoon all purpose flour
1 tablespoon chili powder
1 teaspoon garlic powder
3/4 teaspoon salt
1/2 teaspoon ground cumin
1/2 teaspoon rubbed sage
1 16 oz. can stewed tomatoes
TO SOFTEN THE TORTILLAS:
1/4 c. vegetable oil
12 corn tortillas
TO STUFF THE ENCHILADAS:
1/4 c. seasoned meat mixture
1 medium onion, chopped
1/2 c. sliced ripe olives
TOPPING FOR BEEF ENCHILADAS:
Enchilada Sauce
2 c. grated Monterey Jack cheese, or Mexican Blend grated cheese
Instructions
Pre-heat the oven to 350º degrees.
FOR ENCHILADA SAUCE:
Melt butter in sauce pan, over medium heat. Pour beef broth into sauce pan with melted butter. Whisk in flour, minced garlic, tomato sauce, and spices. Once the sauce is smooth, set it aside on stove top, setting heat t0 extra low.
TO MAKE SEASONED MEAT MIXTURE:
Cook ground venison and large chopped onion in a large skillet until meat is browned, stirring to crumble meat. Add flour and seasonings. cook 1 minute, stirring constantly. Gradually stir in tomatoes, and cook until thoroughly heated.
TO ASSEMBLE ENCHILADAS:
Fry tortillas, one at a time, in hot oil for 3 to 5 seconds per side. Drain tortillas on a paper towel, and blot if necessary.
Combine medium chipped onion and sliced olives in a bowl.
Spoon about 1/4 cup of seasoned meat filling onto each softened drained tortilla. Top each tortilla with meat and with a spoonful of sliced onions/chopped olive mixture.
Roll each tortilla tightly, and place in a 13x9x2" baking dish. Top all the tortillas with Enchilada Sauce. Top all the sauced enchiladas with the grated cheese.
Bake for 15 minutes.
Makes approximately 12 enchiladas.
Recommended Products
As an Amazon Associate and member of other affiliate programs, I earn from qualifying purchases.
Nutrition Information:
Yield:
6
Serving Size:
1
Amount Per Serving:
Calories:

917
Total Fat:

58g
Saturated Fat:

27g
Trans Fat:

1g
Unsaturated Fat:

26g
Cholesterol:

203mg
Sodium:

1748mg
Carbohydrates:

49g
Fiber:

8g
Sugar:

7g
Protein:

53g
My Very Best Mexican Recipes
I've compiled a list of my very best Mexican and Tex-Mex recipes, just for you! I hope you enjoy them as much as we have!