This post contains links that, if you click on them and make a purchase, will earn me money. Regardless, I only recommend products or services that I believe will be good for my readers. Thanks for helping me continue to produce great content!
This Easy Walleye Meunière Recipe with browned butter and lemon is a FABULOUS recipe for either a weeknight meal, or for entertaining – if you feel like you can bear to to share some of your precious fish with company. (It's very hard to find a friend who rates sharing this fish with. You're going to want to keep this all to yourself!) And best of all, it's easy to cook, and comes together in a flash.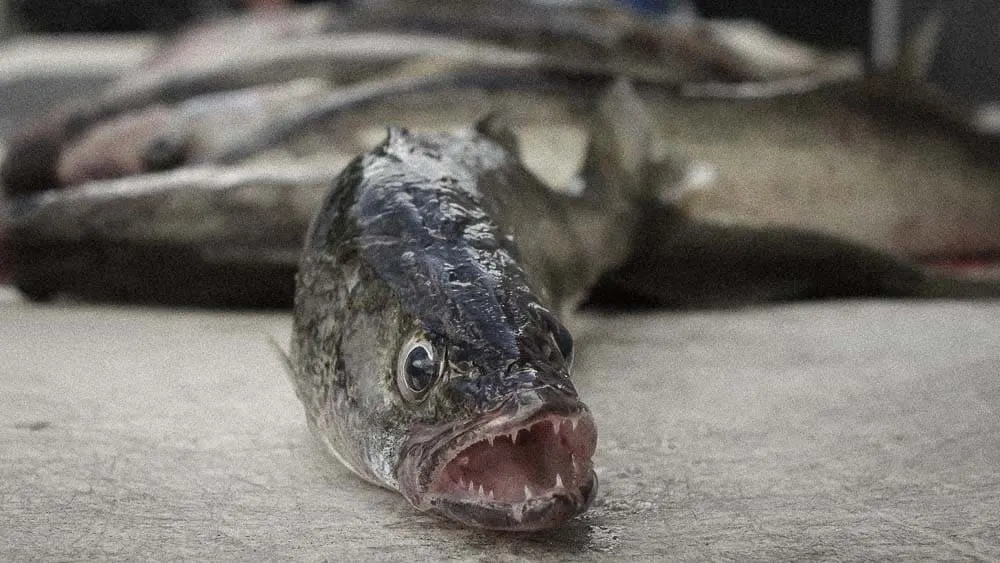 Behold, the walleye: yeah, ok, not going to win any beauty contests.
What Is A Walleye, Anyway?
If you're an angler, or live with an angler, you probably already know! Walleye are also known as yellow pike, and yellow pickerel, so it's possible you may know this fish by a different name.
But for the uninformed, like me: a Walleye is a species of ray-finned fish native to freshwater bodies in many states throughout the Midwestern United States as well as many regions of Canada. I'm told they are a popular game fish for anglers who are seeking a fun fight along with a great meal. Walleye reach speeds up to 50 mph! They are nocturnal and their eyes give them great night vision. They are even a growing commercial commodity, showing up on restaurant menus. Why? Because they're DELICIOUS!
But here's the most important point for someone looking for a recipe: Walleye are a tender white fish, a perfect canvas for any flavor you care to pair them with.
What Does Meunière Mean?
Meunière means "in the style of the Miller's Wife". Lest you be confused, let me elaborate, just a bit.
When Julia Child first entered France, a dish with a similar fish – sole- is what caused her to fall in love with French cooking. Sole meunière, meaning sole cooked in the style of the Miller's Wife, was the first French dish dear Madame Child ever tasted. And it was love at first bite.
That Miller's Wife was just a poor, working class housewife, but she knew how to rattle a pan, and cook up a fish fresh from the stream that ran beside her husband's mill. A little butter, a little flour, a little lemon, a little parsley, and she had the happiest tradesman in town for a husband.
Simple fresh ingredients, well prepared, absolutely do make the most SCRUMPTIOUS meals. Now since Walleye is a North American fish….made with a French recipe …let's just say that the French speaking Miller's Wife who cooked it was a French Canadian/Québecoise. Madame: we honor you with this recipe!
Don't Burn the Butter/Don't Crowd the Pan
This dish is so easy, the only tips I have to share are the following:
if your fillets are pretty skinny on one end, as mine were, you might want to cut them in half as I did, and sauté all the smaller ones for a minute or two less per side, then you do the fatter ends. (See image below.)
Don't crowd the pan, or your fish will steam, instead of brown. You don't want that.
Keep an eye on the butter, and adjust the heat accordingly. Browned butter is great, Burnt butter is bitter and acrid.
Here's the recipe for
Easy Walleye Meunière
Yield: 2 servings
Easy Walleye Meunière Recipe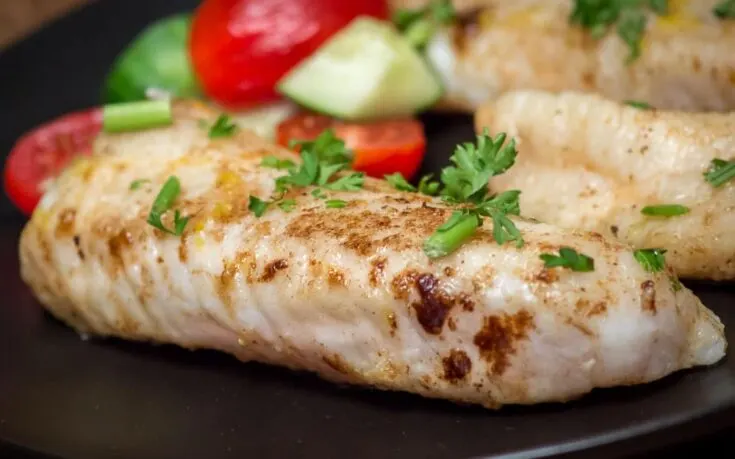 Easy Walleye Meunière recipe is pan sautéd with browned butter and lemon zest. Perfect for weeknight meal. Best of all: it's quick and easy!
Ingredients
1/2 c. flour
2 teaspoons of sea salt
freshly ground black pepper
4 walleye fillets, 4 oz. each
6 tablespoons butter
1 teaspoon grated lemon zest
juice of 3 lemons
1 tablespoon chopped fresh Italian parsley
Instructions
Combine the flour, 2 teaspoons of sea salt and 1 teaspoon of freshly ground black pepper on a large plate. Pat the walleye fillets dry, and sprinkle one side with salt. I cut my filets in half, so that the smaller end of the fillet doesn't dry out when I cook them: I just remove the smaller halves sooner.)
Heat 3 tablespoons of butter in a 12" sauté pan, over medium heat, (I use my cast iron skillet.)
Dredge the fillets in the seasoned flour on both sides, and place them in the hot, melted butter. Lower the heat to medium-low, and cook for 2 minutes. Turn with a metal spatula, and cook 2 minutes more on the other side. As you sauté the fish, the butter will be browning, but be careful not to let it burn. (Do not crowd the pan to ensure proper browning. Sauté the fillets in 2 batches if necessary.)
While the second side cooks, add 1/2 teaspoon of lemon zest and 3 tablespoons of lemon juice to the pan.
Place the filets on a platter, scraping the DELICIOUS buttery lemony juice over top. Sprinkle with chopped parsley, and an additional sprinky dink of sea salt.
Notes
If you need to sauté your fish in several batches, you can keep the platter warm in a 200º oven. I like to serve this with rice (I put some of my lemon butter on the rice) and a simple tossed salad.
Recommended Products
As an Amazon Associate and member of other affiliate programs, I earn from qualifying purchases.
If you love fish as much as I do, I have some other crazy good recipes. Have you tried my Grilled Halibut with Cilantro Lime Butter?
How about my Pistachio Crusted Salmon?
Seafood Dishes You'll Love
I thought I'd pull together a list for you of all the seafood dishes we've loved. And we've loved a lot!