This post contains links that, if you click on them and make a purchase, will earn me money. As an Amazon Associate, I earn from qualifying purchases. . Regardless, I only recommend products or services that I believe will be good for my readers. Thanks for helping me continue to produce great content!
Jalapeño Cilantro Grilled Pork Chops are delicious enough to serve to company, but easy enough for a weeknight. The flavor profile is fresh, and ever-so-slightly sweet. They are NOT your typical grilled pork chop. And the jalapeño shallot relish lets you bump up the heat level, to whatever level meets your personal heat preference. You can keep it mild (the way I prefer it), or bump it up to BAM! That's YOUR call.
NOT JUST A Grilled Pork Chop
One summer, I fell in love with Peruvian Chicken. And it was well worth falling in love with. All moist and spicy and luscious, served with that Green Sauce. Well, this recipe for Jalapeño Cilantro Grilled Pork Chops is my favorite recipe for THIS summer, because it's so unlike any pork chop recipe I've ever tried before. (And it has a Green Sauce too…only this time: the green sauce is a vibrantly colored marinade!)
Not only that, it's served with a quick-pickle jalapeño shallot relish that puts the finished dish over the top! And the relish takes less than 5 minutes to throw together.
NOT TOO MUCH HEAT: I promise!
If you're familiar with my recipes, you may know that I am not a fan of too much heat. So WHY would I be sharing a recipe whose name STARTS with jalapeño?
Something magical happens to a jalapeño when you grill it. Fire roasting causes the capsaicin (that's the oil in the pepper) in the skin to break down and take on a sweet and slightly smoky flavor. The sweetness is subtle, but it's there. Just a touch fruity.
You'll be delighted by that flavor, especially as it combines with the bright green freshness of the cilantro, and the savoriness of the garlic. It's a marinade that packs a punch, and it only takes an hour in the fridge to work its flavorful magic on the pork chops. In addition, the marinade helps keep the pork chops tender and juicy!
And yes, if you don't do cilantro, as some of my friends don't, parsley would make a fine substitute for cilantro.
But If You Like a Lot of Heat?
If you like a lot of heat, bump the heat level up in the Jalapeño Shallot Relish portion of the recipe. We really enjoyed the sweet and spicy pickled flavor of this relish. After we'd sampled a bit on our pork chops, we all reached for a second helping. The relish is spicy, but not too spicy, as written. And it really brightens up the flavor of the dish, even more.
If you don't have any shallots, a red onion sliced thinly would make a great substitute.
But if you like more heat, since the jalapeños in this part of the recipe are raw, add in another jalapeño or two, to make it the way you like it.
Another option is to leave in the seeds and the ribs of the jalapeños, since they are where a lot of the heat in a jalapeño resides.
Do I Have to Use Bone-in Pork Chops?
Absolutely not! We tried this dish both ways, using boneless the first time, and bone-in, the second. Believe it or not, ours were better using the boneless! I suppose that had more to do with the correctness of the meat's temperature, because technically, bone IN is supposed to be more flavorful. But surprisingly, our try with boneless was juicier. It had to be the temp! You want to grill them until they've reached 145º.
The Browning of The Pig
Bearing in mind that you want the interior of the pork chop to have reached 145º, here are a couple glamour shots of the Browning of the Pig.
The Recipe for Jalapeño Cilantro Grilled Pork Chops
Yield: 4 servings
Jalapeño-Cilantro Grilled Pork Chops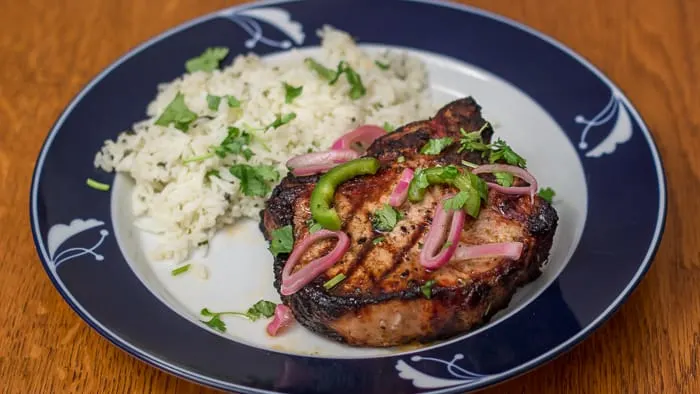 Delicious and easy, Jalapeño Cilantro Grilled Pork Chops with Jalapeño Shallot Relish will be your new favorite summertime grilling dish.
Total Time
1 hour
28 minutes
Ingredients
FOR THE PORK CHOPS:
3 large jalapeños, stemmed, seeded and sliced
5 large garlic cloves, peeled
1 bunch of cilantro stems, chopped into 1" pieces (about 1 cup)
2 tablespoons rice vinegar
1/2 cup olive oil
1 tablespoon sea salt
2 teaspoons sugar
4 1" thick pork chops
FOR THE RELISH:
1 large jalapeño, halved, stemmed, seeded, and sliced into half rings
1 large shallot, thinly sliced into rings
1/3 cup rice vinegar
1 teaspoon sea salt
2 tablespoons sugar
cilantro leaves, chopped, for garnish
Instructions
TO MAKE THE MARINADE: In a food processor, whirr the jalapeños, garlic, cilantro stems, vinegar, olive oil, salt and sugar, until smooth. Place the pork chops in a dish or resealable zip lock bag, and pour the marinade over them, turning at least once to be sure that the chops are completely coated. Cover and refrigerate for at least 1 hour, and up to 24 hours.
While the chops marinate, prepare the grill, and make the relish. In a small bowl, toss the jalapeño, shallot, vinegar, salt, sugar, and 2 tablespoons water. Set aside to quick pickle, until ready to serve.
To grease the grill grates, use tongs to grip a wadded paper towel that has been dipped in oil, to rub the grates, to keep the chops from sticking. With the marinade clinging to them, place the chops on the hot grill grate, and grill them until they are no longer pink in the center, and have brown caramelized grill marks, to a temperature of 140º, about 3 to 4 minutes per side, depending on the thickness of your chops. The meat is ready to flip when it releases easily from the grates.
Discard all remaining marinade.
Garnish the chops with the relish, and chopped cilantro leaves. Cilantro rice makes an excellent side dish.
Recommended Products
As an Amazon Associate and member of other affiliate programs, I earn from qualifying purchases.
This Little Piggy Went to Your Tummy
Are you looking for more delicious pork dishes? I've got you covered!