This post contains links that, if you click on them and make a purchase, will earn me money. Regardless, I only recommend products or services that I believe will be good for my readers. Thanks for helping me continue to produce great content!
I often serve rice as a side dish, but this recipe for Easy Cilantro Lime Rice with Cardamom Seeds is a real game changer for me. With just a couple of added steps, your side dish goes from boring, to something to write home about! It's great with pork chops, as you see pictured below, but lately, I've also been loving it with fish.
Gently toasting the rice in butter before it steams – which at the same time causes the flavor compounds in a couple of fat-soluble spices to bloom, and then garnishing the dish with the vibrant fresh acidity of lime juice and the bright herbal flavor note of cilantro, makes this side dish shine.
The Two Pivotal Steps that Make Easy Cilantro Lime Rice Spectacular!
1. Toast the Rice and Spices
One thing I learned from Indian Cooking is that many spices and herbs have flavor compounds that bloom and develop in fat. They are "fat soluble", and once you add heat to that herb or spice plus fat, the spices and herbs' flavors change, and intensify. That's what makes certain dishes taste so ALIVE!
Even when you toast rice alone in butter, you'll get a nutty aroma, as the butter begins to brown. It's delightful! So just imagine what fat and heat can do for rice with spices! It does beautiful flavorful things, my friends.
2. Add Acid and Herbs at the End to Add Even More Flavor!
There are certain flavor elements to dishes that don't survive heat very well, and those two flavor notes are acids (like vinegars or citrus juices) and leafy green herbs (herbs like cilantro, or basil, or parsley). So in this dish, we add the lime juice and the parsley and a little fresh jalapeño at the end, to add a bit of zing.
You'll find that these two pivotal steps take a side dish from boring to thrilling! Remember, you can use these principles in many recipes that you cook.
Wake spices and woody herbs (rosemary, thyme, sage) up by sautéing them in fat.
Make a dish more vibrant after cooking by adding acids, or leafy herbs (which are water soluble).
About Cardamom
Cardamom is a fruit, that grows in India, that most of us in the US think of as a spice. It's found in the spice section of our grocery store. You can buy it where the dried seeds or already ground, or buy the unground seeds, which is probably the most expensive way to buy it. Personally, I try to find and purchase the whole pods of cardamom, which are generally green. (The white pods have less flavor.) I find them at Whole Foods in the bulk spice section, and I also ran across them once, quite unexpectedly, at World Market. I'm sure you could find the whole pods in any Indian grocery store, or at any spice specialty store. But the EASIEST way to obtain them is to use my handy dandy affiliate link, which you'll find right below the recipe card.
To use the cardamom pods, I smash the paper-like pod on my cutting board with the side of my chef's knife, and then extract the little seeds from the broken pods. There are usually 10-12 seeds in a pod, so to make this recipe, I smash two green seed pods, and use all their little seeds.
Cardamom's flavor is complex: you'll taste notes that are piney, fruity, citrusy, and almost menthol-like. I absolutely love it.
The Recipe for Easy Cilantro Lime Rice with Cardamom
Yield: 4 servings
Easy Cilantro Lime Rice with Cardamom Seeds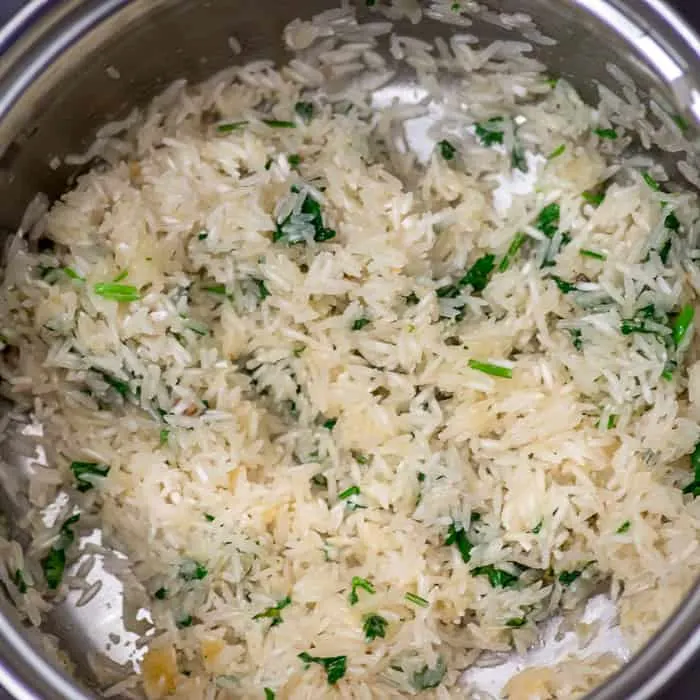 Reminiscent of Chipotle's Cilantro Lime Rice, but BETTER, this recipe for Easy Cilantro Lime Rice gives two pivotal steps to optimize flavor.
Additional Time
10 minutes
Ingredients
1 tablespoon butter
1 tablespoon oil
1 1/2 teaspoons garlic powder
1 1/2 teaspoons onion powder
all the seeds from 2 whole smashed cardamom pods
1/2 teaspoon sea salt
1 bunch of cilantro, chopped finely, stems and leaves separated
1 cup of long-grain rice (jasmine or basmati)
1/2 of a jalapeño, ribs and seeds removed, thinly sliced
juice of 1/2 lime; plus more, to taste
Instructions
Melt the butter in a medium saucepan over medium heat Add the oil, then stir in the cardamom seeds, onion powder, garlic powder, and cilantro stems, stirring until fragrant, about 30 seconds. Add the rice, and stir it for another 30 seconds, lightly toasting it.
Add 1 1/2 cups water and the sea salt, and raise the heat to bring the water to a boil. Reduce the heat to bring everything in the pan to a simmer, and allow rice to cook covered, until all the water is absorbed: about 17 to 20 minutes. Remove pan from heat, and allow the rice to sit covered. It will continue steaming another 10 minutes.
Fold in the cilantro leaves, the jalapeño, and the lime juice. Taste for seasoning, and add more salt or lime juice, as needed.
Notes
If you can't find whole cardamom pods, you'll use about 1/4 teaspoon of whole cardamom seeds.
Recommended Products
As an Amazon Associate and member of other affiliate programs, I earn from qualifying purchases.
Nutrition Information:
Yield:
4
Serving Size:
1
Amount Per Serving:
Calories:

183
Total Fat:

9g
Saturated Fat:

3g
Trans Fat:

0g
Unsaturated Fat:

5g
Cholesterol:

17mg
Sodium:

337mg
Carbohydrates:

22g
Fiber:

1g
Sugar:

8g
Protein:

4g
Side Dishes for Summer
Here are some great side dishes for summer that use all that glorious produce that's in season. I know you're going to love them!