This post contains links that, if you click on them and make a purchase, will earn me money. Regardless, I only recommend products or services that I believe will be good for my readers. Thanks for helping me continue to produce great content!
This Key Lime Pie with Shortbread Crust recipe is lusciously creamy, yet light and refreshing. Best of all, it's easy to make. It's distinctive from most recipes, because the crust is made from shortbread, rather than graham crackers.
This shortbread crust is the same crust I use in my blueberry cheesecake: it's the crust that causes all my friends to lose their minds at its deliciousness. Citrusy, tart, and sweet, this pie is a lime lover's dream come true!
Let's Talk About the Shortbread Crust
A Recipe for Homemade Shortbread:
First off, homemade shortbread is easy to make, and my recipe is EXCELLENT, so if you'd like to go the distance, as I always do, make your own. Use this link for Buttery, Easy, Scottish Shortbread Cookies. They are awesome! They have enough butter in them that this crust recipe needs no added butter, like a graham cracker crumb crust does. I just stick some cookies into my food processor with a couple of tablespoons of sugar, and whir them around. You'll need to process enough cookies that you come out with at least 2 cups worth of crumbs.
Do I Have to Use Homemade Shortbread?
Absolutely not. Walker's Shortbread is sublime, albeit a bit pricey. But I suppose you could even use the Nabisco Lorna Doone brand, or Pepperidge Farm's Dublin Shortbread. I've never done this, mind you, but I don't see why you couldn't.
The Pie Dish I'm Using: Great Jones
One of the reasons I decided to make this pie was that Great Jones Cookware sent me one of their adorable pie dishes to try, and review. Here's my review of their ceramic red and white pie dish (dubbed THE SWEETIE PIE): it worked beautifully, looks adorable, and my key lime was sublime in it.
I highly recommend you check out Great Jone's line of cookware, since they make a variety of products. Personally, I have my eye on their sheet pans, (I'd like mine in blue, please) which they have named the Holy Sheet Pan. and/or the matching set of 3 sheet pans, entitled the Sheet Show. Bonus points for clever marketing.
Great Jones' Hot Dish and Lid, in the color blueberry, can go on my Christmas list NOW, please. And who doesn't need a cutie patootie set of Matching, Nesting, Mixing Bowls I sure do! (They even have pouring spouts on the sides!) Just go check out their stuff! It's unique, and just too cute for words. (They'd make a great unique gift for any cooks you love.)
About the Pie Filling/Custard:
In my opinion, the only thing slightly labor intensive about this pie is squeezing the limes, and I'd say I squeezed about 5 Persian limes to get the 3/4 of a cup of juice that I needed for the recipe. If you have a juicer, you're home free. If you don't (and I don't), I find that the citrus squeezer that I'm linking below the recipe card is excellent for making short, relatively painless work out of lime squeezing.
And yes, I used Persian limes (the big ones) and not Key Limes which are teeny weeny, to make this Key Lime Pie. Is it false advertising? Well, yes, technically, but my intentions are all for your good, dear reader. You'd have to squeeze so many of those teeny weeny things (it would probably take about 24 of them), that you'd be at it for EVER, and from my research, the difference in flavor is not enough to warrant seeking out and squeezing all those tiny little nuisances. So squeeze fewer large limes, and rest assured, your dessert will be delicious.
Before You Squeeze Those Limes:
Before you start squeezing those limes, there are a couple of steps you should take. First, wash them, because no one wants any nasty bacteria in their pie. Then dry them off, and use a Microplane rasp tool to zest all that lovely, vivid green off. There is beautiful fresh lime essential oil in that green stuff, that packs a wallop of lime flavor. Even more flavor than the juice, itself, from what I've read.
But don't zest the white stuff under the green stuff, (which is called the pith), because it's not so much limey in flavor as it is bitter. And you don't want that for this recipe.
The Recipe for Key Lime Pie with Shortbread Crust:
Yield: 8 slices
Key Lime Pie with Shortbread Crust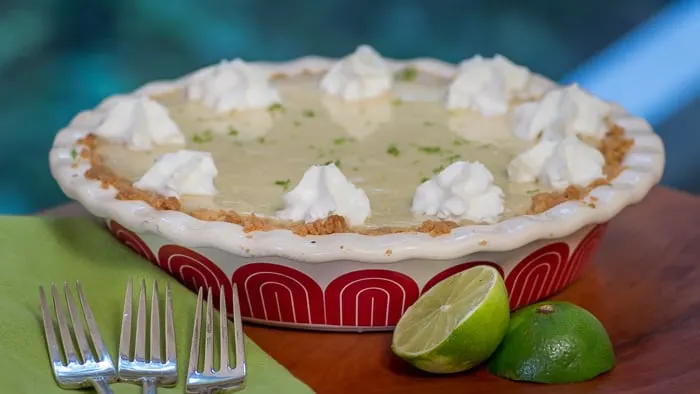 This key lime pie recipe is lusciously creamy, yet light and refreshing with a shortbread crust. And it's easy to make. Citrusy, tart, and sweet, this pie is a lime lover's dream come true!
Total Time
3 hours
48 minutes
Ingredients
2 cups shortbread cookie crumbs
2 tablespoons sugar
2 14 oz. cans of sweetened condensed milk
1/2 cup sour cream
2 limes, zested
3/4 cups of lime juice (I used about 5 Persian limes, but you might need one or two more; if you're using key limes, you'll need about 24 limes)
2 egg yolks
whipped cream, for garnish
Instructions
For crust: Position rack in center of oven and pre-heat to 375º. Combine cookie crumbs and sugar in food processor. Pulse until just mixed.
Press crumb mixture firmly onto bottom and up the side of the pie pan. (A meat pounder, ramekin, or flat-bottomed coffee cup makes this easier.)
Bake until crust begins to brown, about 8 minutes. Transfer pan to rack and cool, and lower oven temperature to 350º.
For Pie Filling: Wash, dry, and zest limes.
Squeeze 3/4 c. of lime juice. (Lime sizes can vary, some limes are juicier than others, so you might want to buy an extra lime or two.)
Pour sweetened condensed milk, sour cream, lime juice, lime zest (reserving one teaspoon of lime zest for garnish) and two egg yolks into a stand mixer bowl.
Mix on low for a couple of minutes, to combine. Then switch mixer to medium high, and beat for 3 minutes, scraping down the bowl once or twice. You're incorporating air into the mixture. The mixture should appear thicker by the end of the 3 minutes.
Pour pie filling into the cooled shortbread crust. Bake at 350º for 15 -20 minutes. The center of the pie should be set, but the filling will still jiggle slightly.
Remove from oven and cool for 30 minutes on a cooling rack.
Refrigerate pie for a minimum of 3 hours.
Garnish with reserved lime zest, sprinkling it over the top of the pie. Serve with whipped cream, if desired.
Notes
Limes will vary in the amount of juice they contain, so to be on the safe side, you might want to buy an extra lime or two.
Recommended Products
As an Amazon Associate and member of other affiliate programs, I earn from qualifying purchases.
Nutrition Information:
Yield:
8
Serving Size:
1
Amount Per Serving:
Calories:

788
Total Fat:

31g
Saturated Fat:

14g
Trans Fat:

1g
Unsaturated Fat:

14g
Cholesterol:

101mg
Sodium:

377mg
Carbohydrates:

117g
Fiber:

1g
Sugar:

89g
Protein:

15g