This post contains links that, if you click on them and make a purchase, will earn me money. Regardless, I only recommend products or services that I believe will be good for my readers. Thanks for helping me continue to produce great content!
Have you ever wondered about wine and cheese pairings from Trader Joe's? Like maybe you'd like to host a few friends, and make a lovely charcuterie board, but the endless options start to feel a bit overwhelming? And you wonder what wine goes really well with what cheese?
Fear not, my friends! I've got you covered with a simple list of absolutely delightful wine and cheese pairings. I put them together on my brand new charcuterie board with a few other tasty sides, and I think you'll be pleased to know that it takes not long at all to throw all this together!
Wine And Cheese Pairings From Trader Joe's
So, check out my list of wine and cheese pairings below, and then, for the true wine lovers, my Wine Guy and my dear friend, Denny Jiosa, has written tasting notes about each of the wines I'm mentioning.
Denny's palate is superb, and he knows how to describe these wines in ways I simply cannot. But his descriptions will give you everything you'll need to know to determine if these are the types of wines that might be pleasing to YOUR palate.
And don't miss a super-special announcement at the bottom of this post!
What Cheeses Did You Choose For Your Wine and Cheese Pairings?
Creamy Toscano Cheese Soaked in Syrah

Triple Cream Brie Cheese With Wild Mushrooms

Unexpected Cheddar Cheese

Green Goddess Gouda

Fresh Mozzarella topped with Homemade Pesto and Pomegranate Ariels
What Wines Did You Choose?
2020 Vignobles Lacheteau Pouilly Fume. $15.99

XOTE The Silence $5.99

Ruggero di Bardo Susamaniello $9.99

Paggio Al Casone $9.99

Corte Barolo $12.99
Recommended Wine and Cheese Pairings:
White Wine:
Pair the Vignobles Lacheteau Pouilly Fumé with the Triple Cream Brie Cheese With Wild Mushrooms
Red Wines:
Pair the XOTE The Silence with the Green Goddess Gouda cheese
Pair the Ruggero di Bardo Susamaniello with the Fresh Mozzarella with Homemade Pesto (or any of the other cheeses).

Pair the Paggio Al Casone with the Creamy Toscano Cheese Soaked in Syrah
Pair the Corte Barolo with the Unexpected Cheddar (or any of the other cheeses)
If You Only Buy One Wine, and One Cheese:
I'd go with the Ruggero di Bardo Susamaniello and the Creamy Toscano Cheese Soaked in Syrah. My friend Denny would probably recommend the Corte Barolo instead.
Cheese Descriptions:
Some advice on How to Choose Your Cheeses:
When you're making a charcuterie board, it's a nice idea to choose cheeses of different hardness/firmness. So you might want to choose (at least) one cheese that's exceptionally soft, one that is semi-soft, and one that's drier: maybe even a little crumbly. They're called semi-hard.
Soft Cheeses:
The Fresh Mozzarella topped with homemade pesto and pomegranate arils was super soft: probably the softest of the cheeses. The homemade pesto was absolutely scrumptious, but due to the fresh garlic, it's a pronounced flavor profile. The pomegranate arils against the pesto made everything look so Christmasy, and provided a fresh burst of flavor! We all put the mozzarella on top slices of a ciabatta baguette from Trader Joe's, that I heated, and sliced. And, of course, I found the pomegranate at TJ's, too.
(If you don't want to go to the trouble of making homemade pesto, you could just drizzle the Fresh Mozzarella with your best olive oil, salt, and pepper.
The Triple Cream Brie Cheese With Wild Mushrooms is my other soft cheese choice and it was delicious. I have to say, though that it wasn't any more delicious than a plain Triple Cream Brie would have been. (Triple Cream Brie has the highest butterfat content of any brie cheese. Double Cream Brie has a slightly lower butterfat content than Triple Cream, but still more than just a regular brie. I mention this to underline the fact that I do taste a difference between all three levels, and I prefer the richest, the Triple Cream, when I can find it. But you do you.)
Semi-Soft Cheese:
The Green Goddess Gouda was a miscall, for me, and I'd omit it, next time, but I'd seen it recommended in a Trader Joe's Fan group I'm a member of, and I wanted to try it. It was a little too processed tasting for me. And that's because when I examined the label closely later, I discovered that it WAS processed. I was hoping for a cheese with a bit of a Boursin kind of flavor, with lots of herbal notes. And it had the herbal notes, but it just didn't send me to the moon. (Think herby velveeta.) Trader Joe's does make another type of gouda that I have really enjoyed, and I'd recommend you look for that one. I believe it was called Old Amsterdam Premium Aged Gouda. Look for it.
Semi-Hard Cheeses:
If you're only going to buy one cheese, buy this one: Creamy Toscano Cheese Soaked in Syrah. There really aren't enough superlatives in regard to this cheese. It's just delicious! It's just a wee tad softer than the next, and last Semi-Hard Cheese I'm going to mention.
The Unexpected Cheddar Cheese is somewhere between a Cheddar, a Gruyère, and a Parmesan. In the picture, you can see that where I broke the block in half, it looks kind of craggy, and I think that adds to the delicious-looking-ness of the cheese.
To Complete My Charcuterie Board:
To accompany my wine and cheese pairings, I chose a bunch of extras for my charcuterie board. You've maybe taken the time to notice them in the photos. There were favorites, and misses, but I thought you might want to know what you're looking at in the photos. I also wanted you to know what extras we found to be PERFECT, and which ones are expendable. No need to overspend!
Fruits:
I chose a Honeycrisp apple and a D'Anjou pear, and sliced them thin. The pear went especially well with the creamy brie wild mushroom cheese. Any fruit you like will do, but TRY to find a pretty pear, if you can.
Nuts:
I chose to make Ina Garten's recipe for Rosemary Roasted Cashews. They are divine, especially served warm. But any kind of nut you prefer.
Olives:
I have had Castlevetrano Olives that were bright green, and nutty, that I couldn't stop eating, in the past, and they were what I was searching for. I found the olives this year to be kind of inferior: darker in color than the brighter green I remembered. If you have a favorite olive, go for it, although if you ask me, you could easily omit the olives, unless the ones you have are excellent.
Pomegranate Ariels:
I was looking for something that would add a bit of bright red Christmas color, and these met that criteria, but honestly, in their stead, if you can find it, some Tomato Jam with bacon would be great. (Trader Joe's was out of tomato bacon jam when I was there.)
Dried Meats and Sausages:
I used Salame Secchi from Columbus Craft Meats Artisan Collection, Parma Ham from Citterio, Sopressata, and my husband's homemade venison jerky. His venison jerky was the very best, and I need to post that recipe, soon!!!
Breads:
I bought a Ciabatta Baguette, from Trader Joe's, and warmed it up and slice it thinly. Honestly, the crackers I used could easily have been omitted. They were nothing to write home about.
Crackers:
You won't see these pictured in the post, because Trader Joe's was out of them, but they carry a cracker that has dried figs and olives in them, and they are so tasty, I can eat them by themselves. They would have been great with the fresh mozzarella, or the Triple Cream Brie with Wild Mushrooms.
What I Would Omit, Next Time I Make A Charcuterie Board:
The next time I make a charcuterie board, I will probably omit the Green Goddess Gouda, the ariels, the olives (unless they're the type you adore), and the crackers, if they're boring. The baguette slices alone were sufficient.
Wine Tasting Notes from Denny Jiosa:
To introduce you to Denny, he's a world class professional guitarist from here in Nashville. He's also my friend who has kindly lent his most excellent palate in several other posts, making recommendations for early summer sipping and holiday parties. He has never steered me wrong. Once again, I asked him to choose some great wines for me that we could put together with delicious cheese, in order to design a beautiful charcuterie board. (To ensure his help in writing this post, I bribed him by inviting him and his lovely wife over to enjoy this feast with us.)
In return for our invitation, Denny wrote these excellent wine tasting descriptions for you, so that you can determine which of these wines you might enjoy most. I'd suggest you might want to pick up a bottle of any/all that appeal to you. They were all delicious.
2020 Vignobles Lacheteau Pouilly Fume. $15.99
For those who prefer white over red wines, we started our evening with the delightful Vignobles Lacheteau Pouilly Fumé from the Loire Valley, France. To even come close to this quality at this price is unheard of. The grape is Sauvignon Blanc, which flourish in the Loire Valley region. I must confess, I've never been a huge Sauvignon Blanc fan, especially those that are overly acidic and highly concentrated in flavor. However, this one is very delicate and soft on the palate, with flavors of citrus, lemon, and grapefruit. Absolutely delightful with salad and with the Triple Crème Wild Mushroom Brie cheese. A great starter wine!
Editor's Note:
Susan ADORES Sauvignon Blancs, and insisted we try this one, at the recommendation of the wine buyer from Trader Joe's. Denny rolled his eyes before tasting it, but ultimately complied, and finally saw the light. To all Susan's friends who are white wine lovers: "You're welcome".
XOTE The Silence $5.99
Now we venture from France to Spain with this delicious blend of Tempranillo, Cabernet Sauvignon, Syrah, and Garnache. "XOTE The Silence" is an outstanding value and a great party wine. The label is quite striking and appears more expensive than it is. The blend of these four grapes works so well together to deliver soft tannins and nicely balanced fruit flavors that are very easy to drink! Blackberries, blueberries, and dark cherry! You could pair this with nearly anything except fish… Or just drink it on its own! Sure to be a crowd pleaser and a wonderful every day drinker. Highly recommend! It complimented the Green Goddess Gouda cheese, and I was a bit doubtful anything would pair with that!
Editor's Note:
Susan chose the Green Goddess Cheese, and repents of doing so in sackcloth and ashes. It was OK, but it was nobody's favorite, by a long shot.
Ruggero di Bardo Susamaniello $9.99
Our next adventure was to an ancient grape from southern Italy, grown only in the Apulia region. Susamaniello is its name. It means "little black donkey". It's likely you've never heard of this grape as it's not easy to find, but it's well worth the hunt! It was primarily used as a blending grape that has now proven itself to stand on its own two vines! (Editor's Note: Roots?) Genetic testing has shown that it's a close relative to one of my other favorite grapes, Sangiovese! Full-bodied, with blueberry mixed with red fruit, tobacco, and a bit of tar on the nose. It paired perfectly with the Fresh Mozzarella with pesto and pomegranate arils. And, it comes in a very cool bottle that is sure to spark discussion at the table.
Editor's Note:
This wine was hands down the favorite wine of the evening for everyone at our gathering. If you only want to buy one wine, BUY THIS ONE. It almost has my name at the front of it. Susan/Susamaniello. Does that make me a little black donkey? Maybe.
Paggio Al Casone $9.99
Now heading north to Tuscany.The primary grape in this region is Sangiovese (think Chianti). Sangiovese has always stood on its own, a total rock star, but it is also blended to create what is known as a "Super Tuscan". Using grapes like Merlot, Cabernet Savignon, and Syrah, it can be an orgasm for your palate! (Editor's Note: I wish to point out that Susan did not write that last sentence.) "Paggio Al Casone" is a blend of 80% Sangiovese and 20% Syrah.
I'll be honest, I was hoping for this to be a little bigger than it was, but the flavor was delightful and distinctive. I found after it opened, more of the fruit flavors and subtle complexities came forward in this medium body vini. Like having black cherries mixed with fresh blackberries and balsamic notes, it paired wonderfully with the prosciutto and the Venison jerky. The saltiness of the meats and the Creamy Tuscan cheese were balanced beautifully with the dryness of the wine.
Corte Barolo $12.99
Load up the Ferrari, we're driving to Piedmont! Barolo, made from the Nebbiolo grape, is known as royalty in Italy and around the world. The king of wines! It must be aged for a minimum of 36 months before its release, 18 months must be in French Oak barrels. If it goes past five years before it's released , it is known as a "Riserva".
Corte Barolo is one of the best values in the Trader Joe's selection! To even get a decent bottle of Nebbiolo for this price is impossible. For a mere $12.99, you're walking out with a Barolo! Granted, it's not going to change your life, (or it might), but at this price you could enjoy it weekly and not feel guilty. A hint of vanilla and cherry flavor blended, it's almost like a cherry cheesecake… but not sweet at all. Nice mild tannin, it pairs wonderfully with almost any Italian cuisine or just drink it on its own! This is my number one choice of this grouping of wines! Have it with everything we had tonight!
A Couple of Recommendations Not Available at Trader Joe's
IL Brunone Vinsanto del Chianti Classico $45.00
Our final selection and an absolutely unreal desert wine is also from Tuscany! Unfortunately this wine is not available at Trader Joe's, so you will have to search it out, but trust me it's well worth it. You've never tasted anything like this! Vinsanto del Chianti Classico is heaven on you taste buds! Brought to you by Eros Spinozzi Selections. This wine is a blend of 50% Trebbiano and 50% Malvasia grapes. The process includes hanging the grapes to air dry naturally and then the must is placed in a small wood casque. The alcohol has to reach 16% as maximum level and the aging is 10 years in Oak. We actually drizzled this over the top of a beautiful, delicate cheesecake, and also sipped it on the side….DELICIOSO to say the least! Fruity with bitter almond and honey! Wow! A must have for your holiday aperitif!
Editor's Note:
Susan doesn't even like dessert wines but this is – as the name suggests- almost holy wine. It is aged in wooden casques from the 1300's! It's a flavor I've never had before, but let me tell you, we served it last Christmas with a Gingerbread Cake, and I thought the heavens had opened up and the angels began singing. It's LOVELY! And you only need a sip. It stays just fine, re-corked and vacuum sealed, for a long time!
Some Wonderful Christmas Music For Your Gathering: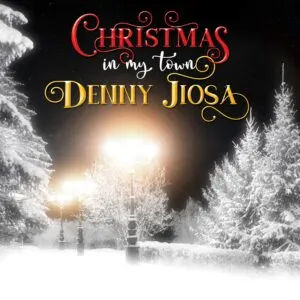 I wish you all a very Merry Christmas and a happy and healthy holiday
season!
Thank you,
Denny Jiosa
(and his uninvited editor: Susan Williams)
A Quick Note Before You Go:
You may have noticed a new gizmo in my top right sidebar.
I'm excited to be one of Google's paid early testers for their Thank with Google pilot program. Thank with Google is an experimental feature that allows you to purchase a virtual sticker and directly show your appreciation for content on my website. As a loyal supporter, you can now feel more connected and engaged because you have the ability to express yourself and share what my work means to you.
I have readers who have been looking for a way to support what I do: this is your chance!!!
What I really love is that my readers get to choose and select from a variety of different stickers. Every time you decide to send a paid sticker, you can add a personal message. And for me, these virtual stickers can translate into direct revenue to support the work that goes into the content that you are enjoying on my blog.
You can find the Thank with Google feature in my top right sidebar, or the blue button at the top and bottom of this blog post. If you test it out let me know what you think! If there's a recipe you particularly love, and have used several times, you can go thank me from that post, if you'd like. Thanks as always for your support. Happy Holidays!