This post contains links that, if you click on them and make a purchase, will earn me money. Regardless, I only recommend products or services that I believe will be good for my readers. Thanks for helping me continue to produce great content!
This spectacularly beautiful Winter Citrus Salad with Pistachios and Castlevetrano Olives is delicious any time of year, but is especially perfect served when citrus is at its peak, in the winter months! It is unique among citrus salads, because you dress it with a savory vinaigrette, and it's the perfect accompaniment to a beautiful grilled fish dinner. We've paired it with trout and salmon, and it would be delicious with halibut or wahoo, or any fish you favor!
Winter Citrus Salad is a Semi-Savory Salad
What do I mean by a semi-savory salad? You can't avoid the sweetness of peak citrus! Its sweet, acidic flavor shines through any attempt to turn this into a completely savory salad. But the vinaigrette DOES bring a pleasant savory note to the citrus, with parsley providing a green herbal flavor, and the toasted pistachios adding a welcome crunch. The olives bring a briny, even meaty flavor, and salt (Maldon Sea Salt if you've got it…and if you don't…consider getting some, because it really brings meat's flavor alive! Coarse sea salt if you don't have Maldon is fine.)
What Citrus Did You Use in this Winter Citrus Salad?
I used Blood Oranges, which are easiest to find in January, Cara Cara Oranges, and little Cupies. I love the vibrant contrasting color that blood oranges bring to this dish. But really, you can use whatever citrus you have on hand, or prefer. Grapefruit, or pink grapefruit would be lovely. Any type of orange: a navel orange, tangerine, clementine, or mandarin will work.
What are these Castelvetrano Olives Of WhichYou Speak?
To be clear, you are welcome to use any variety of olives you have, or prefer. HOWEVER, let me talk you into looking for/trying the glorious variety known as a Castelvetrano olive. Named for a town in Italy they are bright green: think Kermit the Frog. You can buy them pitted, or non pitted, but the very best ones I had came pits in. They were firmer in texture than any pitted ones I've ever tried. And the flavor is nutty…almost meaty. They are just delightful. But having said that, use any type of olive you love, and your salad will be delicious.
Do I Have to Use Pistachios in this Winter Citrus Salad?
In brief: you do not. Whatever type of nut you prefer will be fine. But pistachios are lovely in this salad! And their green color is an added bonus!
The Recipe for Winter Citrus Salad with Toasted Pistachios and Castlevetrano Olives
Yield: 4 servings
Winter Citrus Salad with Pistachios and Castlevetrano Olives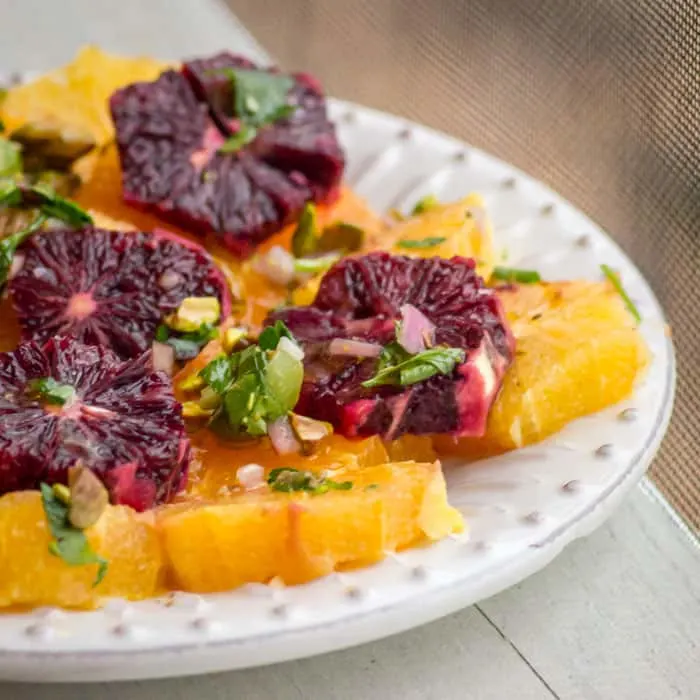 Sweet and savory, this vibrant citrus salad will brighten any meal, but I think it pairs particularly well with grilled fish.
Ingredients
1⁄4 cup pistachios
1⁄3 cup Castelvetrano olives, pitted and halved
3 tbsp. extra-virgin olive oil, plus more for drizzling
2 tbsp. red wine vinegar
2 tbsp. finely chopped shallot
1⁄4 tsp. kosher salt
1⁄4 tsp. freshly ground black pepper
4 whole citrus (any combination of blood orange, cara cara orange, navel orange, grapefruit, tangerine, clementine, or mandarin will work)
1⁄3 cup coarsely chopped Italian parsley leaves
Flaky sea salt, such as Maldon
Instructions
TO TOAST THE PISTACHIOS: Lightly toast the pistachios in a small sauté pan, set over medium heat for about 3 minutes, stirring periodically. Pay attention to the smell of the toasting nuts, as well as their color, to know when to remove them from the heat. Pour them immediately onto a cutting board, to cool (they will continue to toast if you leave them in the hot pan.) Cool to room temperature, then coarsely chop, and set aside.
FOR THE VINAIGRETTE: To a medium bowl, add the olives, olive oil, shallot, vinegar, kosher salt, and freshly ground black pepper. Give the mixture a quick stir and then set it aside.
To make the fruit easy to work with, slice off and discard the top and bottom of each citrus fruit. Position the fruit you are working with upright on a cutting board, then use a sharp knife to cut away the rind (the orange part) and pith (the white part) in strips from top to bottom, making sure to follow the contour of the fruit. Turn the fruit on its side and cut into pinwheels between ¼ and ½ inch thick. Remove and discard any seeds from the fruit. Arrange the fruit in a single even layer on a large platter. Garnish the fruit evenly with flaky salt, lightly crushing any large flakes between your fingers.
Spoon the vinaigrette evenly over the top of the fruit, then sprinkle the top of the salad with the toasted pistachios, and the chopped parsley. Give the salad a final drizzling of olive oil. (The salad should glisten with oil, and a little oil should pool at the bottom of the plate.) Serve at room temperature.
Notes
Feel free to substitute any varieties of citrus, olives, or nuts you prefer.
Recommended Products
As an Amazon Associate and member of other affiliate programs, I earn from qualifying purchases.
Nutrition Information:
Yield:
4
Serving Size:
1
Amount Per Serving:
Calories:

153
Total Fat:

15g
Saturated Fat:

2g
Trans Fat:

0g
Unsaturated Fat:

12g
Cholesterol:

0mg
Sodium:

343mg
Carbohydrates:

4g
Fiber:

2g
Sugar:

1g
Protein:

2g