This post contains links that, if you click on them and make a purchase, will earn me money. Regardless, I only recommend products or services that I believe will be good for my readers. Thanks for helping me continue to produce great content!
Ever wondered to make the Best White Beans? The lowly white bean is about to take on gourmet properties for you, if you follow my tips in this recipe for the Best White Beans!
The Lowly White Bean? Or the BEST white bean?
Oh, no, my friends! Humble, perhaps, but the place of the white bean should be more elevated, and I'm the girl to help you do just that, at YOUR house! YOU want the BEST White Beans at your house, don't you?
Yes, dried beans are inexpensive, but that doesn't mean you can't turn them into something incredibly delicious, with just a few tips and tricks!
First off, white beans are a powerhouse of nutrition, full of both protein, and fiber. They also contain folate, magnesium, and vitamin B6. So, not only are they delicious, they're good FOR you!
Can This Recipe Be Made Vegetarian?
Beans are an absolute staple to those who choose vegetarian or vegan diets. So if you ARE a vegetarian, or vegan, know that my recipe is easily adaptable to your diet by simply omitting the hambone I use in mine.
If you eat meat, the ham bone adds a smoky savoriness that is just delicious! But if you don't happen to have one when you'd like to try this recipe, your beans will turn out delicious, anyway.
What Kind of White Beans Should I Use?
The type of white bean that you can find most readily in mainstream grocery stores, such as Navy beans (aka pea beans), Great Northern beans, Cannellini beans, and Baby Lima beans will all work very well in this recipe. And they're all extremely affordable. Such a blessing in these days of rising food costs!!!
I read a LOT about food, as you can imagine, and in my reading, I came across the name of a business that sells heirloom varieties of beans: Rancho Gordo. When I came across some Rancho Gordo beans in a farmer's market where I often buy produce in the summer, I had to purchase a bag, just to see if there really WAS a difference.
I was hooked after that first bag! Now I order lots of bags, about once a year, so I can try as many varieties as suit my fancy, and re-order the varieties we have absolutely adored. (My favorites so far are Buckeyes, and the MASSIVE Corona variety, that you see below.)
The Alubia Blanca Beans, which I have yet to try, are about the size of Navy Beans, which is the smallest variety of white beans you'll find available in most grocery stores. You can see the obvious difference in size of the Alubia Blanca, and the Corona!
Tip #1: If you really want to elevate your bean game, I encourage you to try the (more expensive) Rancho Gordo Beans.
Yes, I think Rancho Gordo beans are really worth the extra expense, and online ordering. And no, this is in no way a sponsored post. I just love Rancho Gordo Beans that much, and I love to share a good thing when I've found it.
Having said that, however, you can still use grocery store varieties of beans, and following the rest of my tips, you'll still make the best pot of white beans you've ever made.
The Truth About Brining Beans
Most of us have heard, and believed, that if you salt your beans too early in cooking, they'll get tough, and won't finish cooking.
That's an urban myth that needs to die an untimely death. Cook's Illustrated (I told you I do a lot of reading about food!) debunked that rumor years ago, so much so that they compared pot after pot of beans, cooking them every way you can imagine, comparing them side by side, and they discovered that the beans that came out the most tender and flavorful were beans they had brined in advance.
"What? That can't be true!!!" you're thinking.
Oh, my dear friend, it can, and it is.
Brining them overnight is Cook's Illustrated's preferred method, but since I rarely decide the night before that we're going to have beans the next day, I'm going to tell you that you can also do what I do, and quick brine them. Quick brining is just like a quick soak, that you'll see mentioned on the back of the package of dried beans that you've purchased in the grocery store. Only, instead, you add salt to that water.
Tip #2: Brine or Quick Brine Your Beans
I have converted many of my friends to this method, and they come back and thank me profusely for changing their lives. What can I tell you? I was blessed, to be a blessing. I came across this knowledge, and it's my joy to revolutionize your life as well.
Can I Make Your Recipe in an Instant Pot?
Of course! I think God gave us pressure cookers so we could cook beans faster. End of discussion.
I generally don't, because I use my eyes to help me cook, and cooking in an instant pot can be a bit of a gamble. You're not sure exactly how tender those babies are getting in there. And I like to be able to taste while they're cooking in order to estimate how much longer to cook them.
However there are some cooks who know their pressure cooker like they know their beloved, and if you're that cook, go with what you know and love.
Build the Flavor of Your Beans in the Broth
Beans are only as good as the flavor they come with, plus the flavor you, the cook, bless them with. So build a beautiful broth for them to swim in.
Once they've finished their brine bath, you're going to dump out the salty water, and begin making a flavorful broth. This broth can be totally vegetarian, or you can add a meaty smoked ham hock or ham bone to build even more flavor.
Isn't my mise en place lovely? So colorful! I think the things that make my broth especially delicious, that you may not have thought of are the addition of a WHOLE HEAD of garlic, halved at the equator, and a quarter cup of extra virgin olive oil. You'd be surprised how much flavor and mouth feel olive oil adds to this dish!
I cut the celery and the carrots into biggish chunks, too, and only halve my onion. I'm going to remove the parsley stems, carrot chunks, garlic and onion halves at the end of cooking, and bigger chunks are easier to remove.
Tip #3: Build a fresh, flavorful vegetable or ham bone and vegetable broth for those beans.
Tip #4: Consider cooking the white beans with a rind of Parmigiano Reggiano to build flavor in the broth.
Tip #5: Top each bowl with a squeeze of lemon juice, and a small drizzle of Extra Virgin Olive Oil.
The Best White Beans Deserve the Best Cornbread
And if you're thinking the best white beans deserve a pan of the best cornbread, you're not wrong. Try my recipe for the Best Buttermilk Cornbread!
Yield: 6 servings
How to Make the Best White Beans Recipe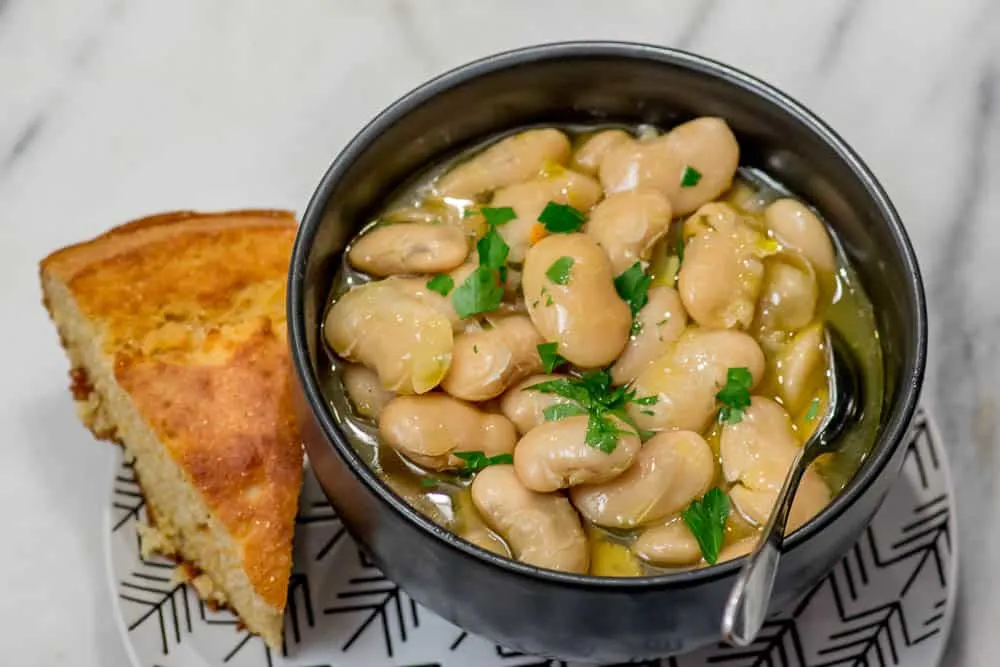 A foolproof method for making the best pot of white beans you've ever had, by utilizing the techniques of brining the beans and building flavor in the broth. Easily made vegetarian or vegan by omitting the ham bone.
Ingredients
TO BRINE BEANS:
1 lb. dried white beans
2 quarts of water
4 teaspoons of salt
TO COOK BRINED BEANS:
brined beans
2 quarts of water
1 ham bone
1 head of garlic, halved at the equator
1 medium sized onion, halved
1 carrot, cut into 8 chunks
1 celery stick, cut into 8 chunks
6 stalks of Italian parsley
1 tablespoon of salt
1 teaspoon freshly ground black pepper
1/4 cup of olive oil
rind of Parmagiano Reggiano cheese (OPTIONAL)
OPTIONAL GARNISHES:
squirt of lemon juice
drizzle of olive oil
Instructions
Soak the white beans in the brine (salt water) overnight, OR bring beans to a boil for 2 minutes in salt water, and allow them to soak in the brine, covered, for two hours.
Drain the salt water/brine off the beans by straining through a colander. Return beans to pot and add a hambone, the garlic, the onion, the carrot, parsley, a tablespoon of salt, a teaspoon of freshly ground black pepper, and about 1/4 cup of olive oil.
Bring the beans and the vegetables and water to a boil, and then reduce the heat to low. Simmer them for about 2 hours, tasting them at an hour and half, to check for doneness, between your teeth. (You don't want to overcook them: they shouldn't be mushy. Just gloriously creamy.)
Before serving: Remove ham bone, onion halves, garlic head halves and chunks of carrot and celery, and parsley stems. If there is any meat on the ham bone, you can cut that off and return it to the beans.
If you like, garnish each bowl with a small squeeze of lemon juice, and a drizzle of extra virgin olive oil.
Notes
One thing I have tried, and loved, was cooking an old Parmigiano Regianno cheese rind with the beans. I remove the large gooey glob of cheese before serving, but the broth takes on a richer flavor. Also, if you wish, you can finish each bowl of beans before serving with a squeeze of lemon juice, and a small drizzle of extra virgin olive oil. You won't believe the difference small touches like this can make.
Nutrition Information:
Yield:
6
Serving Size:
1
Amount Per Serving:
Calories:

276
Total Fat:

11g
Saturated Fat:

2g
Trans Fat:

0g
Unsaturated Fat:

8g
Cholesterol:

14mg
Sodium:

2874mg
Carbohydrates:

33g
Fiber:

7g
Sugar:

5g
Protein:

15g
The sodium is incorrect, because it includes the salt in the brine, most of which is poured off.
Please, Pin this to Pinterest!