This post contains links that, if you click on them and make a purchase, will earn me money. Regardless, I only recommend products or services that I believe will be good for my readers. Thanks for helping me continue to produce great content!
Going out on a limb here to say that Parmesan White Bean Soup with Swiss Chard and Leeks is my favorite soup. It is, at the very least, this winter's favorite soup.
I'm going to give you two variations on how you can make it.
Excuse me while I launch into my Tina Turner impersonation: "We. Never. Ever. Do Nothin NICE and EASY…We Always Do It NICE…and ROUGH!!!"
The First Way to Make It: NICE AND EASY
Use canned white beans. Cannellini Beans if your store has them. Yes, this recipe will still be delicious. And it will be soooo much quicker.
I know not everyone has time to make dried beans from scratch, and using canned beans is a perfectly acceptable shortcut! The recipe below will require 2 cans of cannellini beans.
The Second Way to Make It: NICE AND ROUGH!!!!
This is my preferred way to make it, even though it's not the way the recipe is written below. I prefer to cook my own dried white beans. It's even more economical than canned beans (which are pretty cheap in the first place). And it builds a ton of flavor into the beans I'm using before I ever start cooking them!
If you're a "nice and rough cook", like myself, I refer you to my last recipe, for How to Make The Best White Beans It has all the tips and tricks you will need for making ANY pot of beans you ever cook more delicious. You'll use that recipe for cooking dried white beans, and use those beans and their stock, to replace the canned beans and canned broth called for in the recipe below.
And if you're "Gourmet All the Way" I highly recommend this extraordinarily good brand of Heirloom Beans: Rancho Gordo. You can find them online, and order them, just like I did. (No, this post is not sponsored by Rancho Gordo, nor am I an affiliate of theirs. I just like their beans that much!)
Let's Talk About Leeks
I'll never forget the first time I cooked with leeks. They were a revelation to me, because my mother had never cooked with them before. They are a member of the allium family, and their "cousins" are garlic, chives, shallots and onions.
In regard to flavor, they are milder and sweeter in flavor than a regular onion.
In regard to special care, they need just a bit more care in preparation than a regular onion, in regard to the parts you use, and in cleaning them.
The Part You Use:
Like a green onion, the white part of a leek is the root, that grows underground, and the dark green part is tougher, and you can't use as much of it as you might like, due to that toughness. For this recipe, use the white and light yellow green parts, and maybe just a bit of the darker green parts. (You can, however, freeze those tougher dark green parts, if you'd like, to add to homemade vegetable or chicken stock. It will lend its lovely flavor to those, and you can revel in your frugality!)
How To Clean Leeks:
I slice my leeks by cutting a diameter across the root end, and then slicing them in half horizontally. lengthwise.
After the leeks have been halved, I place them in a sink full of cold water, and LOOK BETWEEN THE LAYERS FOR DIRT. Wipe it off into that cold water. Leeks kind of hide Stealth Sand in between their layers, and not carefully washing them can leave you with a crunchy bite of grit. You do not want this. Ask me how I know.
Let's Talk About Swiss Chard:
Swiss Chard is a Gateway Green
Swiss chard is my favorite green because not only is it the mildest of greens, but it is also quite beautiful. It is dark green, like most greens, but you may be able to find the vividly colored variety known as Rainbow chard. It will make your dish even more beautiful. My mom never made Swiss Chard, either, so when I tried it, and discovered I loved it, it helped me be more open to liking other greens, too. Swiss Chard is kind of a Gateway Green. (You heard it here, first.) So if you want to learn to love your greens, it's the perfect place to start.
How to Store Swiss Chard Correctly, and What to Do When You Don't
There's a best and proper way to store Swiss Chard. To do so, wrap the chard loosely in a damp paper towel and store in an unsealed plastic bag in the crisper. It will keep well for a few days up to a week.
But, if you bypass that technique, and go for shoving it in the fridge, like I do, here's how to revive it. Cut the bottom end off of each of the stems, and submerge it in a sink full of cold water for 20 minutes or so. It's a plant. If you cut off the bottom edge of the stem (so that it's not sealed off) it will draw that water back up the stem, and into the leaves. And those leaves will begin to look like a Southern belle on a hot front porch, who's just taken a few sips from a tall glass of ice cold lemonade.
Swiss Chard is a Two-fer Vegetable
Swiss Chard is one of those vegetables that is a two-fer. The stems and the leaves have two different textures, but both are deliciously edible.With many greens, the stems of the green are just too tough to eat. (I'm looking at YOU, kale.) But with Swiss Chard, I simply cut the stems out of the leaves, and then chop the stems. I put the chopped stems in the pan, first, because they require just a bit more sautéing than the leaves do. Swiss Chard leaves are almost as tender as spinach. They cook very quickly, so add them to the pan a couple of minutes later.
About That Parmesan Cheese:
Parmigiano Reggiano:
Look you guys: I refuse to discuss that practically fake already grated "parmesan" stuff in the green jar that I grew up sprinkling on my spaghetti. Enjoy yours without me, if you must, but for this soup, PLEASE buy the good stuff. Go to Costco and buy a wedge of Parmigiano Reggiano, and buy a rasp-looking tool called a microplane if you don't already have one. And grate that cheese so that it looks like the snow falling in the latest winter whiteout. Sprinkle that grated bliss on your soup.
The Rind of Parmigiano Reggiano???
And if you already know the joys of freshly grated Parmigiano Reggiano, here's a tip for your soup that will quickly bring it to unscaled heights: Assuming you already have a wedge of Parmigiano Reggiano at your house, and perhaps maybe an almost used up rind of it in your cheese drawer? Drop a rind of that Parmigiano Reggiano you've not quite had the nerve to throw away into the soup, and let it simmer in there with the beans and the chard and the leeks. You'll have to fish it out before you serve the soup, and it will look like some melted glob of goo, but the soup will taste so fabulous, so rich, that you'll recover from the process of extracting the rind, and finally pitching it in the trash.
The Recipe for Parmesan White Bean Soup with Swiss Chard and Leeks
Yield: 6 servings
Parmesan White Bean Soup with Swiss Chard and Leeks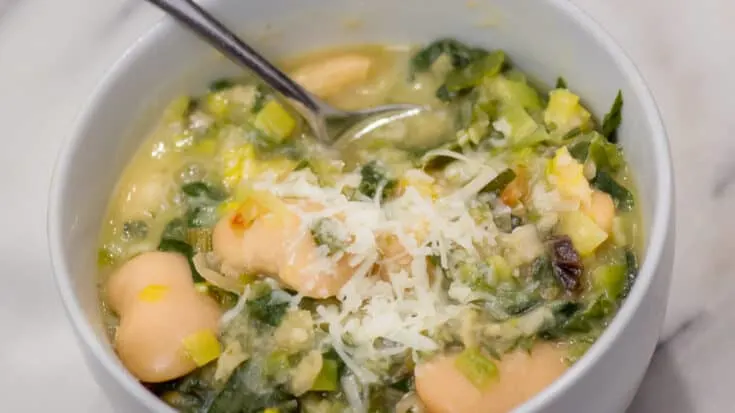 My favorite soup, perfect for vegetarians! Parmesan White Bean Soup with Swiss Chard and Leeks will probably become your favorite, too, whether you use canned beans, or white beans you've cooked from scratch.
Ingredients
1/4 cup olive oil
3 leeks, washed, trimmed, and chopped
2 t. fresh rosemary, chopped
5 garlic cloves, minced
1/4 teaspoon dried red pepper flakes
1 large bunch of Swiss chard, leaves and stems separated and chopped
2 (15 oz.) cans of cannellini beans, drained and rinsed
2 cups vegetable (or chicken) broth
1 rind of a wedge of Parmigiano Reggiano (OPTIONAL)
sea salt, to taste
freshly ground black pepper, to taste
1 tablespoon freshly squeezed lemon juice
1/2 cup shredded mozzarella (optional)
3 tablespoons grated Parmigiano Reggiano
Instructions
In a large Dutch oven, heat the olive oil over medium heat. Add the leeks and rosemary, and cook for 4 to 6 minutes, stirring occasionally, until tender. Add the chopped stems of the Swiss Chard, and sauté another two minutes. Add the garlic and red pepper flakes and cook until fragrant, about one minute more. (Don't burn the garlic, or it will be bitter.)
Begin adding handfuls of the Swiss Chard leaves, cooking and stirring until leaves wilt.
Add the white beans, the broth, (the cheese rind, if using) and a few grinds of pepper, and stir to combine. Bring the soup to a boil, then reduce heat to low and simmer, mashing some of the beans with a wooden spoon or a potato masher, until the liquid has reduced, and thickened. This should take from 10 to 15 minutes.
Remove soup from heat. Stir in the lemon juice, the mozzarella, if using, and the Parmigiano Reggiano cheese, Serve with toasted crusty bread that has been drizzled with olive oil, and sprinkled with sea salt and freshly ground black pepper.
Notes
Rather than using the canned beans I listed in the recipe above, I make this soup with the beans you'll find on my recipe for How to Make the Best White Beans. I use their broth, rather than the broth mentioned in the above recipe.

I have written this recipe as is for convenience, so that anyone can make it for dinner that evening. But for the devoted bean lovers among us, NOTHING beats using your own homemade beans!!! So superior to canned in flavor, because you've really taken the time to develop their flavor.
Recommended Products
As an Amazon Associate and member of other affiliate programs, I earn from qualifying purchases.
Nutrition Information:
Yield:
8
Serving Size:
1
Amount Per Serving:
Calories:

161
Total Fat:

9g
Saturated Fat:

2g
Trans Fat:

0g
Unsaturated Fat:

6g
Cholesterol:

6mg
Sodium:

314mg
Carbohydrates:

15g
Fiber:

3g
Sugar:

2g
Protein:

7g
About the Thank with Google Pilot Program:
As you may know, I'm excited to be one of Google's paid early testers for their Thank with Google pilot program. Thank with Google is an experimental feature that allows you to purchase a virtual sticker and directly show your appreciation for content on my website. As a loyal supporter, you can now feel more connected and engaged because you have the ability to express yourself and share what my work means to you.

I have loved seeing the stickers and messages my readers have selected to date. And remember, every time you send a paid sticker, you can add a personal message which I ABSOLUTELY ADORE receiving. For me, these virtual stickers translate into direct revenue to support the work that goes into the content that you are enjoying on my blog.
You can find the Thank with Google feature in multiple places on my site, including as a button at the end of this and all blog posts. If you try it out, let me know what you think! Thanks as always for your support.