This post contains links that, if you click on them and make a purchase, will earn me money. As an Amazon Associate, I earn from qualifying purchases. . Regardless, I only recommend products or services that I believe will be good for my readers. Thanks for helping me continue to produce great content!
Mushroom, Havarti, and Caramelized Onion Pizza has become our family's new favorite pizza, ever since I made it up. So many flavors! It's savory, and earthy, and herbal, and creamy and slightly sweet.
It's perfect for just the two of you, or the whole fam-damily! Yet we haven't hesitated to serve it to company, and it's caused our guests to swoon, and ask for the recipe. (No easy task when you kind of made something up!)
But first things first: start with an excellent pizza crust.
A Good Pizza Crust is a Blank Canvas
A good pizza crust really is a blank canvas on which you can load the flavors that you and your friends most adore.
I've tried many different pizza crust recipes, but the one I always come back to started with a list of ingredients I learned from Joanne Weir on public television, for her pizza crust, over 17 years ago. I combined her ingredients with techniques I've learned from trying other pizza crust recipes.
My crust recipe is not a thin and crispy crust. It's more like a thick and crispy crust: crispy on the outside, tender on the inside. It's delicious enough to eat all alone, as a focaccia, with just olive oil, salt, and freshly ground black pepper. But as a pizza you get to dress up this delicious flat bread with the toppings you love.
About the Mushrooms:
I think plain old white button mushrooms work just fine. But if you love Portobello, or Baby Bella, or have another particular favorite type of mushroom, you do you, boo.
Why the Havarti Cheese?
Again, nothing but personal preference. Havarti is a Danish cheese made from cow's milk. It's mild, and smooth, and creamy and melty and delicious. But if you want to stick with mozzarella alone? Fine! Or how about Monterey Jack? Would probably work well. You could also do a mixture: make half of it a smoked gouda, for example, or provelone. Whatever you like.
I do a mixture of havarti, mozzarella, and freshly grated Parmigiano Reggiano, and that has been our personal favorite blend. Trader Joe's makes a great blend of already grated Italian cheeses (Quattro Formaggi) that I have used with my havarti. And it makes the whole process super easy. (But you'll have to use that PLUS grate your own havarti.
Caramelized Onions:
I use the same basic technique for preparing the onions on this pizza as I do for the caramelized onions that I put on our hamburgers. The only changes I make is that for this recipe, red onions look so beautiful, and are even sweeter than white onions. Also, instead of sherry vinegar (which can be harder to find), like I use on my hamburger topping caramelized onions, I use balsamic vinegar , on these onions, for the pizza
topping, for its sweetness. The pizza really needs that hit of acid to be balanced.
My Herb of Choice: Thyme
Thyme is my herb of choice in this recipe, and I use it in the caramelized onions, as well as sprinkling some freshly chopped leaves on top of the cheese. Thyme really complements the woodsy flavor of the mushrooms, and the creaminess of the havarti. But rosemary would also be delicious, I think. Again: your choice.
Easy, But Not Quick
Homemade Pizza Crust:
Every step in this homemade pizza is easy. But let's face it: it's not quick to make your own homemade pizza dough. To eat at 6:00, I'm usually starting my pizza dough around 2:00. But most of that time is perfectly inactive. Just giving the yeasties time to do their thing and make the dough rise.
Three Easy Steps to Build Your Pizza:
Sauté the Mushrooms

Lightly Caramelize the Onions:
It's important to remember to NOT get the onions too dark, because they'll still have 10 minutes to spend in a hot oven, and you don't want them to burn in there. Likely, the cheese will insulate them, and they'll be fine. You just want to begin to develop some beautiful flavor and color. The oven will take care of the rest.
3. Spread the Cheese, and Bake
The Recipe for Mushroom, Havarti, and Caramelized Onion Pizza
Yield: 8 slices
Mushroom, Havarti and Caramelized Onion Pizza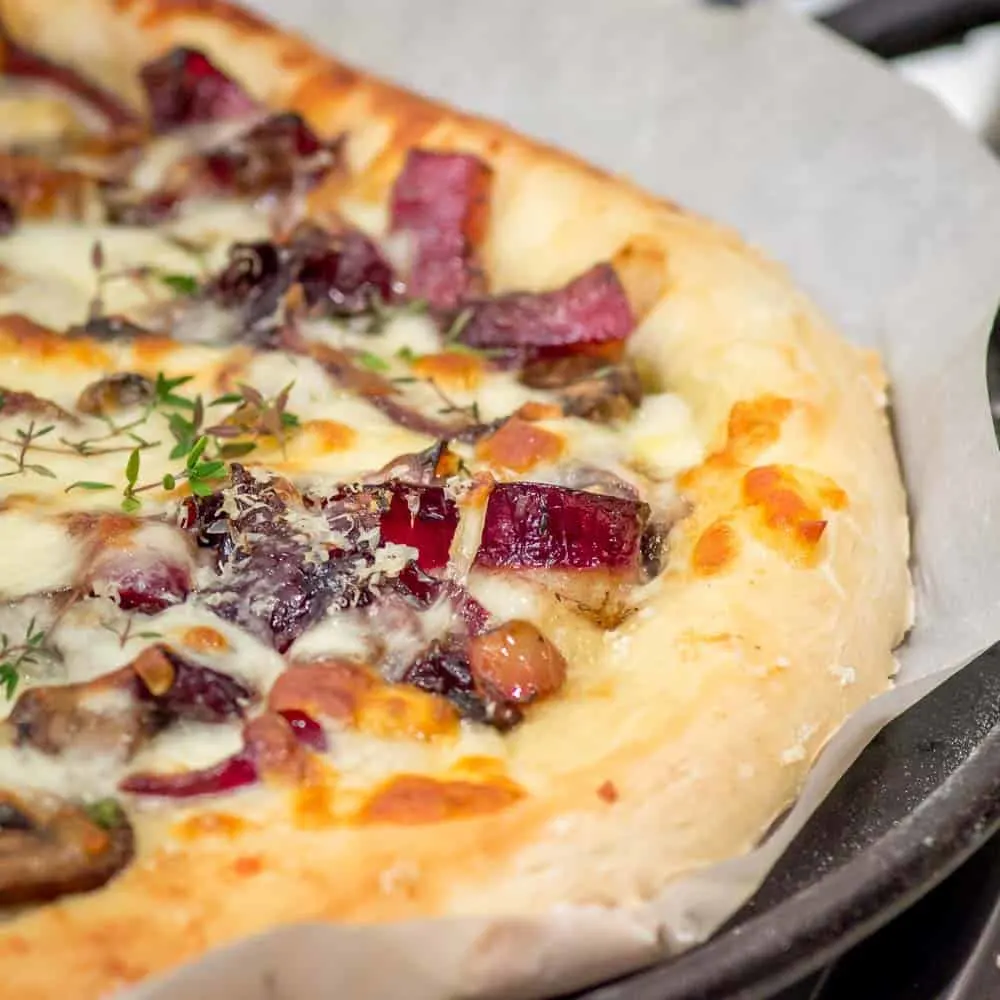 Mushroom Havarti and Caramelized onion pizza is full of flavor and textures. It's savory, earthy, creamy, and herbal, with a hint of sweet. It's our new favorite pizza!
Total Time
2 hours
40 minutes
Ingredients
FOR THE CRUST:
3/4 c. lukewarm water (110º)
4 teaspoons yeast
5 1/2 c. bread flour (divided)
1 c. lukewarm water (110º)
1/4 c. olive oil
2 tablespoons milk
1 teaspoon salt
FOR THE PIZZA TOPPINGS:
8 oz. mushrooms, sliced
2 tablespoons butter
2 tablespoons extra virgin olive oil
1/2 teaspoon fine sea salt
1 red onion, sliced
2 tablespoons butter
2 tablespoons olive oil
2 tablespoons balsamic vinegar
1 tablespoon chopped fresh thyme (or 1 teaspoon dried thyme)
1 cup grated Havarti cheese
1 cup grated mozzarella or Italian cheese blend
1/4 cup freshly grated Parmigiano Reggiano
1 T. extra virgin olive oil (to drizzle over or brush over outer crust)
Instructions
FOR THE CRUST: Combine the 3/4 c. of lukewarm water and the yeast in a small bowl. Stir in 1/2 c. flour, and let stand for 20 minutes.
Pour this bubbly mixture into your mixer, and add the remaining 5 c. flour, the 1 c. of lukewarm water, the olive oil, milk, and salt.
Mix the dough thoroughly, and then using the dough hook attachment, knead the dough for 10 minutes. (This can be done by hand, too, but it's a lot more work, and no more delicious.) The dough should be soft, and still moist, but not sticking to the side of the mixer bowl, so you can add more flour, 1/4 c. at a time if it seems to to be too sticky. Place in an oiled bowl, and flip it so that the dough is coated with a thin layer of olive oil. Cover the bowl with plastic wrap, and let rise in a warm spot for a couple of hours, until the dough is doubled in size.
(While the dough is rising, you can do the prep work for the toppings: slice the mushrooms and the red onion, and chop the thyme leaves.)
When the dough has doubled in volume, shape one half of the dough into the size and shape pizza you desire, and place it on a baking sheet covered with parchment paper (for easy transfer to my cast iron pizza pan that is preheating). I stretch my pizza dough into a circle that is approximately 15" in diameter, the size of my cast iron pizza pan.
(THIS IS ENOUGH DOUGH FOR TWO PIZZAS, SO IF YOUR FAMILY WILL ONLY EAT ONE, take half the dough and store it in a ziplock bag into which you've drizzled a tablespoon of olive oil. Store it in the freezer, and it will be ready for another night.)
THE TOPPING AMOUNTS ARE ONLY ENOUGH FOR ONE PIZZA, SO IF YOUR FAMILY WILL EAT TWO PIZZAS, you'll need to double the amounts of toppings.)
Preheat the oven and a cast iron pizza pan, or a baking stone, to 450º.
While the oven is preheating, melt the butter in a cast iron skillet over medium heat, and add the olive oil. Sauté the mushroom slices in the melted butter and oil, about 5 minutes. Season with sea salt.
Top the pizza dough with the sautéd mushrooms.
Wipe out skillet, and add more butter and olive oil to the skillet, melting them over medium low heat. When the butter and oil are hot, add the sliced onions, and about half of the thyme. Season with salt. Cover the skillet with a lid and sweat the onions for about 10 minutes. Remove the lid, and continue sautéing the onions for about another 8 minutes. You want them to just begin browning.
Pour balsamic vinegar over the sautéd onions and continue stirring them for about 1 minute more.
Top the pizza with the caramelized onions. Sprinkle the pizza with the rest of the thyme.
Top the pizza with the cheese: the havarti, the mozzarella blend, and the Parmagiano Reggiano.
Brush the outer edge of the crust with a little extra virgin olive oil. It gives it a sheen and a nice color.
Bake at 500º for about 10 minutes, keeping an eye on things, to brown it just the way your family likes it. (Ovens vary, after all.)
If you can possibly wait a few minutes, the pizza will slice better if you let it rest 10 minutes before you slice it. And you are less likely to burn your mouth with molten cheese.
Recommended Products
As an Amazon Associate and member of other affiliate programs, I earn from qualifying purchases.
Nutrition Information:
Yield:
8
Serving Size:
1
Amount Per Serving:
Calories:

711
Total Fat:

34g
Saturated Fat:

12g
Trans Fat:

0g
Unsaturated Fat:

19g
Cholesterol:

49mg
Sodium:

773mg
Carbohydrates:

78g
Fiber:

4g
Sugar:

3g
Protein:

23g
Please pin this on Pinterest!