This post contains links that, if you click on them and make a purchase, will earn me money. Regardless, I only recommend products or services that I believe will be good for my readers. Thanks for helping me continue to produce great content!
Broccoli Salad is nothing new, but this one has grapes, toasted pecans, bacon, white cheddar and a warm bacon vinaigrette. SO GOOD that if you're like me, you're going to want to eat the whole bowl yourself! It's the perfect side dish for grilling. I can't wait till you try this recipe: your friends and family will crave it all year round.
Crunchy, crisp, sweet, nutty and slightly smoky. Oh, baby, oh, baby. The flavors!!! We fell in love with this salad at first bite.
About the Broccoli in this Broccoli Salad:
Use the stems, and the florets, too. To prepare it: slice the head from the stalk. Then peel off any tough outer stem. Slice each stalk in half, lengthwise, and then slice each stem into 1/2 " moons. Blanch them the same amount of time as you do the florets.
Below is what happens when you generously salt your broccoli water with Pink Himalayan salt. It's not pretty, but I like to keep things real. It worked just fine, flavor-wise.
What Does "blanch" Mean?
Blanching is scalding vegetables in boiling water for a short time, followed by quick, thorough cooling in ice water. Blanching stops enzyme actions which otherwise cause a loss of flavor, color and texture that occur with longer cooking.
One Important Note About Blanching:
It's really important after you have stopped the cooking process with the ice water, that you then remove the broccoli from its ice bath. Why, you might ask? The broccoli needs to drain well, or your salad will be watery, and that will really cut the intensity of the flavor of the dressing. So DRAIN the broccoli well. Spread it out on a towel to dry. No Watery Dressing for YOU!
About the Grapes:
Any color will taste fine, but red is really pretty with green broccoli, and save yourself some time by getting seedless grapes. (Unless you have seeded on hand, and with the cost of gasoline…use what you have!)
About the Nuts/Pecans:
You really can use any type of nut you like. Heck, you can omit the nuts altogether if someone you're serving it to is allergic. But I love pecans, and that's why I use them. And I have an excellent source with whom I'm affiliated who has the very BEST pecans I know of. So please, by all means, check out the nuts and the prices from Millican Pecans. They are divine, delicious, and you can have them shipped right to your door. Also, they make a Sweet and Spicy pecan that would be killer in this dish, as well. (I just used the regular ones.) Please use my coupon code: SUSAW100
I toast the pecans in this recipe in my cast iron skillet, right on top of the stove. It only takes about a couple of minutes over medium heat, and the most important tip I have is to USE YOUR NOSE as much as you use your eyes in determining when they are done. They should smell nutty!
I'm going to use that cast iron skillet next to fry the bacon in, so keep it out on the stovetop.
What About the Bacon?
To make this salad vegetarian friendly, you could omit the bacon. (Susan begins weeping openly.) Just heat up a bit more olive oil in your skillet, to make the vinaigrette.
But who wants to omit the bacon?
At my house, we smoke our own bacon, and so I have some fairly strong affection for bacon, so don't take my tears as a slam against anyone who chooses to omit it. It's not! I just love our bacon so much. Here's a link to the process of how we make our bacon, just in case you're interested.
When you cut up bacon into little squares, those little squares are called lardons. So if you're feeling very much the gourmand, please, call your little squares of bacon, lardons. I do.
And here's a secret: if you don't want to cut up a lot of little squares of bacon, you can just fry the strips whole, take them out to drain on a paper towel, and crumble them into the salad at the end. And no one will know they're not having true lardons. Because they'll be having BACON. So who cares?
How to Make the Broccoli Salad Warm Vinaigrette:
Remove the little lardons from the cast iron skillet and let them drain on a paper towel.
To make the vinaigrette, you simply turn the heat to low, and whisk in the mustard and vinegar. Mine has never looked uniform in color. It kind of looks mottled. But no matter. It tastes great!
Then, you add in the toasted pecans, and the green onions, and continue stirring a bit.
All Swim: All Broccoli Salad Ingredients in the Pool!!!
In a large salad bowl, combine the broccoli and the grapes.
Pour on the Warm Bacon Vinaigrette:
Sprinkle on the little lardons, and then pour in the vinaigrette.
Finally, sprinkle on the white cheddar. And you don't have to use white cheddar. But I do, because it's AWESOME. (I especially love Cabot, Seriously White Cheddar.) Can't help myself.
Time to toss all that goodness together!
Yield: 4
Broccoli Salad with Grapes, Pecans, Cheddar, and Warm Bacon Vinaigrette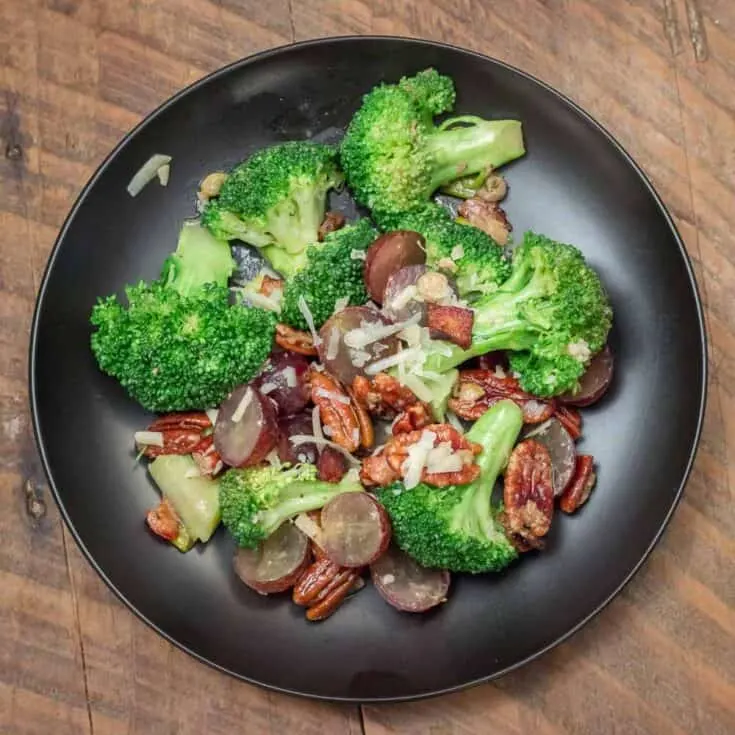 Broccoli Salad is nothing new, but this one has grapes, pecans, bacon, white cheddar, and a warm bacon vinaigrette. SO GOOD!!!
Ingredients
1 bunch broccoli, ends trimmed, tough skin peeled (about 1 1/4 lb.)
2 tablespoons sea salt
1/2 cup pecan halves
4 ounces of bacon, diced
3 tablespoons olive oil
2 teaspoons Dijon mustard
2 tablespoons red wine vinegar
4 green onions, chopped
freshly ground black pepper
1 cup halved seedless red grapes
1 cup grated white cheddar
Instructions
Bring a large pot of generously salted water to a boil. Set up a large bowl of ice water next to the stove.
Cut the broccoli florets from the stems, and slice the florets into bite sized pieces, about an inch long. Cut the stems in half, lengthwise, and slice into 1/2" moons. Add broccoli to boiling water, and blanch for about 1 minute. Transfer the broccoli to the ice water to shock the broccoli, and stop the cooking. Drain the broccoli in a colander and spread out on a towel to thoroughly dry.
In a large dry (cast iron if you've got it) skillet, toast the pecans over medium heat until they smell nutty. (About 2 minutes.) Use your eyes and nose to judge when they are properly toasted. Pour them into a bowl and set aside.
Return skillet o medium heat, and add bacon and olive oil. Cook, stirring occasionally, until bacon is crispy. Remove bacon from skillet and drain on paper towel.
Turn heat under skillet to low, and whisk in mustard and vinegar. Add green onions, pecans, and season generously with freshly ground black pepper.
In a large salad bowl, combine broccoli and grapes and bacon bits/lardons. Pour the vinaigrette over top of the salad, and toss to combine. Taste for seasoning, adding more salt or pepper to taste. Sprinkle with the cheddar, and toss again, before serving.
Recommended Products
As an Amazon Associate and member of other affiliate programs, I earn from qualifying purchases.
Nutrition Information:
Yield:
4
Serving Size:
1
Amount Per Serving:
Calories:

472
Total Fat:

40g
Saturated Fat:

11g
Trans Fat:

0g
Unsaturated Fat:

26g
Cholesterol:

58mg
Sodium:

3922mg
Carbohydrates:

12g
Fiber:

2g
Sugar:

7g
Protein:

19g
Please, Pin This on Pinterest!