This post contains links that, if you click on them and make a purchase, will earn me money. Regardless, I only recommend products or services that I believe will be good for my readers. Thanks for helping me continue to produce great content!
This Chopped Salad with Homemade Jalapeño-Ranch Dressing is easy and delicious. The creamy jalapeño-ranch dressing packs a flavor punch. Yum!!! The flavors are a little bit Mexican, because in addition to the Romaine lettuce, it's filled with avocados, tomatoes, fresh corn, cilantro, Cotija cheese, and crushed sea salt and lime tortilla chips.
Homemade Jalapeño-Ranch Dressing
Ranch is, by far, America's favorite salad dressing. I'm ok with ranch: particularly in the center of veggie platter. I must confess, however that bottled ranch dressing is something I rarely buy at the grocery store. The thing I love about this salad dressing is that because it is homemade, it tastes deliciously fresh and creamy. And while I have been known to fear the raw jalapeño, its occasionally overpowering heat is deliciously tamed by the buttermilk and mayonnaise in this dressing. So you get more of the flavor of the jalapeño, than the burn.
Basically, this dressing is creamy, with a kick. Lip-smackingly good!
Do I Have to Buy Buttermilk?
No, dear reader. I rarely keep buttermilk in my fridge, either. But it's easy to make a quick buttermilk substitute. Simply add 1 teaspoon of lemon juice or white vinegar to a 1/2 cup of milk. Stir, and allow it to sit for 5 minutes. When you came back, you'll notice it's slightly thickened, and has a bit of a ~whang~ to its flavor. Congratulation. You have made a perfectly acceptable form of buttermilk substitute.
Mise En Place:
I prepared and laid out all my ingredients for my dressing in this shot, so that you can see how easy this dressing is to throw together.
Choose the Rest of the Chopped Salad Elements
Once the Jalapeño-Ranch Dressing is stirred together, all that remains is to decide which veggies, herbs, and garnishes you'd most enjoy in your salad.
Veggies:
In terms of veggies, I chose romaine lettuce, fresh corn, ripe avocados, scallions/green onions, and grape tomatoes. But you might enjoy adding radishes to yours, for example. I've also used different types of lettuce, and added in cucumbers. All depending on what's in my fridge, and my preference that day.
Herbs:
Cilantro is a delicious herb that goes extremely well in this salad. But if you're one of those people who ate cilantro, try a combo of parsley and some mint. I think you'll love it!
Garnishes:
I garnished my salad with crumbled Cotija cheese, which is a Mexican cheese, and it's fairly easy to find at most grocery stores in my area. But if you don't see it at yours, try a garnish of finely grated Parmigiano Reggiano, which is not too far removed, flavor and texture wise, from Cotija cheese.
Finally, for that crunchy salty element, I used 2 cups of crumbled sea salt and lime tortilla chips. The brand I favor personally is Late July Sea Salt and Lime tortilla chips. They are crisp and delicate and perfect in this salad. But if you don't have those handy, and only have regular tortilla chips, go with what you have!
Yield: 4 servings
Chopped Salad with Homemade Jalpeño-Ranch Dressing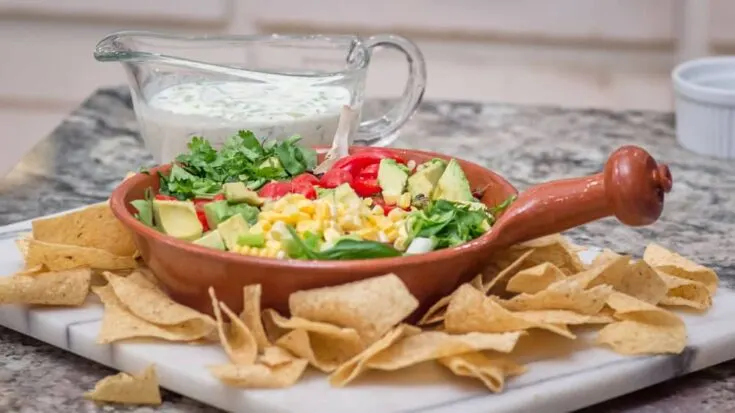 This Chopped Salad with Homemade Jalapeño-Ranch Dressing is easy and delicious. The creamy jalapeño dressing packs a flavor punch. Yum!!!
Ingredients
FOR THE DRESSING:
1/2 cup buttermilk
1/2 cup mayonnaise
3 large scallions finely chopped
1/2 cup finely chopped cilantro
1 tablespoon finely chopped jalapeño
1 lime, zested
1/2 teaspoon onion powder
1/4 teaspoon garlic powder
3/4 teaspoon sea salt
1/2 teaspoon freshly ground black pepper
FOR THE SALAD:
3 romaine lettuce hearts, chopped into bit size pieces
1 cup of grape tomatoes, halved
3 ears of fresh corn, trimmed from the cob
2 large ripe avocados
5 scallions, thinly sliced on an angle
1/2 cup crumbled Cotija cheese (or grated Parmesan)
1 cup chopped cilantro, leaves and stems
2 cups crumbled sea salt and lime tortilla chips
Instructions
TO MAKE THE DRESSING: In a large measuring cup, whisk all the dressing ingredients together. The dressing will be quite salty, but it's supposed to be. It's got to season a whole bunch of veggies!
In a large shallow bowl or on a large platter, toss the romaine with all the other ingredients, except the cheese and chips. Add 1/2 cup of dressing, and taste. Add more salt and pepper if needed.
Top with most of the cheese and chips, reserving a bit of each as the final topping, Toss with another 1/2 cup of the dressing. Then top with reserved bits of cheese and chips and serve, allowing others to add more dressing to their plates if desired.
Recommended Products
As an Amazon Associate and member of other affiliate programs, I earn from qualifying purchases.
Nutrition Information:
Yield:
4
Serving Size:
1
Amount Per Serving:
Calories:

499
Total Fat:

41g
Saturated Fat:

8g
Trans Fat:

0g
Unsaturated Fat:

31g
Cholesterol:

28mg
Sodium:

57448mg
Carbohydrates:

29g
Fiber:

10g
Sugar:

7g
Protein:

10g
Please: pin this on Pinterest!
Other Great Salads:
I love salad for dinner in the summer! I thought I'd remind you of a few of my more memorable recipes, from The Salad to Bring (When They Ask You to Bring a Salad)
to one of my more substantial salads, with beans and a lovely warm bacon vinaigrette.