This post contains links that, if you click on them and make a purchase, will earn me money. As an Amazon Associate, I earn from qualifying purchases. . Regardless, I only recommend products or services that I believe will be good for my readers. Thanks for helping me continue to produce great content!
You've perhaps heard of the legendary excellence of Jordan Marsh's blueberry muffins, but THIS recipe makes the outlandish claim of being BETTER than Jordan Marsh blueberry muffins. Well, that's quite a claim…but as I often say: it ain't braggin' if it's true.
My Search for the Best Blueberry Muffin Recipe
I'm a blueberry lover. If you've been following me for years, that's pretty obvious. If you're a blueberry lover to, you'll want to check out my recipes for Blueberry Cheesecake, Blueberry Pie, Blueberry Crisp, and Blueberry Barbecue Sauce, just to name a few!
If I'm sharing a recipe, I want you, my reader, to have confidence that it's what I've found to be the BEST recipe for that thing, and, for years, I've been searching for the best blueberry muffin recipe. Truly, it's been a delicious journey.
I've tried one recipe from Southern Living, and one from my Gourmet cookbook, and they were both wonderful, but I kept noticing one the New York Times Cooking Section was running called Jordan Marsh Blueberry Muffins, so I decided to try that very famous recipe as well.
Who or What is Jordan Marsh, and Why Should I Care?
Jordan Marsh, for those of you interested in a little back story, was America's first department store. It was founded in 1861 by Mr. Jordan and Mr. Marsh, and was located in Boston. They originated the idea of "department shopping" carrying a wide variety of wares, from all over the world. They combined an elegant atmosphere with excellent personal service. In addition to shopping, they offered fashion shows, art exhibits, afternoon concerts, and their in-store bakery became famous for their delicious Blueberry Muffins.
If you're wondering what every happened to Jordan Marsh department stores, ultimately, following bankruptcy, and reorganization, they were were absorbed by Macy's. But the memory of their muffins remains! Because people always remember where they stopped for a delicious treat.
What I Thought of Jordan Marsh's Muffin Recipe
First of all, the Jordan Marsh recipe was extremely moist. Now, "moist" is a word detested by my friend Anne. In fact, she prefers that I not even say it. (It kind of gives her the shivers.) But I think even Anne would agree with me that when referring to cakes or muffins, "moist" is a good thing! So, having granted myself the liberty to now say moist as much as I want to…as much as is humanly possible: moist, moist, moist.
One thing that makes these muffins extra moist, and pretty, is that you take about a half a cup of your blueberries and deliberately squash them, before you add them to the batter. The berry itself contains a lot of moisture, and inside your muffin, you'll see that pretty purple stain (Think Prince. Everybody sing: "Purple stain, purple stain…").
I Strongly Recommend Using Cupcake Liners
They are so moist, and tender, in fact, that they are darned hard to extract from the muffin pan, however well buttered said pan may be, without ripping them all to pieces. So use those little cup cake liners. And if you're feeling stubborn, and arrogant, and all "I know better", like I was, the first time I made these, don't use cup cake liners. And good luck with that.
To sum up, I found Jordan Marsh's Blueberry Muffin recipe MOIST, and delicious, but I thought of a couple of improvements that I thought would make them even better. So I attempted another batch, and by George, I've got it: an improvement on their recipe.
What Makes This Recipe Better Than Jordan Marsh's Blueberry Muffin Recipe?
I added two things that I thought were really missing:
Lemon Zest:
Blueberries and Lemon are two flavors that pair delightfully well together, so I added 2 teaspoons of finely grated lemon zest to the batter. Zest is the yellow part of the peel of the lemon, grated finely. Don't grate down to the white part of the peel, also known as the pith, which just adds bitterness. The yellow part of peel has all the essential oils in it, and it honestly adds more lemon flavor than lemon juice does.
Sugar, Lemon Zest, and Cinnamon Streusel:
While the Jordan Marsh recipe was sprinkled with white sugar, I found I missed that glorious little crumb like topping that is a sugar and butter and flour and cinnamon. Gosh, I love streusel! I think adding a bit of lemon zest to the streusel gives it even more flavor, too. If you're not a streusel fan, then just stick with the sugar.
An Important Tip Regarding Muffins, Quick Breads, and Cakes
Here's an important tip regarding muffins and cake: in addition to being moist, you also want them to be tender. So be sparing in your stirring, once you begin adding flour.
Here's why: stirring encourages the flour to develop gluten. Gluten is stretchy chains of protein…think of it like…chewing gum. Now that can be good in some breads. Like if you're making a Tuscan bread, you knead, and knead to cause those strands of gluten to lengthen, and they'll provide structure to your bread, so your bread will rise, and you'll get those nice air bubbles that you want in a rustic artisan bread.
But a muffin, cake or quick bread is different. You don't want it to be chewy, or gummy. So gently stir your flour in, just until you have no more white clumps in it. That will give you the result you desire: a nice tender muffin.
One More Piece of Advice: Patience is a Virtue
Don't try eating one of these till it's been out of the oven for 30 minutes. And I mean it.
Those little blueberries are like STEAM BOMBS, and you will burn your very precious taste buds, and you're going to wish you'd restrained your greed for just 30 minutes. I know, a blueberry muffin straight from the oven sounds like the food of the gods, but it's really a 1st degree burn to the inside of your mouth waiting to happen.
So give it 30 minutes. And don't ask my husband how he knows I speak the truth.
Better Than Jordan Marsh Blueberry Muffins Recipe
Yield: 12 muffins
Better Than Jordan Marsh Blueberry Muffins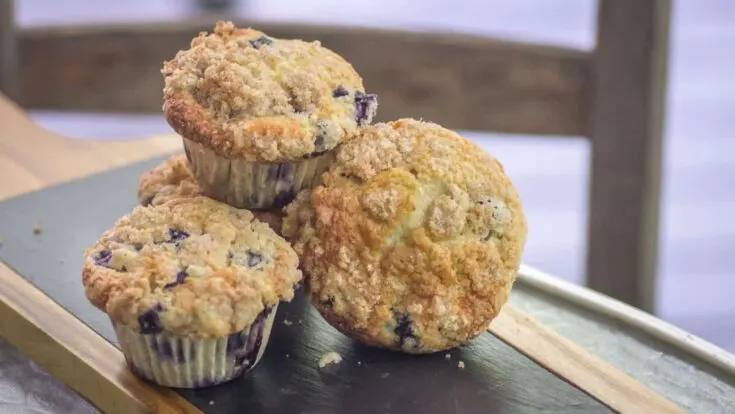 Better Than Jordan Marsh Blueberry Muffins are better due to the addition of lemon zest, and a sugar, lemon zest, and cinnamon streusel.
Ingredients
FOR MUFFIN BATTER:
1/2 cup softened butter
1 1/4 cups sugar
2 eggs
1 teaspoon vanilla
2 teaspoons grated lemon zest
2 cups flour
1/2 teaspoon sea salt
2 teaspoons baking powder
1/2 cup milk
2 cups blueberries, washed and drained
FOR STREUSEL TOPPING:
1 teaspoon lemon zest
1/4 cup sugar
2 tablespoons flour
1/2 teaspoon cinnamon
2 tablespoons butter
Instructions
Preheat the oven to 375º.
Cream the butter and the 1 1/4 cups sugar until light and fluffy.
Add the eggs, one at a time, beating well after each addition. Add vanilla and lemon zest.
Mix together the dry ingredients: the flour, salt, and baking powder.
Add dry ingredients alternately with the milk to the butter/sugar mixture, stirring GENTLY after each addition. (I do this by adding approximately 1/3 of the dry ingredients to the mixture, stirring GENTLY, and then 1/3 of the milk, stirring gently, and then repeating that process twice more.)
Crush 1/2 cup of the blueberries with a fork or potato masher. Mix that into the batter. Then fold in the remaining whole berries.
Line a 12 cup standard muffin tin with cupcake liners. Fill each cup with 2 scoops of batter
Mix together all streusel ingredients with a fork, and sprinkle the top of each muffin with a spoonful of streusel.
Bake at 375º for 25-30 minutes.
Remove muffins from tin and cool on a baking rack for at least 30 minutes before eating. Store uncovered, or the muffins will be too moist, the second day.
Recommended Products
As an Amazon Associate and member of other affiliate programs, I earn from qualifying purchases.
Nutrition Information:
Yield:
12
Serving Size:
1
Amount Per Serving:
Calories:

325
Total Fat:

12g
Saturated Fat:

7g
Trans Fat:

0g
Unsaturated Fat:

5g
Cholesterol:

59mg
Sodium:

290mg
Carbohydrates:

51g
Fiber:

1g
Sugar:

31g
Protein:

4g
Nothing Better Than Blueberries!
I love blueberries so much, I've created a passel of blueberry recipes. Here are a few you might want to check out!