This post contains links that, if you click on them and make a purchase, will earn me money. Regardless, I only recommend products or services that I believe will be good for my readers. Thanks for helping me continue to produce great content!
Homemade Sesame Seed Crescent Rolls will steal the show on your Holiday Table, be it Thanksgiving, Christmas, Easter, Graduation, or any day you and your loved ones feel like celebrating. I should know, because they certainly stole the show in the house where I grew up! And I can truthfully say that the recipe I'm going to share is just like my Mom used to make.
Like You Need Telling "Why I Like Crescent Rolls"
My mom's crescent rolls were the highlight of any holiday or special occasion where she baked them. One time, after one of those festive occasions, (I was about 9 years old, I think) I was allowed to spend the night "camping out" at my next door neighbor/friend's house, sleeping in sleeping bags on their carport. That night, Martha and I snuck back over to my house, stole about 6 leftover crescent rolls, and sat up stuffing our faces with wads of carbohydrates, and Sour Apple Jolly Rancher sticks. It was bliss, I tell you. Martha is in heaven now, snickering with Mom, as I recount this story. Dang, that's a sweet memory!
Sadly, I never got my Mom's recipe for her divine crescent rolls.
Enter Paula Deen and Her Recipe for Crescent Rolls
Paula Deen can cook. And there's some local news, here in the Nashville area, and that is that Paula has just opened up a new location of her Paula Deen's Family Kitchen restaurants, here in Nashville, in the Opry Mills Mall area! That's big news for "Shopryland" shoppers, and Donelson residents, in particular. It's also located only 8 miles from the Nashville airport (on the airport side of town), making it a great place for visitors to stop and grab a bite when they arrive in town, or if they're killing some last hours before their flight out.
One of Paula Deen's publicists reached out to me to tell me this news, and offered to send me Paula's 2019 cookbook: Paula Deen's Southern Baking:125 favorite recipes from my Savannah Kitchen. I love Paula's recipes, and I accepted the offer of the cookbook, and am I ever glad I did. Paula had a recipe for crescent rolls that looked very similar to my mom's recipe .
This was a treasure that has been lacking in my life for over 30 years!!!
So I'm sending out my love to Paula Deen, for…in a way…re-connecting me with my mom. Sensory memories are powerful things, and I honestly tasted my mom's love in these rolls.
I tried Paula's recipe, and it had all the buttery, pillowy goodness of Mom's rolls, but it was just a wee bit different. Let me tell you why and how I adapted Paula's recipe.
Adaptations to Make Paula's More Like My Mom's Recipe
Salt:
First, right off the bat, I will confess to this one issue being my fault. Paula's recipe called for unsalted butter, not salted butter. You can substitute salted butter for unsalted, but you'll then need to reduce the salt that's called for in the recipe, and I failed to do that. So I'll take responsibility for the fact that my crescent roll dough was too salty. Having said that, one tablespoon of salt is still a lot of salt. So, I'm reducing the amount of salt called for in the recipe I'm sharing today to 2 teaspoons. I'm not salt-a-phobic, but….especially if you're using salted butter, I think her recipe could use a bit less salt.
Sugar:
When your food is too salty, a little sugar can balance it. Not only did adding more sugar balance the flavor of my too-salty roll dough, it also made it taste more like my mom's rolls. Mom's rolls always had a faintly sweet note to them. So, I increased the amount of sugar from 1/4 cup of sugar, up to 1/2 cup of sugar. I was really happy with that change.
Flour:
Paula's recipe called for 5 to 6 cups of bread flour. I used bread flour, just as she called for, and I always weigh my flour when making bread. As you may know, 1 cup of flour is equal to 120 grams. After I'd added the full 6 cups, I found my roll dough still way too sticky. It was sticking to my fingers, and NOT cleaning the sides of the bowl of the mixer. I went ahead and added an additional cup of bread flour, and finally, my dough began to clean the sides of the mixer bowl. So my recipe says, 6-7 cups of bread flour, and I needed every gram of that last cup of flour.
Sesame Seeds:
The main difference between Paula's rolls and my mom's, and it's hugely significant to me, is that Mom brushed her rolls with an egg white wash (I know, because she used to let me do it), which gave them a lovely glossy sheen, and acted as a glue for the sesame seeds that she then sprinkled on top of them. (Or let me sprinkle on top of them.) So, I added that step to Paula's recipe, and it makes them even tastier, and more elegant looking, in my opinion.
Rolls Are Made From An Enriched Dough
These rolls are different in many ways from other breads I make, like my Semolina Sesame Artisan bread,Semolina Sesame Artisan bread, because the dough is enriched with fat that comes from milk, butter, and eggs. So now you know, if you hear of a bread with an enriched bread dough (like brioche, or challah) that it's all that yummy fat that makes the difference!
Steps to Make Homemade Sesame Seed Crescent Rolls
1. Heat Milk
2. Melt Butter
3. Proof Yeast
4. Mixer Time
5. Knead
6. Roll Out Risen Dough
7. Cut Dough Into Twelfths
8. Roll Dough into Crescents
9. Place Dough Onto Parchment Covered Baking Sheet
10. Allow Dough to Rise Again; Brush with Egg White Wash; Sprinkle Sesame Seeds
12. Eat Them While They're Warm.
Yield: 24 rolls
Homemade Sesame Seed Crescent Rolls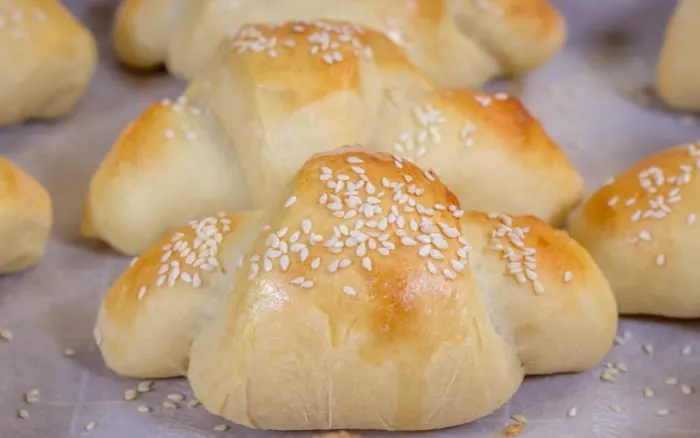 The buttery, pillowy carb-laden treasure I've been missing for over 30 years: Homemade Sesame Seed Crescent Rolls, just like Mom used to make. Thanks, Paula Deen!!!
Cook Time
18 minutes
15 seconds
Total Time
2 hours
48 minutes
15 seconds
Ingredients
1 cup milk
1 cup butter (2 sticks)
1/2 cup sugar
2 packages active dry yeast (1 tablespoon + 1 and 1/2 teaspoons)
3 large eggs, room temperature
2 teaspoons sea salt
6 to 7 cups bread flour, divided (720 -840 grams)
1 T. canola oil
1 egg white whisked with 1 teaspoon water
2 tablespoons of sesame seeds
Instructions
In a small saucepan, heat milk over medium low heat, just until bubbles form around the edges of the pan. DO NOT BOIL. Remove from heat, and add 1 cup of butter. Place lid on saucepan, and let milk and butter stand until butter is melted.
In a small bowl, stir together sugar, 1/4 cup water and yeast. Allow yeast to proof for about 5 minutes. Mixture should be foamy. That's how you've "proven" the yeast is working.
In your mixer bowl, beat milk and butter mixture with eggs an salt at medium low speed, until combined. Add yeast mixture, beating until combined. Gradually add 5 cups of flour, beating until smooth. Beat in enough of the remaining flour to make a soft dough.
Using bread hook attachment to mixer, knead the dough until smooth and elastic, 6 to 8 minutes.
Oil a large bowl, and place dough in bowl, flipping the ball of dough so that the entire ball of dough is lightly covered in oil. Cover and let rise in a warm, draft-free place until doubled in size, about 1 hour.
Line two large baking sheets with parchment paper.
Turn out dough onto a lightly floured surface, and divide in half. Roll each half into a 15" circle, and use a pizza cutter or sharp knife to slice each circle into 12 equal wedges. Starting with widest end of wedge, roll each wedge into crescent shapes. Evenly space each crescent on parchment lined baking sheets. Allow at least an inch between each roll. Put the tip of each crescent on the bottom side of the roll, so that the weight of the roll is resting on it. That will keep the crescent from unraveling. Cover each pan loosely with a towel, and allow rolls to rise for one hour, or until doubled in size.
Preheat oven to 350º.
While the oven is preheating, whisk the egg white and water together in a small bowl, and using a pastry brush, paint the top of each roll to add a shine. The egg white wash will also act as a glue to which the sesame seeds will adhere. Sprinkle each roll with a sprinkydink of sesame seeds.
Bake until lightly browned and you smell the smell of heaven coming down to earth, about 15 minutes. Check their color as soon as you begin to smell them.
Serve warm.
Notes
You can easily make these in advance of your special occasion, and freeze them for several weeks prior to when you need them.
Recommended Products
As an Amazon Associate and member of other affiliate programs, I earn from qualifying purchases.
Nutrition Information:
Yield:
24
Serving Size:
1
Amount Per Serving:
Calories:

974
Total Fat:

13g
Saturated Fat:

6g
Trans Fat:

0g
Unsaturated Fat:

6g
Cholesterol:

44mg
Sodium:

259mg
Carbohydrates:

179g
Fiber:

6g
Sugar:

5g
Protein:

30g
More Carbs for YOU!!!
So you like bread, do you? Come over here and sit next to me. And bring the butter. I've got the recipes that will melt your carb-lovin' heart.