This post contains links that, if you click on them and make a purchase, will earn me money. Regardless, I only recommend products or services that I believe will be good for my readers. Thanks for helping me continue to produce great content!
Wild Turkey Tenders with Honey Mustard Dipping Sauce are good enough to cause you to crave them, once you've tried them. And they're so easy, you can get the kids involved in the process, if you like.
Good Recipes for Wild Turkey Are Rare
If you are a hunter, or live with a hunter, and your hunter harvests a wild turkey, it can be challenging to find a delicious recipe for wild turkey. This recipe for Wild Turkey Tenders with Honey-mustard dipping sauce perfectly fills the bill. (peaks the beak?)
I've tried Wild Turkey lots of ways. We've roasted one whole, and was THAT ever disappointing! Won't try that again. First, the bird took what felt like YEARS to pluck. Wore my husband out! The roasted bird was tough, and dry, despite having been brined. Let's face it: a wild turkey's life is an active life, and nobody is busy fattening them up for sale in November.
I did slow cook some turkey legs in a demi-glace, in my slow cooker, and make a kind of stroganoff out of them, but for the most part, turkey legs don't HAVE much meat, and it's pretty stringy. It really needed that long slow cook, and a lot of creamy sauce. Lots of work.
If you grind up the breast, you can make yourself a big old juicy turkey smashburger, that is full of flavor.
I also have made a very delicious wild turkey chili recipe that is quite delicious, that I'm quite proud of. So if you have a hankering for some white chili, you should check that out.
Ultimately, if you're going to cook a wild turkey, save yourself a lot of heartache, and go with cooking the breast.
Why Is This Wild Turkey Tenders Recipe So Special?
I've thought a lot about ingredients I've used through the years, that might make these turkey tenders better than any other turkey tender or chicken tender you've ever had. Panko makes an outrageously crispy crust. Spicing things up with cayenne adds a bit of a zing, while the lemon zest gives an acidic tang: Acids help balance grease. I've recommended the best frying oil there is: peanut oil. I've mentioned that as soon as you fry them, you give them a renewed sprinkling of salt, because that's a key principle I've come to understand about frying things. And then, there's this sauce that combines the salty food with the sweet tanginess of the honey mustard. All ingredients are fresh. You really can't beat it!
What is a "Tender", Anyway?
For this recipe, your hunter can simply skin the bird, and present you (or your freezer) with the boneless skinless breast. There are "tenders" on a turkey breast, and they are located on either side of the breast bone. But we've found this method of cooking works just as well for the rest of the breast that's been cut up into "tender-size" pieces, too. So don't limit yourself to thinking this is only for the "tenders" portion.
What is Panko? And Do I Have to Use It?
Panko is a Japanese style bread crumb, that comes in a box, and is easy to find at most grocery stores. Check either the International Asian section, if you have one of those. Or you can check in the baking aisle, or wherever your store keeps those little canisters of bread crumbs. Panko is super good in this recipe, because it's already crispy, and it's a pale light color that is perfect for frying.
And, NO! You don't have to use it. If you have homemade bread crumbs on hand, hanging out in your freezer in a ziplock, those would be lovely. You can stick some stale bread into your food processor and grind it up. Or you could stick a sleeve of saltines in your food processor. Or put that sleeve of saltines in a ziplock bag and roll over them with a rolling pin. Any of those alternatives would be a great substitute for Panko. But I'm telling you, Panko ends up texturally the winner, and I do recommend it as first choice.
How to Set Up Your Breading Station
I want to warn you in advance that breading turkey (or chicken) tenders can be a messy proposition. It would also be the one that the kids will love helping with. The best and most logical advice I have ever heard came from Chef Anne Burrell who says to keep one hand for the dry ingredients (the flour and panko), and use the other hand to work with the wet ingredients (the egg). In theory, this should work well. Because I'm not so great with my left hand, I usually end up starting out well, but ultimately, my hand looks like it's ready to be thrown in the cast iron skillet, as well. But I mention Chef Anne's advice because it works for her, and it may work for you, as well.
On my kitchen counter, the stove top burners are out of view, but to the left. So, "read" this picture from right to left. Start with the flour. Move to the left to the egg wash. Move to the left to the panko. Then move to the left again to the skillet on my stove top. So, there you have it: A nice little flow, in my case, moving from right to left.
And Now, for the Party Trick
But First, A Word About Peanut Oil:
Heating up the peanut oil to the proper temperature is important. Peanut oil is the best oil for frying because it has a high smoking temperature. So it gives you a lot of leeway before you set off the smoke detector. Truth, from a girl who knows. And a German Shepherd who cares deeply about not hearing the smoke detector alarm.
But if your oil is not hot enough, your meat will brown slowly, and absorb a lot more oil. And that is just not how you want to roll. Not nearly so crispy nor delicious.
Personally, I don't have a deep fryer thermometer, or a deep fryer gizmo, where I can store my oil, and set the oil's temperature automatically. So what's a cook to do?
Enter: the party trick.
I know they look a bit like eggs frying in oil, but NO! They're popcorn kernels! I drop them in my peanut oil, while I'm bringing the oil up to temperature.
When the kernels pop, the oil is hot enough! And the suspense while you wait and wonder when they'll pop, and whether or not they'll pop in your direction adds a bit of excitement. Fish the popped kernels out before you fry the turkey, and give them to the kids with a grain or two of salt. A bit greasy, but it's the cook's treat.
About the Honey Mustard Sauce:
So easy, it's embarrassing. But so delicious to add some sweet and savory and acidic notes to the fried yumminess of the turkey. Honey, Dijon Mustard, and a bit of mayonnaise. I do declare, it's tasty!
Please Pin This on Pinterest!
The Recipe for Wild Turkey Tenders with Honey Mustard Dipping Sauce
Yield: 4 servings
Wild Turkey Tenders with Honey Mustard Dipping Sauce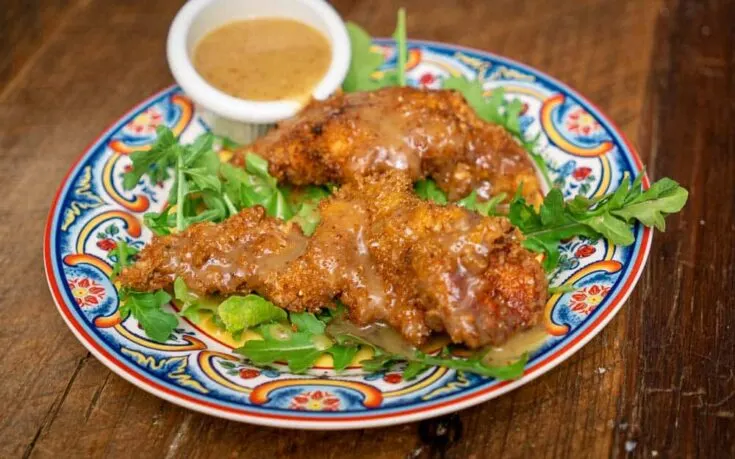 Wild Turkey Tenders with Honey-Mustard Dipping Sauce is the yummiest dish you can make with wild turkey, in my opinion. This recipe works just as well with CHICKEN. So don't walk away if you don't have access to wild turkey! So easy, too! You've got to try it!
Ingredients
Peanut oil, for frying
2 pounds boneless, skinless turkey breast, or tenders
3 eggs, beaten
1 cup all-purpose flour
2 cups panko bread crumbs
1 teaspoon garlic powder
1/2 teaspoon lemon zest
1/4 teaspoon cayenne
1/2 teaspoon salt
1/2 teaspoon pepper
Honey Mustard Dipping Sauce:
1/2 cup Dijon mustard ( I prefer whole grain, but use what you have)
1/2 cup honey
2 tablespoons mayonnaise
1 tablespoons lemon juice
1/4 teaspoon sea salt and freshly ground black pepper, or to taste
Instructions
Cut the turkey breast into long strips.
Preheat your peanut oil in a large cast iron skillet or Dutch oven, on medium high. It should reach a temperature of 375º.
Set up your breading station. The first bowl will contain the flour. The second bowl, the beaten eggs. The third bowl is for the panko.
Season the panko crumbs by stirring in the garlic powder, lemon zest, cayenne, sea salt, and freshly ground black pepper.
Dip each turkey strip (to coat) into the flour, then the beaten eggs, and finally into the seasoned panko crumbs.
Fry for approximately 6-8 minutes, roughly 3 minutes per side, turning when the tenders are golden brown.
Remove tenders from skillet when they are golden brown on both sides, ,and place a paper towel lined platter to drain. Season with sea salt flakes immediately.
While tenders are frying, quickly stir up the ingredients for the Honey Mustard dipping sauce. Measure into a measuring cup the honey, mustard, mayonnaise and lemon juice. Taste, and season to taste with sea salt and freshly ground black pepper.
Notes
I like Trader Joe's whole grain Dijon mustard, but regular Dijon mustard is just fine for the honey mustard dipping sauce.
Recommended Products
As an Amazon Associate and member of other affiliate programs, I earn from qualifying purchases.
Nutrition Information:
Yield:
4
Serving Size:
1
Amount Per Serving:
Calories:

946
Total Fat:

22g
Saturated Fat:

5g
Trans Fat:

0g
Unsaturated Fat:

16g
Cholesterol:

305mg
Sodium:

1977mg
Carbohydrates:

103g
Fiber:

5g
Sugar:

39g
Protein:

85g
Got Leftovers?
I'm totally anti-food-waste. And I'm all about using what you have wisely. So if you've got leftover food, I've got ideas that will please your tastebuds, fill your belly, and fatten your wallet. See what I mean: