This post contains links that, if you click on them and make a purchase, will earn me money. As an Amazon Associate, I earn from qualifying purchases. . Regardless, I only recommend products or services that I believe will be good for my readers. Thanks for helping me continue to produce great content!
I just got back from Italy, where I learned how to make fried pizzelle. Pizzelle are a deep fried pizza dish from Naples, Italy. I learned how to make pizzelle at a private cooking class at Daniela's Cooking School in Rome. Attending Daniela's class was one of the absolute highlights of my trip to Italy. It was my goal on this trip to learn more about Italian cuisine, and I found Daniela's Cooking School through Trip Advisor, where her class has excellent reviews.
How Can You Book a Cooking Class with Daniela?
I bet I'm not the only one who's always dreamed of taking a cooking class in Italy, so I thought I'd share with you how I found Daniela, and her cooking class. In order to book a lesson with Daniela, I recommend you go to her website to see the types of classes she offers. She offers a full day cooking class including a market tour, a half day afternoon or evening cooking class, and a half day cooking class that focuses exclusively on pasta. My husband and I decided we wanted to book a morning half day cooking class with Daniela.
How Did You Decide What to Cook?
As we corresponded about my visit, she asked me what I would like to cook. She also mentioned that she is working on publishing her own cook book. I told her that I wanted recipes that were close to her heart, that were special to her, and that might be approachable for my readers, who are mostly home cooks. So Daniela chose these recipes herself, because they say a lot about the food she grew up with, that she loves, from Naples, in the South of Italy.
Where is Daniela's Cooking School?
Daniela offers her cooking classes in her very own well equipped kitchen, from her lovely apartment on the Avantine Hill. Her apartment is just up the hill from the ancient Circus Maximus, the largest ever hippodrome, where chariots drivers and their teams of horses raced to the roars of the Roman crowd.
Daniela welcomed us warmly into her home, and we immediately hit it off. Our interests and tastes are so similar! Sisters from another mister, were we. She was ably assisted by Ilaria, her sous chef, who is also an excellent teacher, and who cleaned up every mess I made, almost before I'd spilled it! And that takes some doing. Pretty much, I NEED an Ilaria in my life, following me everywhere.
At the end of every cooking class, you receive your own copy of Daniela's recipe for what you have made. So I have her permission to share her DELICIOUS recipe for . Pizzele are a very common Neapolitan Street food. And one bite will explain why they are so very popular . They are super simple to make, but oh, are they divine! They'd be a perfect first course, or you could have them as a main course: in which case, I'd recommend you plan on serving two per person.
A Few Pizzelle Recipe Notes for My American readers:
Alterations:
The recipe that follows is Daniele's recipe. I have added my own notes in parentheses, because most of my readers are Americans, using American measurements. Daniele had her dough already made when I arrived at her place, so while I didn't watch her make it, I suspect she made it all by hand. I used my KitchenAid mixer to make the dough, and have added in the kneading time I used when I got back home.
Flour:
I used Bread Flour to make my pizza dough, since that's what I usually use, but American All-Purpose flour would work just fine. (American Bread flour has a slightly higher protein content than regular AP flour, so it gives bread products a little more structure.)
Yeast:
Daniela doesn't call for "proofing" the yeast, a step I take in my other pizza crust recipe, but proofing really is an "extra" step to prove that the yeast are working, and it's truly not necessary, if your yeast are live and have been stored properly. I followed her directions and my dough rose perfectly, although I did use warm water. (Her recipe doesn't specify that, either.)
Tomato Sauce:
The Sauce recipe calls for a tomato purée. Hunts, Muir Glen, and Contadina all make a product called tomato purée, that would be perfectly acceptable. Daniele used a tomato purée made by Mutti, which she highly recommended, and it made a delicious sauce. If you have a World Market near you, you can look for the Mutti brand there, or order it via Amazon, if you want to try the brand Daniele recommends.
When I tried her recipe at home, I had no tomato purée in my pantry. Instead, I dumped a 14 oz. can of Muir Glen San Marzano whole tomatoes into my VitaMix blender. I gently whirred them for a few seconds till all was smooth, and it worked perfectly as well. It gave me more sauce than I needed, so I made more pizzelle the next night, too. (a very gratifying outcome!) Italian San Marzano tomatoes really ARE worth seeking out, if you've never tried them. I've linked to them for your convenience in the Amazon products following the recipe. On the vine, the tomatoes are kind of tear drop shaped, similar to what we call the Roma tomato. They have lots of "meat", without being watery. Perfect for making sauce.
The Recipe for Neapolitan Deep Fried Pizzelle:
Yield: 4
Deep Fried Pizzelle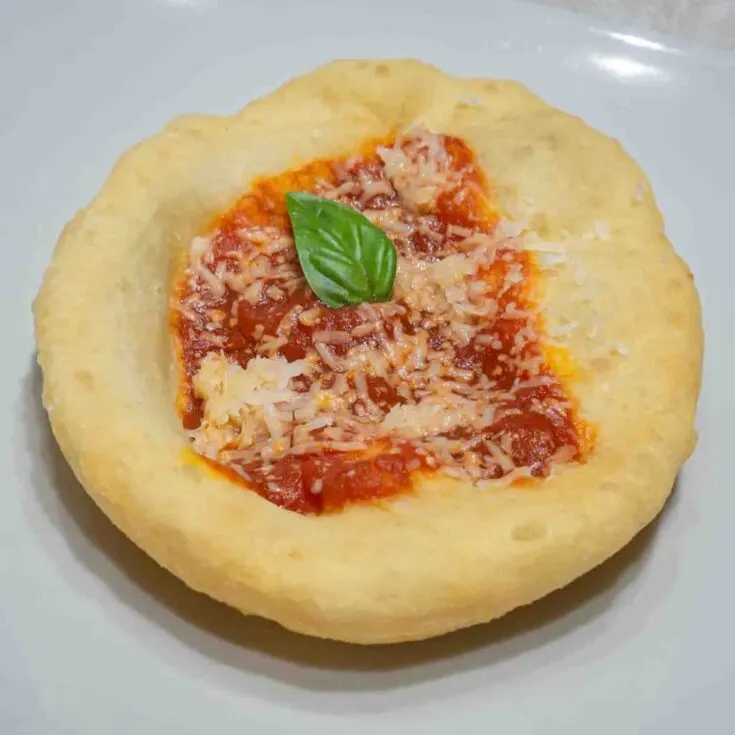 Crispy, chewy, and savory, these authentically Neapolitan miniature fried pizzas are a breeze to make. A small pizza dough crust is fried in only a few minutes, drained, and topped with simple but flavorful tomato sauce, then garnished with freshly grated Parmigiano Reggiano, and a basil leaf. Delicioso!
Additional Time
2 hours
2 seconds
Total Time
2 hours
20 minutes
2 seconds
Ingredients
FOR PIZZA DOUGH:
500 grams flour (4 cups)
25 grams yeast (2 1/2 tablespoons)
4 tablespoons extra virgin olive oil
1 teaspoon sugar
1 teaspoon salt
2 cups water
FOR THE SAUCE:
250 gr tomatoes puree (2 cups)
1 garlic clove, smashed
6 tbsp parmigiano reggiano
canola oil
1 bunch basil
salt and pepper
Instructions
FOR THE PIZZA DOUGH: Mix the flour, yeast, sugar, and salt first, then add water.
If the dough appears to be too dry add oil, about a tablespoon at a time. (Note from Susan: I added the whole 4 tablespoons.)
Keep working the dough until it is smooth. (This requires a little faith but it really works) (Note from Susan: I did all this in my KitchenAid mixer. I used the dough hook, and needed it for 10 minutes, till the dough cleaned the side of the bowl.)
Let the dough rise approximately 1 1/2 hours.
FOR THE SAUCE: Put extra virgin olive oil and smashed garlic in a pot, When the oil is hot add tomato puree, salt,
pepper and basil.
Let the sauce simmer for 15 min.
TO MAKE THE PIZZELE: Place the risen dough on a wooden chopping board. Cut the dough into fourths.
Shape the dough into rounds.
Deep fry pizzelle crusts in hot canola oil, until light golden brown. Drain well on paper towels.
Lay down pizzelle onto a plate topping each crust with sauce, parmigiano and garnish with a basil leaf.
Recommended Products
As an Amazon Associate and member of other affiliate programs, I earn from qualifying purchases.