This post contains links that, if you click on them and make a purchase, will earn me money. As an Amazon Associate, I earn from qualifying purchases. . Regardless, I only recommend products or services that I believe will be good for my readers. Thanks for helping me continue to produce great content!
This flavorful recipe for Juicy Smashed Turkey Burgers with Cheddar and Parsley is crispy on the outside, and tender, juicy and flavorful on the inside. It takes the ho-hum out of what can be a dry and boring ground turkey or chicken burger, making it flavorful and delicious.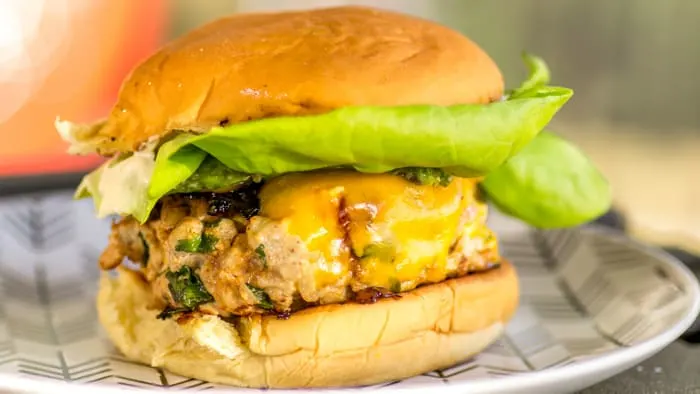 The plated Juicy Smashed Turkey Burger with Cheddar and Parsley, shot out on our deck at that golden hour, just as the sun is setting.
For Those Who Have Access To Wild Turkey:
If you are a hunter, or are married to a hunter, you may have noticed that wild turkey can be a challenge to find recipes for. It can also be a challenge to cook deliciously. My husband is a hunter, so we often have wild turkey in our freezer.
Wild turkey is extraordinarily lean. Being the truly free range birds that they are, (not to mention that it naturally has no added hormones and is antibiotic free) wild turkeys have to work to find their own food. Finding their own food involves a lot of activity. They aren't sitting around getting fat, if you know what I mean.
So it's up to the one who prepares them to pull a few tricks out of his/her culinary sleeve, to keep wild turkey moist and delicious. And I've got the tricks, in case you don't, so fear not!
Since you're reading this paragraph, I'm going to gamble that you might be interested in my other recipe for wild turkey. It's my Wild White Turkey Chili. We love it around here, and I think you will, too
Of COURSE You Don't Need to Use Wild Turkey to Make These:
Ground turkey from the grocery store, or store-bought ground chicken will work just fine. Just to make things clear for those who skim read, I like to answer that question with its own heading.
Special Sauce for Your Smashed Turkey Burgers:
Remember the first time you learned the Big Mac's "Special Sauce" was just mayonnaise, French Dressing, pickle relish, and ketchup? What a let down! It sounded so much more exotic as "Special Sauce".
Well, I've learned over the years that one of the things that can really add a signature flavor to my burgers is to stir up a little of my own brand of "special sauce" concoction. Depending on what the burger or side dish is, your special sauce can really enhance the flavor of your burger, and your family will appreciate the fact that they're not just dipping into a jar from the store. You've made some "good stuff" just for them.
The special sauce for these Juicy Smashed Turkey Burgers Is a Lime Dijon Mayonnaise. It takes less than a minute to stir up, but it adds great flavor, and you'll even use a bit of it IN the raw burger mixture. So when you prepare this recipe, start by making the special sauce, first. It will help bind the burger together, and keep it nice and moist.
You'll be surprised by what a delicious addition the lime juice is. It adds a delightful hit of acid to the flavor of the sauce, which makes the sauce not just some big old fat blob. (Remember: acid balances fat.)
What Do You Add to the Smashed Turkey Burgers for Flavor?
I'm so glad you asked! As it happens, we add several additional ingredients to bump up the bland flavor profile of ground turkey.
Parsley for that herbaceous note
Grated Cheddar Cheese for some creamy cheesiness
Shallot: it's a kinder, gentler aromatic than the onion
Garlic: the aromatic that is the stuff of life
Red Pepper Flakes: for a bit of heat, here and there
And of course, sea salt, and freshly ground black pepper
To Add Cumin or NOT to Add Cumin to your Smashed Turkey Burgers:
When we took the above picture, I had also added 1 t. of cumin to the meat, which you can see in the bottom left corner of the picture. This recipe is similar to a recipe I found in the New York Times Cooking Section. It called for 1 teaspoon of cumin. After making this recipe several times, in several ways, my husband decided he preferred these burgers without the cumin, and I tend to agree with him. If you'd like to go for ALL the flavor, you can try them with the cumin, and decide for yourself which you prefer.
The Toppings for the Smashed Turkey Burgers
Right before the burger comes out of the pan, then I top it with slices of cheddar, and allow them to melt.
After the burger comes out of the pan, I add a couple of slices of avocado, sprinkled with Lawry's Garlic Salt (it's simply the best), and some butter lettuce.
We've also enjoyed them with tomatoes, too. They'll be especially yummy in summertime, with summer tomatoes.
Let us not forget the Special Sauce I have stirred up!
And toasting the bun on a cast iron skillet adds even more texture and flavor. (And since you asked….yes…I butter my buns. But you don't have to.)
What is a Smashed Burger?
A smashed burger (yes, it's really its own thing) is a burger that is cooked on an extremely hot surface (usually cast iron) and with a spatula, you smash the burger down on that screaming hot surface to form a caramelized crust, that adds more flavor, and texture. A bit of a crunch, you know? Of course you do. You've probably had them when you've eaten out, but maybe you've never purposefully gone out of your way to get that crust.
Tips for the Crust for Smashed Turkey Burgers:
To get that crust, you only really need to remember two…or maybe three…things.
I sprinkle a little extra salt on the top and bottom of my burgers. I think it helps that crust form.
Get your cast iron skillet screaming hot, before you put the burgers in to cook. You should hear a satisfying sizzle when you lay them in the pan.
Use your spatula to squish them down against the surface of the skillet. I have a wonderful spatula/turner that I love to use. There's an Amazon link to it, below the recipe.
When I feel like the burger is almost done, I lay a couple of slices of cheddar on each burger, and place a lid on top of the skillet, for two minutes, to melt the cheese. Helpful hint: You can use a cookie sheet laid on top if you don't have the right size of lid for your cast iron skillet.
Yield: 4 servings
Juicy Smashed Turkey Burgers with Cheddar and Parsley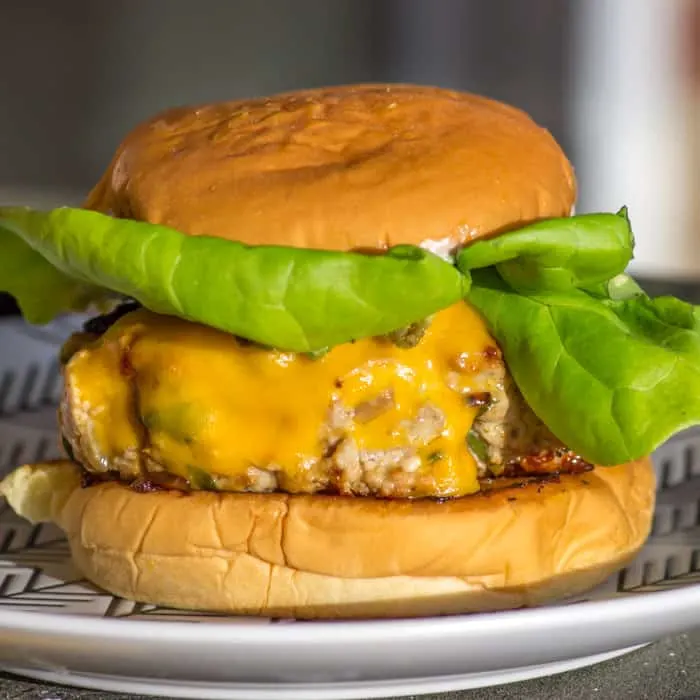 These fresh, flavorful turkey burgers have a crunchy exterior, a tender interior and a healthy slathering of limey Dijon mayonnaise.
Ingredients
FOR THE SPECIAL SAUCE:
½ cup mayonnaise
1 tablespoon Dijon mustard
Sea salt and freshly ground black pepper
Juice of 1 lime wedge
FOR THE BURGERS:
1 cup flat-leaf Italian parsley, roughly chopped
⅓ cup grated Cheddar, plus 8 slices of Cheddar for topping
1 small shallot, minced (about 1/4 cup)
3 large garlic cloves, minced
½ teaspoon red-pepper flakes
1 pound ground turkey
2 tablespoons neutral oil, such as canola oil, or ghee
TOPPINGS:
4 leaves of Butter Lettuce
1 ripe avocado, sliced
4 burger buns, buttered, and lightly toasted
Instructions
In a small serving bowl, combine the mayonnaise with 1 tablespoon mustard. Season to taste with sea salt, freshly ground pepper, and the juice of 1 lime wedge.
In a medium bowl, thoroughly combine 1 cup chopped parsley with the grated cheese, shallot, garlic, and red-pepper flakes. Stir in 1 tablespoon of the Dijon mayonnaise, 1 teaspoon salt and 1/4 teaspoon pepper. Add the turkey, and gently combine. Form into 4 large patties.
Heat a 12-inch cast-iron or heavy skillet over medium-high until very hot, 1 1/2 to 2 minutes. Add the neutral oil or ghee, then add the turkey patties, spacing them out in the pan. Use a metal spatula to press them until they form 1/2-inch thick patties. Cook WITHOUT MOVING for 3 to 4 minutes, until a deep golden crust has formed on the bottom and they easily release from the pan. Flip the patties using a sturdy spatula and cook until cooked through with a nice crust on both sides, about 3 minutes more.
A minute or two before they're done, set 2 slices of Cheddar cheese on top of each patty to melt, and cover the pan with a lid.
Butter and toast the buns, and spread them with the special Dijon Lime Mayonnaise. Place burger on bun and top with lime and avocado, and any other desired toppings. (A warm homegrown tomato slice would be nice!)
Recommended Products
As an Amazon Associate and member of other affiliate programs, I earn from qualifying purchases.
Nutrition Information:
Yield:
4
Serving Size:
1
Amount Per Serving:
Calories:

1096
Total Fat:

85g
Saturated Fat:

25g
Trans Fat:

1g
Unsaturated Fat:

54g
Cholesterol:

205mg
Sodium:

1114mg
Carbohydrates:

34g
Fiber:

5g
Sugar:

5g
Protein:

50g
Side Dishes for Summer
Here are some great side dishes for summer that use all that glorious produce that's in season. I know you're going to love them!