This post contains links that, if you click on them and make a purchase, will earn me money. Regardless, I only recommend products or services that I believe will be good for my readers. Thanks for helping me continue to produce great content!
Oxtail Braised in Wine is luscious! It's a traditional Roman stew, (known as Coda alla vaccinara in Italy) that is cooked low and slow. You can serve it alone, or over pasta, polenta, or mashed potatoes. It's the perfect comfort food for a chilly evening!
If you need a recipe for some delicious polenta over which to serve it, I've got you covered, right here: How to Make Creamy Homemade Polenta in a Pressure Cooker.
Is Oxtail Really OX Tail???
Oxtail, as a dish, probably USED to refer to a dish made from the tail of an ox, but now, the meat known as oxtail that you purchase at a store, is generally just the tail of cattle. So, basically, think beef.
Recipes for oxtail are available in every culture where they eat cows, but it is especially popular in the cuisines of South America, West Africa, China, Spain, Jamaica, Korea, and Indonesia. It is a popular flavor for powdered, instant and premade canned soups in the United Kingdom, and in Ireland. Basically, wherever there are cows, people have oxtail recipes.
Where Can I Buy Oxtail?
I found my oxtail at Costco, but if you aren't near a Costco, you might check at any local Asian market,
How Much Oxtail Do I Need to Buy?
A whole oxtail typically weighs around 3.5 kilograms (8 pounds) and is skinned and cut into shorter lengths for sale. To serve your guests, plan on buying about a pound of skinned, chopped oxtail per person, if you're serving it alone.
If, however you choose to turn this lovely stew into more of a sauce for pasta, or a topping for polenta, or a gravy for mashed potatoes, you can stretch this somewhat expensive meat quite a bit further.
Is Oxtail Good for You?
Oxtail is a very healthy meat given its high protein content. It's also high in iron and other nutrients that come from the bone marrow and connective fats.

What Does Oxtail Taste Like?
It's beef, with a distinction. It has a is deeply rich flavor, and when cooked long enough (around 3 hours), it has a texture that is both tender, and silky.
The meat is collagen rich. Collagen is the connective tissue you find in many tougher cuts of meat. (Think brisket, or pork butt.) When you cook collagen-rich meats "low and slow", allowing them to reach and hold a temperature of between 140º-160º for three hours, the collagen melts, and produces gelatin, (which firms up when chilled). When served hot, or warm, as in this braise, it produces a broth that is rich and lush.
What is this "Coda alla Vaccinara", you mentioned?
The name literally means, "tail made the butcher's way" or "butcher style". Coda means tail. That should make sense to all you musicians! The outdated Romanesco word vaccinaro means "butcher". That originates from vaccina, meaning "beef", which, in turn comes from vacca , meaning"cow".
Coda alla vaccinara includes various vegetables, most notably celery. In the words of one literary character who had a special fondness for the dish, and the pairing of oxtail and celery: "Oxtail and celery are like man and woman. It's all well when one sticks to the other."

Coda all vaccinara also contains carrots, onions, herbs, tomatoes and wine. The Italian dish contains pancetta, but I have a hard time getting hold of pancetta, so in my recipe, I'm substituting bacon, which is a perfectly acceptable substitution. Because bacon is also wonderful.
The Rest of the Process
Dinner is Served:
The Recipe for Oxtail Braised in Wine, or Coda alla Vaccinara:
Yield: 4 servings
Oxtail Braised in Wine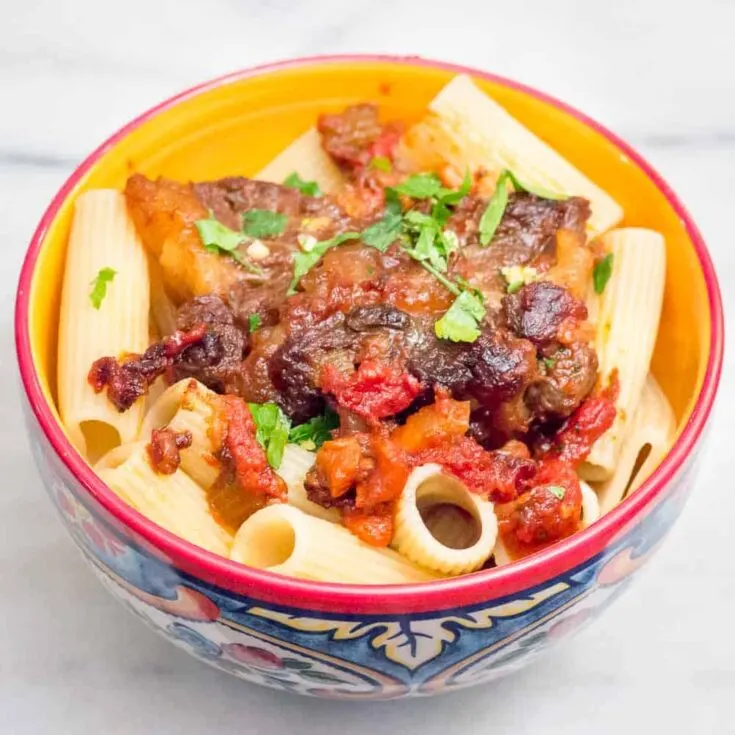 Oxtail braised in wine is a traditional Roman stew. Additionally, you can serve it over pasta, polenta, or mashed potatoes.
Total Time
3 hours
30 minutes
Ingredients
4 slices of thick cut bacon (1/4 lb.) cut into 1/4" cubes
1 carrot, finely diced
1 onion, finely diced
1 celery stalk, finely diced
3 (more) celery stalks, cut into 3" pieces
(reserve any celery leaves for garnish)
2 tablespoons extra virgin olive oil
3 lbs. sliced oxtail
2 teaspoons sea salt for seasoning oxtail
1/2 teaspoon freshly ground black pepper
1 tablespoon + 1 teaspoon tomato paste
2 c. white wine
1 1/2 teaspoons dried marjoram
1/4 teaspoon ground cloves
1/4 teaspoon ground cinnamon
1 28 oz. can whole peeled tomatoes (San Marzano)
Instructions
Season the oxtail chunks on all sides, with sea salt, and freshly ground black pepper.
Preheat oven to 325 degrees.
In a Dutch oven or braising dish, brown the oxtails over medium high heat. Depending on the size of your pan, you may need to brown them in two batches. (If you crowd the pan at this point, you won't get a nice caramelization -that lovely brown color- on them. They'll turn gray, and steam. But BROWN food tastes good. So don't crowd them up against each other.) Use enough oil to cover the bottom of the pan (about 2 tablespoons). Remove the oxtails to a plate, once they're brown.
Next, combine the bacon, carrot, onion and diced celery and sauté them over medium heat until the onions become translucent., and the bacon has rendered its fat.
Add the tomato paste to the vegetables in the pan and cook, stirring, until paste begins to caramelize, 1-2 minutes.
Stir in wine and mix. Heat to boiling and cook 3 minutes.
Add marjoram, cloves and cinnamon.
Finally add the tomatoes, squishing them between your fingers as they fall into the pan.
Return oxtails to pan. The liquid should be as high as one-third of the ingredients. If not, add a little water. Bring the liquid to a boil, cover pan and place in oven. Braise for 1½ hours, turning the oxtails now and then.
Add the remaining large celery chunks, and then continue cooking until the meat is tender and falling off the bone, about 30 to 60 minutes longer.
Remove the pan from the oven and let sit for 15 minutes. Add salt and pepper to taste. Serve on a platter, or was we did, over pasta. Garnish with celery leaves.
Notes
We served this over rigatoni. But any larger pasta would be great.
Oxtail is tough meat, that really benefits from the low and slow cooking method, which leaves it meltingly tender. I found my oxtail at Costco. Call ahead to make sure they have it in supply.
Recommended Products
As an Amazon Associate and member of other affiliate programs, I earn from qualifying purchases.
Nutrition Information:
Yield:
4
Serving Size:
1
Amount Per Serving:
Calories:

1184
Total Fat:

64g
Saturated Fat:

23g
Trans Fat:

0g
Unsaturated Fat:

32g
Cholesterol:

368mg
Sodium:

1409mg
Carbohydrates:

15g
Fiber:

4g
Sugar:

8g
Protein:

110g