This post contains links that, if you click on them and make a purchase, will earn me money. As an Amazon Associate, I earn from qualifying purchases. . Regardless, I only recommend products or services that I believe will be good for my readers. Thanks for helping me continue to produce great content!
I learned to make Beef Carbonnade, as I learned how to make so many yummy things, from The Silver Palate Cookbook. Beef Carbonnade is a dark, rich, stick-to-your-ribs, deeply satisfying beef stew made with caramelized onions, dark beer and bacon. So delicious! I generally serve mine atop a bed of egg noodles.
What Kind of Beef Should I Use for Beef Carbonnade?
Boneless chuck roast works best. You'll need to cut it into 1″ cubes. Cook's Illustrated also mentions shoulder cut blade steak working well, so that's another potential cut of beef you could look for at your grocery store.
What Kind of Beer Should I Use?
Ideally, if you can find it, use a dark Belgian ale. As you cook the stew, the flavor of the beer will intensify, so you want a beer with a certain amount of sweetness, balanced with moderate bitterness. I think a milk stout would also be a delicious choice.
Any Kind of Bacon Will Do, but…
I have the luxury of using bacon we cure ourselves, so I can slice mine any way I want to. If you have the option to choose, thick sliced bacon works nicely in this dish. But again, use what you have.
What Are Caramelized Onions?
Caramelized onions are onions that have been allowed to slowly sweat and then brown, in the rendered bacon fat. This process should take about 20 minutes. It brings a beautiful sweetness to the onions. At the end of the 20 minutes, this recipe calls for adding a bit of sugar, which will enhance, and quickly finish the browning.
Why Do You Coat the Beef Chunks in the Flour Mixture?
Coating the beef chunks in the flour mixture serves two purposes. First of all, coating the beef in flour adds a beautiful browned crust to the beef. Browned food tastes GOOD. Flour adds even more of a crust. Secondly, since the flour has salt, pepper, and thyme in it, there are even more flavor notes attending your Belgian stew party. Salt brings flavor to life, and thyme adds a woody, herbaceous note to beef. Yum!
Notice the brown stuff on the bottom of the pan, from the previous batch of beef? That stuff is called fond (which means "bottom", in French). It's what you find on the bottom of the pan that ends up getting stirred into the beer, when you pour the beer in. And it's what makes the sauce so delicious. You don't want the fond to get burned, or you'll be stirring burnt flavor into your sauce. So, brown your beef, but don't burn it.
Can I Do the Final Part of this Recipe In My Slow Cooker, Instead of the Oven?
I haven't done it that way, but I don't see why you couldn't! The final part of the recipe is combining all the ingredients you've browned and the beer sauce you've stirred up in a big pot, and keeping it at a slow simmer for an hour and a half.
In my slow cooker, I would try simmering this recipe on low for 6 hours, or on medium for 3 hours. That is a guesstimate, and you know your slow cooker better than I do. Some seem to run hotter than others. Mine doesn't ever seem to burn things, but I know some people struggle with that.
But I follow the Silver Palate cookbook's method, which is putting my big Dutch Oven in the oven, at 325º for 1 1/2 hours.
The Recipe for Beef Carbonnade: Belgian Beef Stew
Yield: 6 servings
Beef Carbonnade: Belgian Beef Stew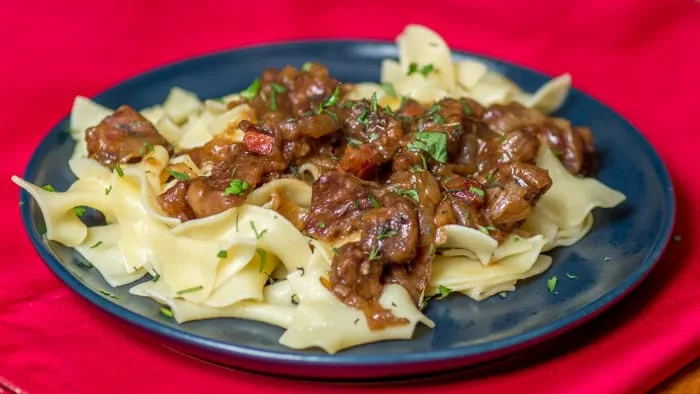 Beef Carbonnade is a dark, rich, stick-to-your-ribs, deeply satisfying beef stew made with caramelized onions, dark beer and bacon. Delicious served atop egg noodles.
Ingredients
1/4 lb. bacon
2 large onions, thinly sliced
1 tablespoon granulated sugar
1 c. all purpose flour
1 tablespoon chopped fresh thyme
1 teaspoon sea salt
1/2 teaspoon freshly ground black pepper
3 pounds chuck roast (stew meat), cubed into 1" chunks
1 tablespoon vegetable oil
2 c. dark beer (milk stout, or dark Belgian ale)
1 tablespoon chopped parsley, for garnish
Instructions
Coarsely dice the bacon and sauté it in a large Dutch oven until crisp and brown. Remove bacon and drain it on paper towels.
Add the onions to the Dutch oven and bacon fat, and cook them until tender, about 20 minutes, on medium low heat. Raise the heat, sprinkle the onions with the sugar, and toss and stir them until they are well browned. Transfer the onions to a bowl, set over a strainer, and let them drain while you prepare the beef.
Stir together in a bowl the flour, thyme, salt, and pepper. Roll the cubes of beef around in the flour mixture until well coated. Shake off the excess flour and place the flour coated cubes of beef on a plate.
Press the onions gently with the back of a spoon to extract as much of the cooking fat as possible.
Brown the coated cubes of beef, in batches of 8, in the Dutch oven over high heat, adding up to a tablespoon of vegetable oil, IF NECESSARY, to brown the beef. You don't want the stew to come out too greasy, so only add the oil if necessary. Don't crowd the pan with beef, or the beef will turn grey, and steam, rather than brown. Turn the heat down slightly after the initial sizzle, and continue to cook beef cubes on all sides, until browned. Transfer the browned beef cubes to a clean plate, with a slotted spoon or spider, and finish cooking the rest of the beef the same way, in batches.
Preheat the oven to 325º.
Pour the beer into the Dutch oven, and use a spoon to scrape up all the browned fond on the bottom of the pan, into the beer sauce. Return beef, onions, and bacon to the Dutch oven. Bring to a simmer on the stove. Cover, and set on the middle rack of the oven.
Cook for 1 1/2 hours, stirring occasionally. The stew should be thickened, and the beef should be tender. Correct seasoning, if necessary, with more salt and/or pepper.
Serve over egg noodles, and garnish with parsley.
Notes
Be sure to pour off any excess oil after browning beef. You don't want the stew to be greasy.
Recommended Products
As an Amazon Associate and member of other affiliate programs, I earn from qualifying purchases.
Nutrition Information:
Yield:
6
Serving Size:
1
Amount Per Serving:
Calories:

791
Total Fat:

44g
Saturated Fat:

17g
Trans Fat:

2g
Unsaturated Fat:

24g
Cholesterol:

207mg
Sodium:

849mg
Carbohydrates:

24g
Fiber:

1g
Sugar:

4g
Protein:

65g