Fall is here!
Time to start thinking about comfort food.
I love to cook seasonally, and right now, grapes are at their peak, with many grocery stores running specials on them. The recipe that I have to share with you today is perfect for fall, and for taking advantage of those delicious grapes that are in season.
I ran into this recipe of roasted sausages and grapes, while watching an episode of The Barefoot Contessa, the memory of the grape harvest that I participated in for one day, back when I lived in Switzerland came flooding back to me, and I knew I had to try Ina's recipe. It sounded perfect for fall: warm, hearty, comforting and delicious. It also sounded like a great way to take advantage of the lower prices and wonderful flavor of a fruit that is in season and at its peak right now. On my first effort, I followed Ina's recipe exactly, and while it was very good, I felt I could improve it. Ina calls for Italian sausages: half hot, and half sweet. But after trying it her way, I found myself wondering if this recipe wouldn't be even better with a sausage that I LOVE sampling whenever they have a demo at Costco: Aidell's. Aidells' sausages contain no MSG, no liquid smoke, no artificial flavors, fillers, coloring or binders. But to me, the most important thing is that they taste absolutely delicious! And I thought their Chicken Apple sausage might really taste good in this recipe. Hoo boy, was I right! That simple alteration took the recipe from "very good", and bumped it up to "out of this world". And because chicken sausage is lower in fat, it also eliminated a step the initial recipe called for: that of parboiling the sausage to render out fat. (So if you're going to try this recipe using Italian sausage made from pork, I strongly encourage you to parboil the Italian sausage for eight minutes, before you continue on with the roasting portion of the recipe.)
And best of all? This recipe couldn't be easier! Even with the prep work (which is very, very minimal) dinner can be ready in 40 minutes. I serve this with mashed potatoes, and a tossed salad. (The mashed potatoes take me longer than roasting the sausage and grapes.) And if you happen to have access to some, a lovely loaf of focaccia to dip in some of the juices would be a welcome addition to your meal.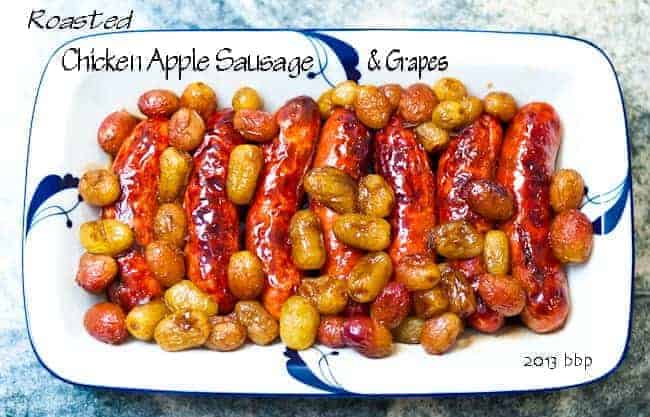 Roasted Chicken Apple Sausages and Grapes
2013-09-17 11:38:58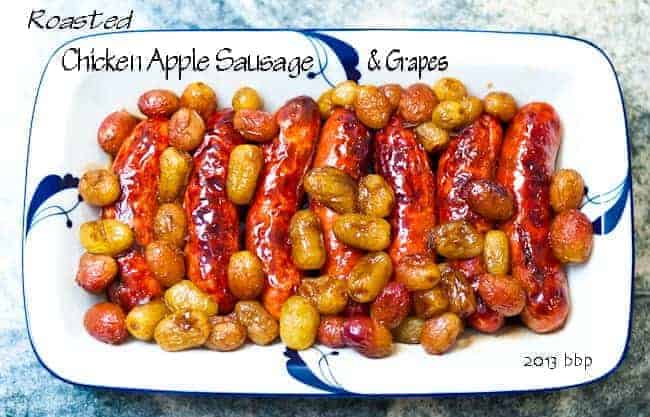 Serves 6
Super delicious, super easy, hearty fall meal.
Ingredients
3 lbs. Aidells Chicken Apple Sausage
3 T. butter
2 lbs. seedless grapes (I used white and red)
2 - 4 T. dry red wine
3 T. balsamic vinegar
Instructions
Preheat the oven to 500º.
Melt the butter in a large roasting pan, add the grapes, and toss to coat.
Over moderately high heat, add the wine, and stir till wine has reduced by half.
Add the sausages to the pan, and push them down in the grapes so they won't brown too quickly.
Roast in the oven, turning the sausages over when their roasting time is halfway over, at about the 10 minute mark. Roast until the sausages are brown and the grapes are soft, about 20-25 minutes, total.
Place the roasting pan on top of the stove, over a medium high heat, and add the balsamic vinegar. Scrape up any browned bits on the bottom of the roasting pan, and allow the vinegar and juices to reduce until they are thick and syrupy.
Remove sausages and grapes to a platter, and pour the sauce over them. Serve immediately, with mashed potatoes.
Adapted from The Barefoot Contessa
That Susan Williams https://www.thatsusanwilliams.com/
Yum