This post contains links that, if you click on them and make a purchase, will earn me money. As an Amazon Associate, I earn from qualifying purchases. . Regardless, I only recommend products or services that I believe will be good for my readers. Thanks for helping me continue to produce great content!
When I was a little girl, my Dad grilled steaks on Saturday nights in the summertime, and as I recall, those steaks always carried with them the scent of "eau de lighter fluid". I don't recommend that technique (even though it would certainly bring back some vivid childhood memories, to catch a whiff of that odor once again). But one wonderful thing my parents did allow me to do when I was little, was to take a slice of crusty bread, and dip it into the meat's juices. That was almost my favorite part of our Lighter Fluid Steak Dinners. We called it "sop". I'm pretty sure that was a reference to John 13:26, in the KJV (King James' Version- all we read from when I was a little girl), where at the Last Supper, Jesus says: "He it is, to whom I shall give a sop, when I have dipped it. And when he had dipped the sop, he gave it to Judas Iscariot" . We knew Jesus was dipping some pita bread into something at the Passover feast, even though it wouldn't have been steak juice. So, somehow or other, "sop" came to be the term for dipping my bread into those wonderful juices.
My kids memories will be different, even though I have still taught them to call dipping bread into steak juices "sop". But the "sop" that you get when you combine the steak juices with the board dressing I'm going to teach you how to do today, takes "sop" into a whole new realm. My kids are going to look back and wonder how in the world their parents ever made steak that was nearly worth dying for. So I write this post as a gift of love to my kids, and to you. This is the meal I would ask for as MY Last Supper, were I condemned to death. But all eating it really makes you want to do is live forever, so that you can keep on coming back and having this meal, again, and again. These steaks are why we eat vegetarian meals on so many other nights: so that we can live to occasionally roll around in the indulgence that is this steak. Lest you think us total hedonists, we do eat smaller portions: we take a steak and split it in half, so that it feeds two people. I do recommend some moderation. Bear that in mind. 😀
I really don't remember how I first ran into Chef Adam Perry Lang's technique for roughing up steaks and serving them with a board dressing. He has written a book called Charred and Scruffed that outlines the technique in full. There are, however, articles on the internet a-plenty, and many videos as well, on how to employ his great technique for turning your good steak into something extraordinary.
We have our own technique around here, one that involves dry aging steak at home in such a way that it takes a regular grocery store cut of Choice meat, and makes you believe you're eating that wonderful Prime beef that you find at expensive steakhouses. It's super simple to do: just takes a few days of forethought, and if you haven't tried it yet, PLEASE go to this post, and you, your family, and guests will thank me all your days. But even if you don't have a few days to dry age your steak, you can still use the technique I'm going to show you today for making a board dressing, and it will take an ordinary steak and bump up the deliciousness level.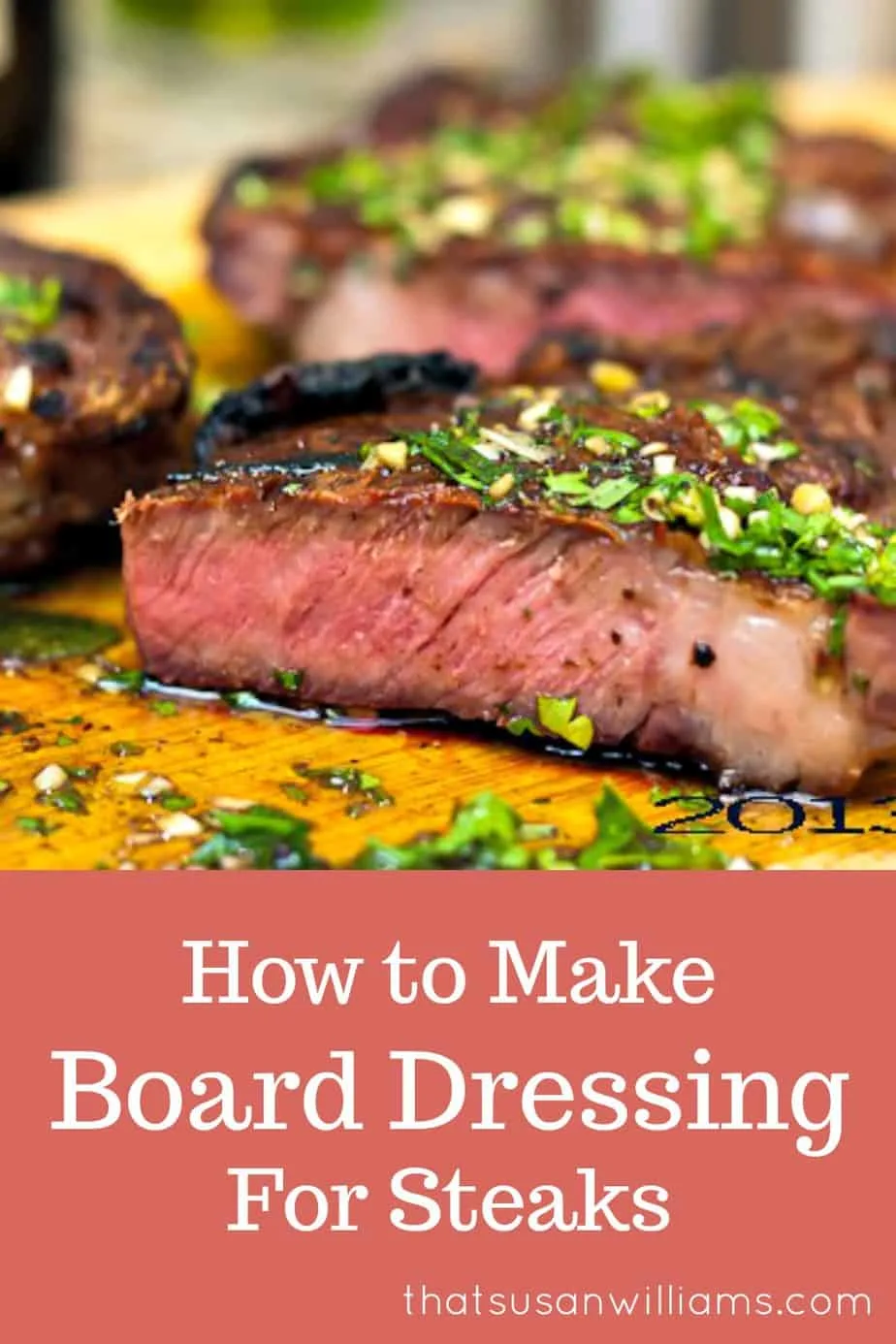 We have used Chef Adam Perry Lang's technique for making a board dressing in tandem with our own previously shared method of dry aging our beef, and are absolutely thrilled with the outcome! Another technique that Chef Lang mentions is roughing up the exterior of the meat a bit, to create more texture, thus creating a bit more surface area that will crisp up and charr. When the steak is grilled to the level of doneness you like, you then season the cutting board, so that when the steaks come in off the grill, they get coated in a beautiful olive oil, herb and aromatic mixture. When you carve the meat, all that gorgeous seasoning gets drug down across the interior of the meat, and what you end up with is pretty much steak nirvana.
So, here's what we do:
Yield: 4 servings
How to Make Board Dressing for Steaks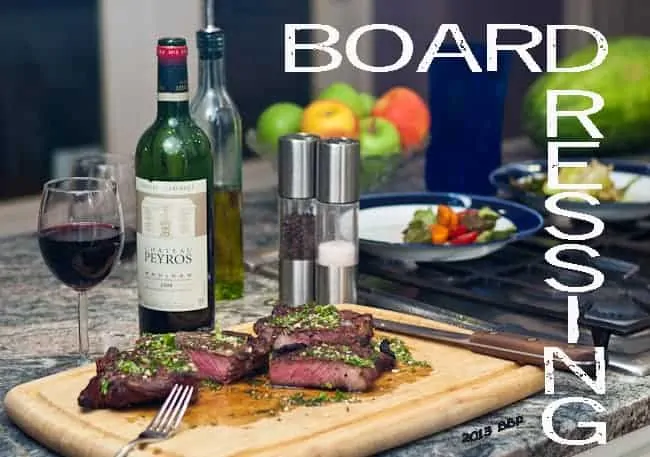 A delicious blend of herbs, aromatics, and olive oil to be used to coat grilled steaks.
Ingredients
kosher salt
6 sprigs of parsley
1 sage leaf
1 sprig of rosemary needles
1 sprig of oregano leaves
1 garlic clove
zest of one small lemon
a few grinds of freshly ground black pepper
Sea salt
3 T. olive oil
Instructions
"Rough up" your steaks by making slight scores in them (no deeper than 1/8") across the surface of the steak. Sprinkle steaks generously with 1 T. kosher salt. Let steaks rest for 1 hour with salt on surface. After 1 hour, rinse salt from steaks and pat dry.
Grill steaks to desired doneness.
When steaks are ready to come off the grill, mince herbs and aromatics, sprinkling on salt and pepper, and finally dousing the whole herb pile with several tablespoonfuls of olive oil on your cutting board.
Place freshly grilled steaks on top of board dressing, and spoon half of dressing on top of steaks as well. Let steaks rest for a few minutes in board dressing. Slice, if desired, and serve.
Notes
You don't have to use this exact combination of fresh herbs, but I recommend that you try the recipe with all the herbs, to determine how you might want to adjust the recipe to your own tastes.
Recommended Products
As an Amazon Associate and member of other affiliate programs, I earn from qualifying purchases.
Please, pin this post! You need to remember to try it!
Tweet it! Share it on Facebook! Your friends need to know how to do it!
And the wine?
If you're looking for some GREAT wines to go with a nice steak, and the world's best sop, check out this post, where you can read more about that Chateau Peyros. (We bought it. We love it!)
How do you like your steak, by the way?
Have you ever made a board dressing?